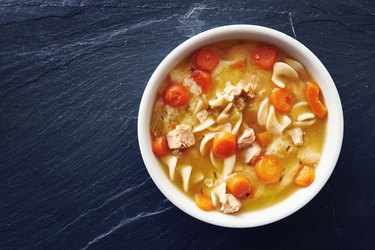 Large amounts of salt, or sodium, in a diet can increase blood pressure and put a person at risk for heart disease. The 2015-2020 Dietary Guidelines for Americans recommend that adults consume fewer than 2,300 milligrams of sodium per day. However, the average American actually consumes somewhere around 3,400 milligrams of sodium daily.
While canned soups make for an easy, quick meal, many contain large amounts of sodium. To provide health-conscious customers with more nutritious options, brands like Campbell's, Progresso and Amy's have begun to offer lines of low-sodium soups. Here are a few of their better-for-you picks.
Campbell's
The classic, all-American soup company moved to lower-sodium formulas across its popular flavors back in 2009 by adjusting ingredients of popular flavors, according to a press release from the company. According to a report released by Reuters in 2011, however, Campbell's began to put sodium back into its products due to low sales.
Today, Campbell's offers a line of soups called Healthy Request. Healthy Request soups are cooked with whole grains and lean meats; the Campbell's website says this collection supports a healthy heart. Campbell's also offers low-sodium versions of three different soup flavors: chicken broth, chicken with noodles and cream of mushroom.
Progresso
Another famous soup brand, Progresso has also started offering healthier options. In its low-sodium soup line, Progresso offers 10 different flavors, which are prepared with 25 percent less sodium than their traditional recipes. Some of these flavors include creamy tomato with basil, hearty minestrone and roasted chicken noodle.
In addition to its line of low-sodium soups, Progresso also offers gluten-free, organic, light and vegetarian soups, among other varieties.
Amy's
Amy's is a favorite among vegetarians for its frozen dinners, international cuisine offerings and, of course, soups. Amy's offers a "sodium conscious" soup line that is prepared with either "reduced" sodium (compared to the traditional version) or "light" sodium (50 percent less sodium than traditional soups), depending on your flavor of choice. The company offers 11 different sodium conscious soups to chose from, all of which are organic too, including butternut squash, chili, lentil vegetable and chunky tomato bisque.