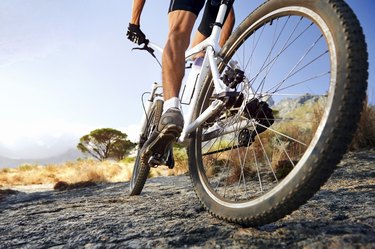 A lifestyle makeover can reduce the size of your arms and thighs. Rather than focusing on these common problem areas, focus on your entire body, because spot-reducing fat only in selected areas isn't possible. Arm yourself with a healthy dose of willpower, and then combat excess fat with a healthy, reduced-calorie diet and an effective exercise routine. Always consult your doctor before starting a new diet or exercise regimen.
Reducing Body Fat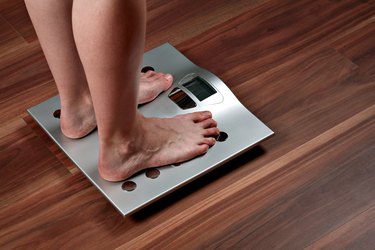 Cardiovascular exercise burns calories, which can make you lose weight so your arms appear smaller. Performing 30 to 60 minutes of moderate cardio on most days of the week can trigger weight loss, according to the American Heart Association (AHA). Engage in cardio that activates your arms and legs, such as rowing, swimming, exercising on an elliptical machine with moving handles, or jogging or walking briskly while pumping your arms back and forth.
Schedule Strength Training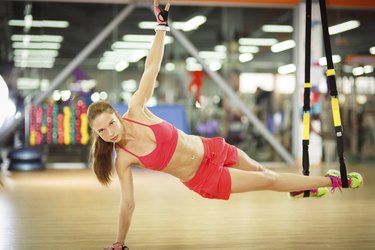 A full-body, strength-training routine done on two days of the week can stimulate muscle tissue. In addition to your arms and legs, the AHA recommends working your hips, chest, back, shoulders and stomach. Understand that strength training increases lean muscle mass. This helps you lose weight, because muscle uses up more energy that fat to sustain itself, resulting in a faster resting metabolic rate. Additionally, muscle is denser than fat, so your entire body including your arms and legs will look smaller and your clothes will start fitting looser.
Arm and Thigh Exercises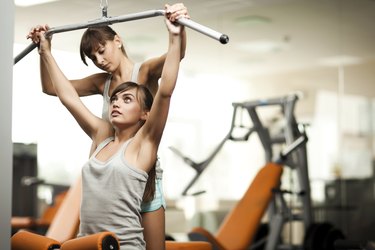 Exercises that target your arms and legs should be part of your strength-training routine. When it comes to the arms, it's commonly the back of the upper arm that's prone to look flabby. To firm up this area, work your triceps with bench dips, triceps kickbacks and triangle pushups, which according to the American Council on Exercise are some of the best exercises for this area. To target your thighs, compound exercises, such as lunge and squat variations, dead lifts and step-ups are effective.
Things to Consider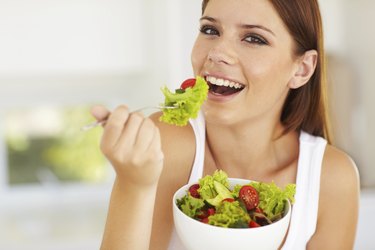 Eating a healthy, reduced-calorie diet is essential to help you lose weight and reduce your thigh and arm fat. Emphasize lean protein, veggies, fruits, low-fat or non-fat dairy and whole grains. It takes a daily deficiency of 500 calories to lose 1 pound per week. Although some of this deficit comes from exercise, small dietary changes, such as eating smaller portions and replacing high-calorie foods with low-calorie foods can also contribute. When it comes to diet and exercise, make changes that you can maintain for the duration so that you don't gain the weight back and can continue to show off your slim arms and legs.