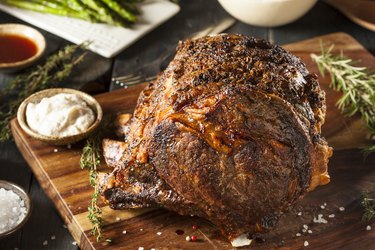 If you look forward to your morning cup of joe (or two), you've likely been surprised by the number of coffee grounds you go through daily. Rather than tossing them, there are plenty of ways to reuse the grounds, including composting and adding them to your garden soil.
And, if you are up for being a little adventurous, popping these java bits into your recipes can elevate your meals almost instantly. Small but powerful, coffee grounds can add intense flavors, interesting textures and, best of all, some nutritional benefits to many dishes.
Coffee and the remaining grounds contain valuable antioxidants, such as cafestol, trigonelline, chlorogenic acid, melanoidins and quinine, Kellie Gragg, MPH, RDN at Strata Integrated Wellness Center and Spa in Colorado Springs, tells LIVESTRONG.com. Coffee grounds also serve up vitamins and minerals including vitamin B2, B5, B3, magnesium and potassium.
Rescue those used coffee grounds from the trash and try these recipes from dietitians and chefs — all are as delicious as they are easy to follow.
1. Add Them to a Veggie Side Dish
For a recipe that's healthy yet full of smoky and bittersweet flavors, Atticus Garant, the Executive Chef at the Fairmont Century Plaza in Los Angeles, recommends this carrot side dish. Serve it alongside your dinner protein with sautéed kale or a side salad for a complete meal.
Spent Coffee and Salt Baked Heirloom Carrots
½ cup kosher salt
1 cup coffee grounds
3 egg whites
1 bunch heirloom carrots
Preheat the oven to 425 degrees Fahrenheit.
Line a baking sheet with parchment paper.
Clean the carrots well under running water to remove any dirt. Do not peel.
In a bowl, whip egg whites until frothy, about one minute.
In another bowl, combine salt and coffee grounds and whisk to incorporate.
Add the egg whites to the coffee and salt mixture. Mix well.
Using a third of the coffee and salt mixture, spread an even ¼ inch layer on the pre-lined baking sheet.
Arrange carrots on top of the mixture, ensuring they do not touch.
Cover the carrots with the remaining mixture. Press gently to secure the carrots in place.
Bake for 25 to 30 minutes.
Remove from the oven and cool for 10 minutes. Before breaking the crust and removing the carrots, gently brush off any remaining coffee mixture.
Drizzle with olive oil, and finish with cracked black pepper to serve.
2. Whip Up a Quick Gravy
Want to add some punch to your ribs? Maybe a little dressing for your turkey that really gets you moving? If so, this appropriately named "red eye" gravy recipe from Bradley Griffin, the owner and chef of Sarah Jean's Eatery in Glade Springs, VA, will hit the spot.
"Red eye gravy ideally is made in the same pan you fry up bacon or country ham using the dripping from the cooking process. It's great because it's a quick and easy sauce for almost any occasion," he adds.
Red Eye Gravy
1 tablespoon bacon grease or pork drippings (you can also use your go-to oil, like olive oil, for a healthier swap)
1 tablespoon flour
2 to 3 cups water (you can use milk instead for a creamier texture)
Used coffee grounds
Salt to taste
In a frying pan, stir bacon grease or oil into the flour and cook over medium heat until golden brown, about two to three minutes.
Stir in water and coffee grounds.
Bring to a boil and allow to thicken for about three minutes.
Season with salt and strain, or serve with the coffee grounds.
3. Opt for Overnight Oats
Since mornings are hectic for many of us, the ability to wake up, grab breakfast and get on with our day is essential. That's why chef and host of Eat Travel Rock, Kelly Rizzo, recommends this easy overnight oats recipe. Not only is it filling, but the coffee will add a dose of energy, too.
Pick-Me-Up Overnight Oats
1/2 cup rolled or quick oats
1/2 cup milk or non-dairy milk
1 tablespoon used or fresh coffee grounds
1 tablespoon chia seeds
1 tablespoon ground flax seeds
1 tablespoon agave nectar
1/2 tsp cinnamon
Pinch of salt
Combine all ingredients in an airtight container.
Close the container. Shake for about a minute.
Store overnight in the fridge
Enjoy!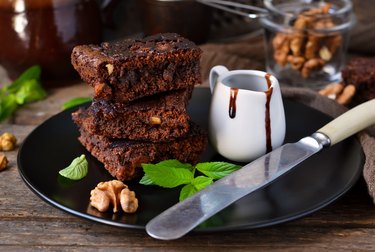 4. Bake Them Into Brownies
Amelia Noel, RD, a registered dietitian at Kroger Health says coffee grounds are a no-brainer in dessert recipes since they can make chocolate more robust and rich. For best results, you want to use finely ground coffee grounds rather than coarse ones.
She recommends adding about 1/3 cup coffee grounds to your go-to brownie recipe. Or try her favorite recipe below.
5. Make Them Into a Marinade
Griffin says this easy marinade has a nice depth of flavor that upgrades beef and pork recipes. By adding sweetness to a savory dish, every bite will provide an addicting contrast of flavors.
And to elevate your cooking skills even further, he recommends experimenting with different herbs or swapping out the honey for sorghum syrup.
Coffee-Cacao Marinade
A handful or two of used coffee grounds
1/2 cup cacao nibs
2 cups vinegar
1/4 cup honey
2 tablespoons fresh basil (Griffin prefers holy basil)
Place all ingredients in a saucepot. Heat the mixture just enough for it to begin to steam.
Allow it to steep for five to ten minutes.
Pour over beef or pork and allow to marinate at least 30 minutes, but an hour or two is best.