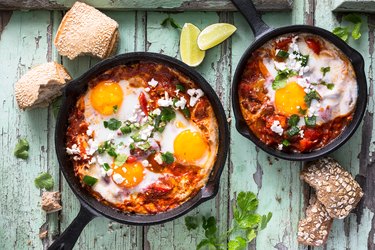 Scrambled, boiled, fried, poached — the list of different cooking methods is long, but we still get bored of our morning eggs after a while. That's where shakshuka — the Mediterranean version of Eggs in Purgatory — can save your rote brunch routine.
Shakshuka is a traditional one-pan Mediterranean and Middle Eastern dish of eggs poached in a rich, fragrant tomato sauce with delicious spices like cumin, paprika and garlic.
"It's a great protein-packed breakfast that has benefits not only from the nutrition in the eggs but from the tomatoes as well," says Maggie Michalczyk, RD.
Specifically, starting your day with protein can help your muscles repair and stay strong: While most people get most of the day's protein at dinner, a June 2014 study in the ‌Journal of Nutrition‌ found that distributing protein throughout the day rather than in just one meal can help stimulate muscle synthesis more effectively.
And, "tomatoes are a good source of lycopene, an antioxidant that helps to protect cells from damage and that has been associated with promoting heart health," Michalczyk says.
Eating more tomatoes was associated with a decreased risk of atherosclerosis (a risk factor for heart disease that causes fats and cholesterol to build up along artery walls) in a 2012 study published in ‌Annals of Nutrition & Metabolism.‌
To reap the benefits and make a mean brunch, start with these healthy shakshuka recipes — just don't forget to snap a photo of the colorful dish before digging in!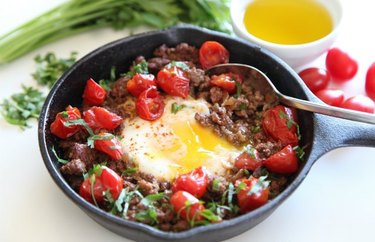 This hearty shakshuka has extra protein from the lamb and boasts a rich flavor and texture to complement the warm spices in the cooked tomato. Unlike typical shakshuka, this recipe nixes the sauce and goes with bone broth for more umami. Not to mention, that runny egg in the middle mixes nicely with the chunks of tender meat, too.
It's low in carbs and high in protein (19 grams) to keep you full until lunch, Michalczyk says. According to an August 2016 study in ‌The Proceedings of the Nutrition Society‌, the protein in lean red meat is readily absorbed by the body, so the lamb will can you greater bang for your buck.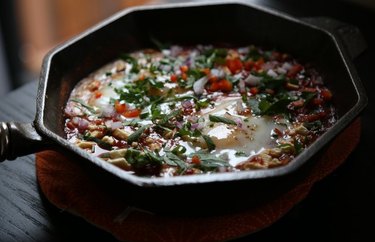 This shakshuka bowl has 14 grams of protein and a respectable 5 grams of fiber to get you going first thing in the morning. There's a ton of flavor from spices, like cumin, ginger, paprika and cayenne, as well as some salt and fat from fresh feta. To be fair, it's a little high in sodium, so make sure to drink water along with it.
There's also a lot of antioxidant and fiber power, Michalczyk says, from the tomatoes, Swiss chard and bell pepper, which are all packed with immunity-boosting vitamin C.
3. Chef Richard Blais' Shakshouka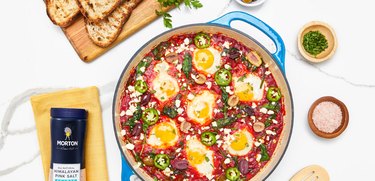 Top Chef Richard Blais spells shakshuka a bit differently (tomatoes, ‌tomatos‌) and makes the dish his own with pink Himalayan salt to give it added color as well as olives and jalapeño for a kick.
This dish is ranked medium in difficulty, so don't get frustrated if it takes some time and practice to perfect it. It serves four to six people, so once you've got it down, you'll look forward to hosting a stellar brunch at home.
The flavors are rich and hearty with the classic staples, like tomato and leafy greens, as well as creamy feta. You can also get creative with it and add kale, chickpeas or any breakfast meats that are just taking up fridge space.
Was this article helpful?
Thank you for your feedback!