Are you tired of the same old lettuce, tomato, cucumber and onion medley? Us too. Well, it's time to toss (pun intended) that same bowl of greens you've been eating every day to the side and try something new!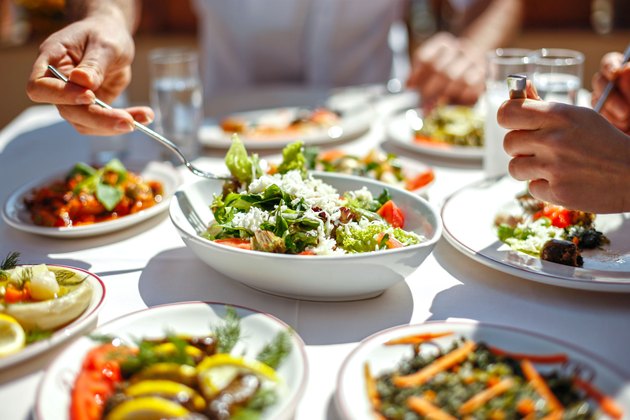 LIVESTRONG.com discovered creative new salad recipes that you can incorporate in your lunch routine. Read on for some wholesome and delicious ideas below — and then get to tossing!
1. Easy Strawberry Salad With Feta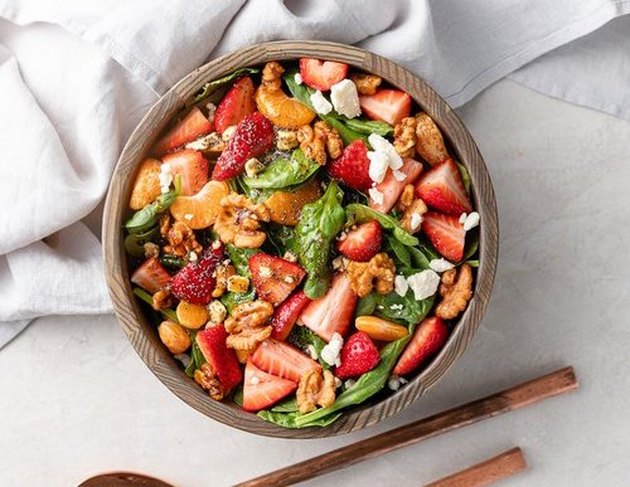 A rich summer salad that's packed with nutrients, antioxidants and big flavor, this bowl combines spinach, mandarin oranges and strawberries with a delightfully bright dressing that's sure to please.
According to Morgan Brod, RDN, the vitamin C in the strawberries could help increase the absorption of iron that's found in spinach. Cynthia Lanzillotto, RD, also notes that since vitamin C is an antioxidant, "it can act as a protector from molecules called free radicals, adding that "a diet with a variety of antioxidants has been associated with lower levels of cancer and increasing heart health."
2. Thai Cashew Quinoa Salad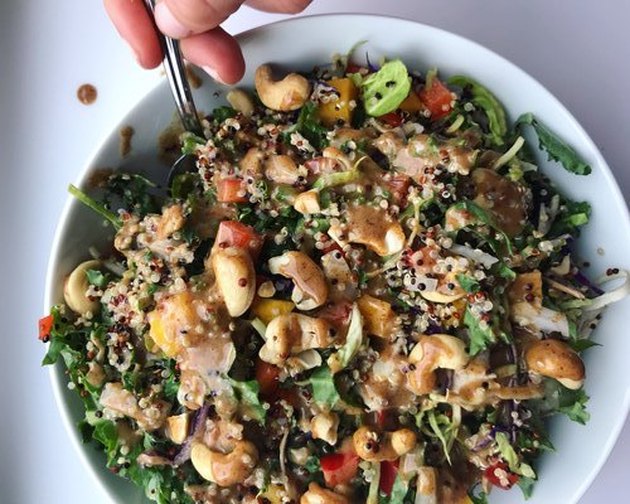 Not only are cabbage, kale and bell peppers super nutrient-dense, but they also offer some serious crunch that even a bag of Lay's can't rival. This salad pairs tasty veggies with a rich almond butter dressing that's bound to become your new favorite lunch.
"This salad hits every macronutrient — all from plant-based foods!" Brod notes. Nuts and oils provide healthy fats, quinoa provides protein and the vegetables provide complex carbohydrates."
Plus, the coconut aminos in the dressing could benefit those with Celiac disease as it's gluten and soy-free. "This product is a great substitute for soy sauce because of its low sodium content," Lanzillotto notes.
3. Healthy Tuna Pasta Salad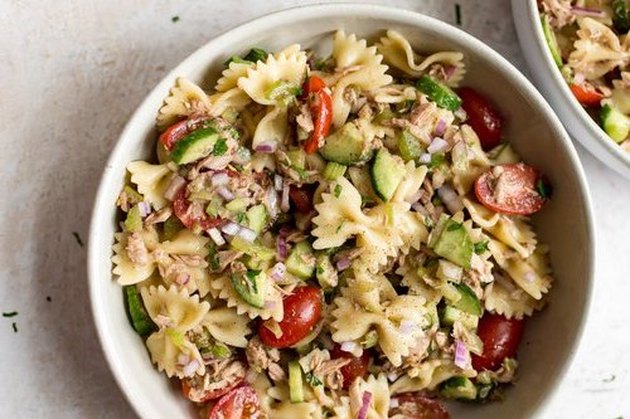 Instead of packing your usual bowl of leafy greens with tomato and cucumber, try your hand at this tuna-packed salad. It's brimming with antioxidant-rich tomatoes, heart-healthy olive oil and protein from the tuna.
The American Heart Association recommends eating at least two 3.5-ounce servings of fish per week as it's a solid source of omega-3 fatty acids. "Diets with adequate omega-3 intake have been associated with improved heart health," Lanizillotto notes.
On top of that, making this simple salad dressing with olive oil and balsamic vinegar is a great way to avoid hidden added sugars often found in pre-made dressings, Brod says.
4. Quinoa Cucumber Tomato Salad
This wholesome salad packs in cucumber, cilantro, cherry tomatoes and quinoa — one of the only plant-based sources of complete protein.
"Quinoa provides all of the essential amino acids, which is typically not the case with plant-based proteins," Lanzillotto notes. "This makes quinoa a great protein source for vegetarians and vegans."
And this salad won't leave you hungry for more. "The protein and fiber in this whole grain will help keep you full," Brod says.
5. Buffalo Cauliflower Salad With Tahini Ranch
The same old buffalo chicken can get boring, so this tangy salad switches things up with cauliflower — a veggie Brod dubs as a blank canvas for bold flavors. This salad recipe also incorporates red leaf lettuce, chickpeas, celery and red onion for an adventurous array of flavors.
But don't fret about skipping the meat in this recipe — you can get your protein from the tasty chickpeas! "Chickpeas are a great plant-based protein that promotes satiety and can help maintain muscle mass," Lanzillotto notes.
6. Make-Ahead Soba Noodle Salad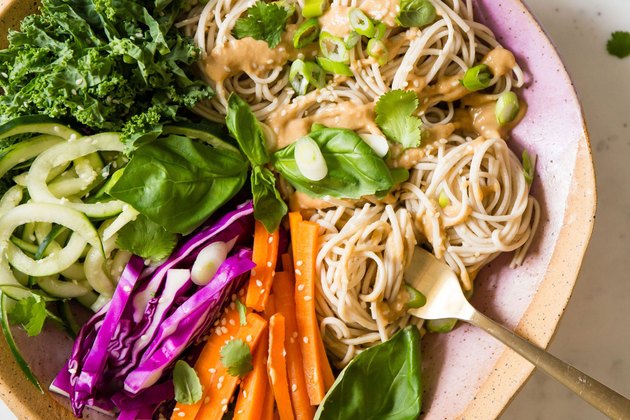 Tired of your same old Mason jar salad? Swap out the lettuce for soba noodles instead! This make-ahead recipe could be gluten-free if you choose 100 percent buckwheat noodles, and it's filled with hearty greens like kale for added crisp.
"Kale is an excellent source of vitamin K," Lanzillotto adds. This fat-soluble vitamin plays a role in blood clotting and calcium absorption to ensure bone health."
And the unique dressing provides a myriad of health benefits too. "The miso paste is fermented and contains probiotics, which promote gut health. Gut health has many associated benefits being researched, such as decreased risk of chronic disease," Brod says.
7. Greek Salad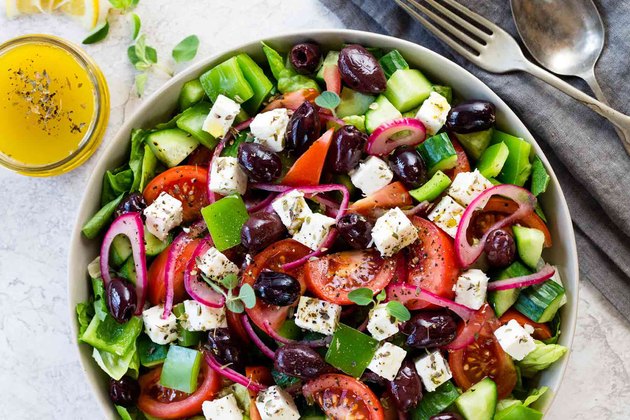 A familiar but oft-forgotten recipe, the traditional Greek salad is a wonderful lunch option that's simple to throw together. It typically includes four classic ingredients: romaine lettuce, red onion, kalamata olives and feta cheese. To take your salad to the next level, blogger Jessica Gavin recommends soaking your onions in vinegar for 15 minutes before tossing into your salad to reduce the pungent flavor and add some tang.
Alongside the veggies and feta (and grilled chicken, if you're looking to add some protein!), often the most delicious part of a Greek salad is the perfectly seasoned dressing. Lanzillotto notes that one of the most important foods in the Mediterranean diet is olive oil because of its monounsaturated fat content. "Incorporating olive oil into your diet may provide heart health benefits," she says.
8. Healthy Summer Broccoli Salad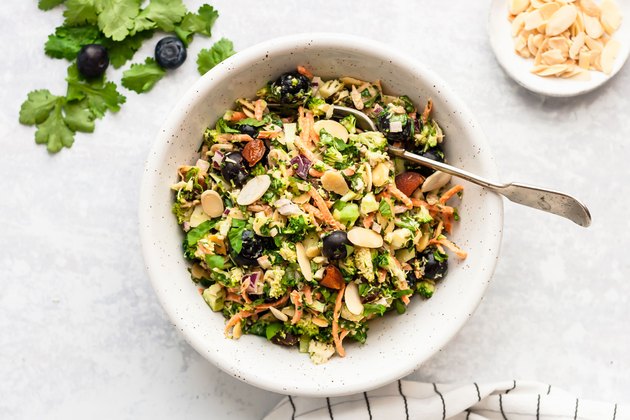 Who knew broccoli and blueberries made the perfect pair? If you're looking for a creative way to eat broccoli, this sweet and savory salad is your answer. "Broccoli is part of the cruciferous vegetable family. It has a ton of fiber and an antioxidant called sulforaphane, which may boast anti-inflammatory properties," Lanizillotto notes.
This salad also combines fresh herbs like cilantro and parsley to really elevate the flavor. "Herbs and spices can provide added nutritional value," says Brod.
9. Lemony Lentil Salad With Vegan Feta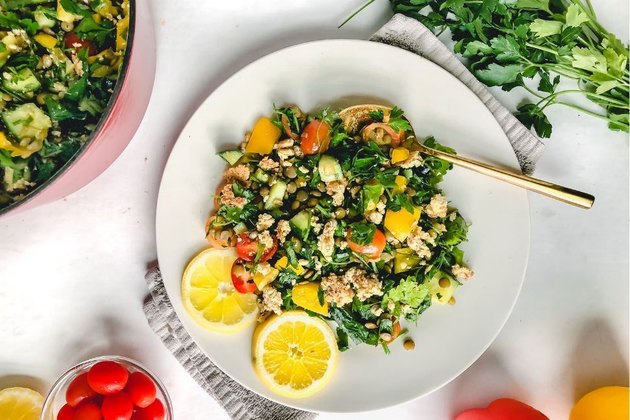 Lentils go way beyond being the main ingredient of a very common soup. This fresh salad — packed with lentils, lemons and a slew of veggies — is loaded with fiber and boasts a crisp taste.
Lanzillotto also points out that lentils contain a specific fiber called soluble fiber. "Soluble fiber plays a role in why you may feel full after eating a high fiber-meal and can help to lower cholesterol while insoluble fiber can bulk up the stool and keeps things moving in the digestive tract," she explains.
10. Easy Mexican Shrimp Salad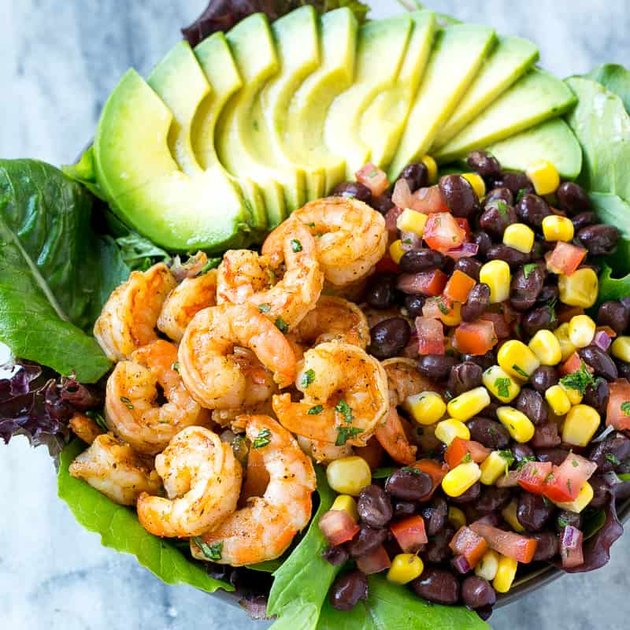 Craving tacos but don't want to splurge? Try this delicious ensemble of shrimp, avocado and corn salsa — all while packing on the protein.
"Shrimp is low in saturated fat and calories and is a great source of protein. Shrimp also contains the mineral selenium, which plays a role in the body's immunity," Lanzillotto says.
And the nutrient-filled avocados bring this salad full circle. "Full of omega-3 fatty acids and fiber, avocados are a star in terms of heart health," Brod notes.
11. Summer Salad With Homemade Dressing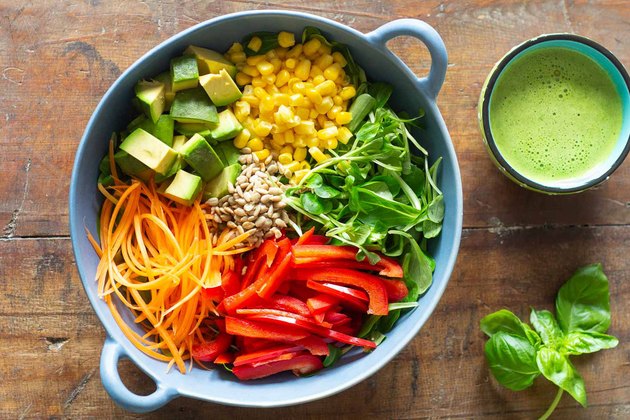 This seasonal salad is filled with colorful vegetables like carrots, peppers, corn and lettuce — the perfect summer treat! "It is a great strategy to shop produce based on what is in season, as it tends to be the least expensive as well as deliciously ripe," Brod says.
The orange-basil dressing ties all the ingredients together while the avocado offers a dose of "good" monounsaturated fats. "Pairing foods high in fat-soluble vitamins A, D, K and E (like the veggies in this salad recipe!) with avocados can help with the absorption of these nutrients," Lanzillotto says.