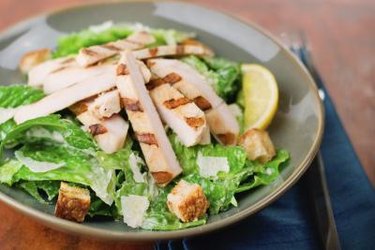 Basing your diet around sources of lean protein and fiber is a tasty way to create a healthy meal plan. Consider biting into a succulent chopped pear salsa atop a dollop of Greek yogurt and a breast of grilled chicken. Creating a diet based on fiber-rich foods such as fruits, veggies and whole grains combined with lean proteins such as tofu, eggs and poultry is a delicious way to reap antioxidants and amino acids. Moreover, lean protein, vegetables, fruits and whole grains are waist- friendly thanks to their nutrients and low calorie content.
Each step below outlines meals and snacks to give you an idea of how to make each meal and snack chock full of fiber and lean proteins.
Step 1
Start your morning with a glass of freshly squeezed fruit and vegetable juice to sip on along with warm quinoa, a protein grain and milk along with a topping of dried fruit and nuts. Smoothies make a delicious breakfast or dessert; simply toss ice with Greek yogurt, almonds, bananas, dark leafy greens, ground flax seeds and strawberries for a protein-packed fruity beverage. Pair your omelet with a side of cottage cheese and fresh fruit such as cantaloupe, mango, strawberries and blueberries.
Step 2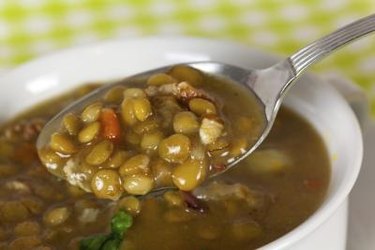 Kick up the fiber content in your lunch by enjoying a cup of lentil soup; add protein-packed grains, cheese and tomatoes for a heartier flavor. Mix and match your grains, proteins and veggies everyday to keep your taste buds excited and longing for more variety. Start with brown rice today and switch to buckwheat tomorrow, stewed tomatoes today and roasted asparagus tomorrow or turkey burgers today and smoked salmon tomorrow. Re-heat last leftover chili, made with split peas, black beans, avocado, Parmesan cheese and sunflower seeds for a quick and easy way to warm up at noon. Create a tuna salad and spice it up with cashews, pecans, dried cherries, fresh basil and a dollop of Greek yogurt in lieu of mayonnaise.
Step 3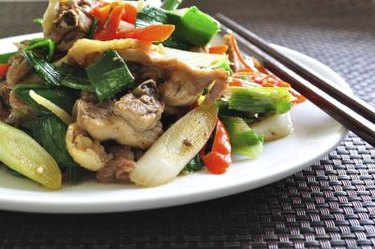 Whip up a stir-fry for dinner with amaranth, a protein-packed whole grain, red and orange bell peppers, apples and snap peas. When yearning for a chicken dish, get creative and stuff your chicken breasts with hearty dried fruits such as apricots, pears and raisins. Experiment with sources of protein such as bison; create burgers using dried cranberries and topped with fresh mango and avocado salsa. Grill a light fish dish and top with raspberry and balsamic demi-glaze or serve chicken, vegetable and fruit kabobs at your barbecue.
Step 4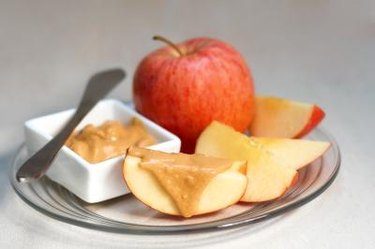 Savor an afternoon snack of apples and nut butter with a sprinkle of ground flax seeds and dried cranberries for a unique treat that will keep your taste buds happy. Trail mix is an easy way to pair protein-rich pumpkin seeds with almonds, dried bananas and dates. Try stuffing figs with nut butter or topping your protein-rich Greek yogurt parfait with nuts and fruit to satisfy your sweet tooth. Desserts are always tastier when moist and rich with fresh flavor; bake a zucchini nut bread or carrot cake by adding pureed fruit to the batter for a healthier, fiber-rich alternative.
Things You'll Need
Whole grain breads, pastas, crackers, pizzas, bagels, tortilla chips

Vegetables and fruits

Seeds and nuts

Nut butters (no added sugar)

Brown rice and other whole grains
Tip
Soaring with fiber and minerals, fruits and veggies are a water-rich, healthy way to naturally add sweet flavor to any dish. Low on the glycemic index, they can increase energy levels and leave you feeling refreshed and cleansed. Other great sources of fiber include beans, legumes and whole grains such as brown rice, quinoa, buckwheat, amaranth and spelt. Protein, an essential nutrient for cell repair and maintenance comes from a vast array of tasty sources such as chicken, turkey, fish, eggs, tofu, nuts, beans, seeds, grains, Greek yogurt, low fat dairy and lean beef. Combine sources rich in fiber and protein, which when paired together will stabilize your blood sugar and keeping you satiated. Moderation is always best; be sure to drink enough water when eating high fiber foods to keep from causing a blockage in your system. Be sure to reach for lean sources of protein and keep an eye on the cholesterol you consume in protein-rich foods such as red meat, whole dairy and other high fat foods. Before starting any diet, be sure to talk to your doctor to determine if the low carb, high protein approach is right for you.
Warning
Too much fiber may lead to gas, diarrhea, abdominal discomfort, constipation and bloating. Moreover, consuming too much fiber may lead to an inability to absorb certain nutrients. High protein diets may cause problems with mood changes, which may result in cravings for carb-rich foods. High protein diets may lead to a loss of calcium in bones, which in turn may cause osteoporosis. Consuming too much protein may put a strain on the kidneys.