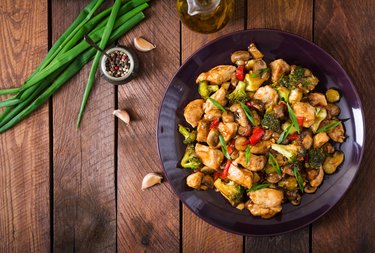 If you often find yourself with a fridge full of mishmash ingredients and 20 minutes to spare, wondering how on Earth you're going to make a healthy meal for you and your family, this roundup's for you.
Stir-fry dinners are simple, delicious and full of lean protein and veggies that will keep you full — even if the recipe only calls for five ingredients. And the best part is you can customize any recipe to your liking, making it sweet, salty, spicy or all of the above.
To help ease your weeknight stress, try these six easy-to-follow and healthy stir-fry recipes packed with more than 24 grams of filling protein and can be served within minutes, literally.
1. Chicken and Broccoli Stir Fry
​Calories:​ 325 calories
​Protein:​ 31 grams
It's no secret that the juicy, saucy chicken and broccoli dish at your local Chinese takeout is one of the most commonly ordered dishes. This at-home version is not only a healthier option, but it can be made in a fraction of the time. "This recipe has a balance of macronutrients and micronutrients," says May Zhu, RD, LDN of Nutrition Happens. "Plus, it provides vitamin C from the broccoli to help support our body's immunity and maintain healthy skin."
2. Beef and Cabbage Stir Fry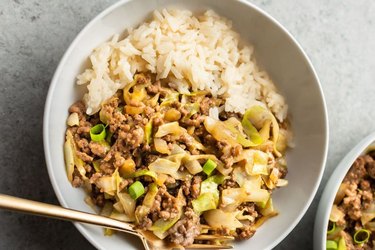 ​Calories:​ 302 calories
​Protein:​ 30 grams
You can make this quick-and-easy dinner with fewer than 10 ingredients. The two main components, beef and cabbage work together nutritionally: "The vitamin C in the cabbage helps our bodies better absorb the iron in the beef," Zhu says. And the good thing is this recipe can be adapted for a variety of diets, including low-carb and keto.
3. Pineapple Pork Stir Fry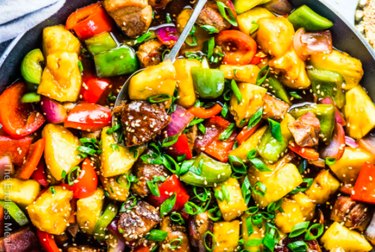 ​Calories:​ 436 calories
​Protein:​ 26.8 grams
"Pork provides a variety of different nutrients, including B vitamins, zinc and potassium," Zhu says, adding that all of these vitamins and minerals help support energy metabolism in the body. The addition of pineapple in this recipe not only provides a pop of sweet, juicy flavor, but it also contains the enzyme bromelain, which Zhu says helps break down proteins during digestion.
4. Sesame Soba Noddle Stir Fry With Tofu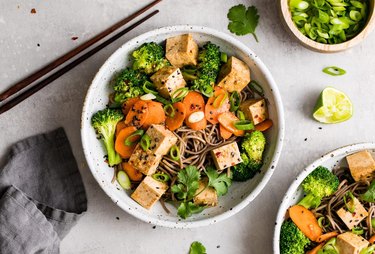 ​Calories:​ 570 calories
​Protein:​ 28.5 grams
Rice doesn't always have to be the base of a stellar stir fry. This recipe uses soba noodles, which Zhu says, "are typically made from buckwheat, which is naturally gluten-free and provides a good source of fiber and protein." And when you pair with tofu, you've got a protein-rich meal that doesn't require any meat.
5. Honey Garlic Shrimp Stir Fry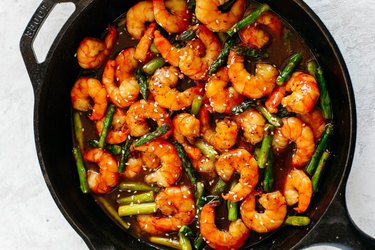 ​Calories:​ 274 calories
​Protein:​ 38.3 grams
Shrimp is one of those easy proteins that you can defrost and cook in minutes. "They're also a great low-fat source of protein and provide a source of omega-3 and omega-6 fats to support brain and heart health," Zhu says. While this recipe does use asparagus, you can substitute for any other vegetable you have in your fridge like bell peppers, broccoli, onions or even zucchini.
6. Tofu and Bok Choy Stir Fry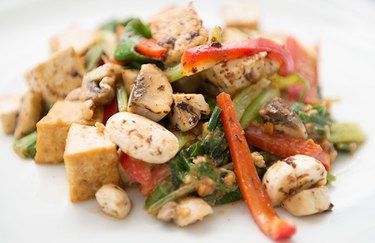 ​Calories:​ 349 calories
​Protein:​ 24 grams
Stir-fries are a great way to include a variety of veggies into one meal, Zhu says. And truth be told, there really isn't a right or wrong vegetable to add. People with a nut allergy can swap the peanut butter in this recipe for seed butter like sunflower seed or tahini.