Spring rolls are a popular appetizer in a variety of Asian cuisines; fresh spring rolls differ from typical spring rolls in they're not fried, but the ingredients are instead pre-cooked before being wrapped. Fresh shrimp spring rolls are a relatively low-calorie way to get the flavor of your favorite spring roll without all the fat.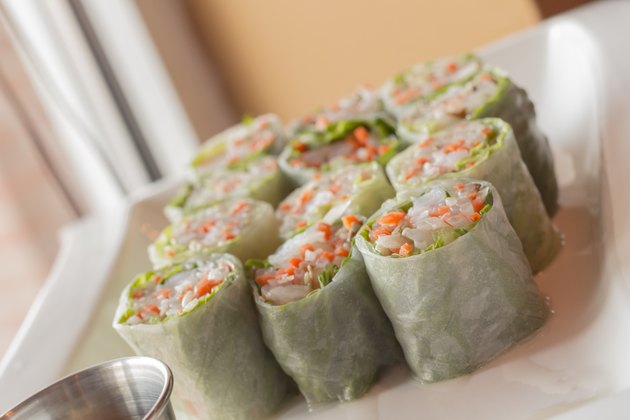 Calories
A single spring roll is its own serving. Each shrimp spring roll has 70 calories, according to iChange.com.
Calories From Nutrients
Each shrimp spring roll has roughly 3 grams of fat, giving it 27 calories from fat. Additional calories in the spring roll com from carbohydrates; the nearly 6 grams of carbohydrates give the roll 24 calories from carbs. It also has nearly 4 grams of protein for almost 16 calories from protein.
Considerations
If you would like the lower calories of the fresh shrimp spring roll but the outer crunch of the classic spring roll, try alternate cooking methods. Extremely hot broth can be used to simulate some of the properties of frying without all of the fat; you can also bake your spring rolls to get a bit of crunch.