We all have that one friend who is already eagerly standing in line for her PSL and counting down the days to sweater weather. But for those of you still holding on to what's left of summer, we've got you.
Barbecuing outdoors with friends is what summers are made of, so to help you keep that feeling alive, we've pulled together five smokeless indoor grilling recipes you can enjoy year-round. We're also sharing some expert tips (e.g. how to not set off the fire alarm) from Jackie Newgent, RDN, chef, nutritionist and author of the upcoming The Clean & Simple Diabetes Cookbook.
1. Kimchi and Grilled Chicken Lettuce Cups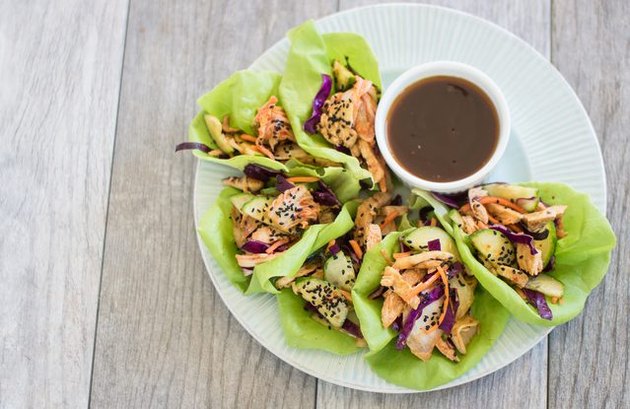 Here's one for our low-carb fans. Swapping out regular corn or flour tortillas for greens reduces the carb count of this dish, and grilled lean chicken offers satiating protein. Kimchi is the real winner here, though — not just for the spicy, sour, umami flavor it lends, but for the probiotic kick it offers, too.
According to the National Institutes of Health, probiotics may help reduce symptoms of IBS, decrease LDL-cholesterol levels and support overall gut health.
2. Grilled Sweet-n-Spice Salmon with Rice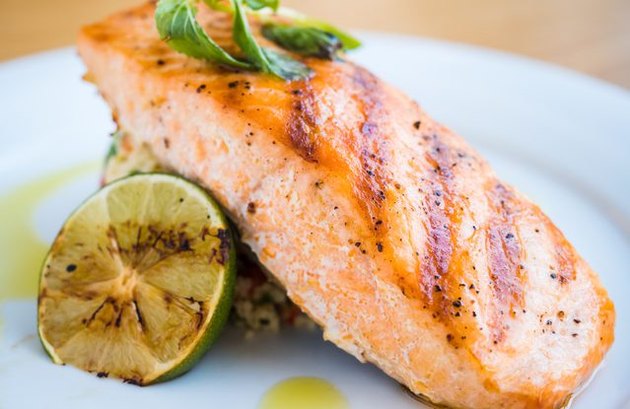 This recipe is made of everything "nice" (get it?), from salmon full of omega-3, to heart-healthy olive oil and antioxidant-packed spices and herbs.
Bringing this recipe indoors to enjoy year-round may give your health a boost. According to an April 2014 study published in Nutrition Journal, Americans aren't eating the recommended amount of two, 3.5-ounce servings of fish per week. Add this recipe to your rotation to help up your intake .
3. Grilled Vegetable "Burgers"
4. Grilled Farmers Market Veggie Tacos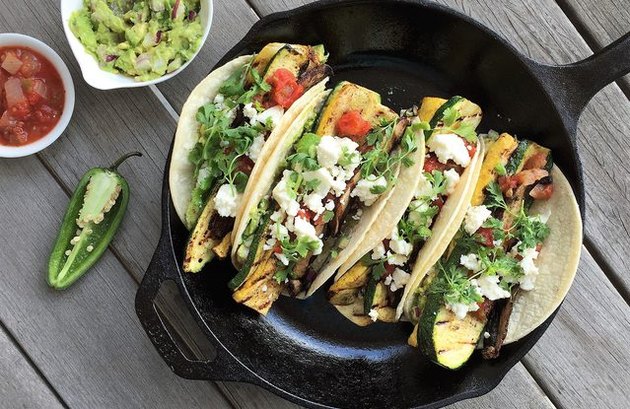 Enjoy Taco Tuesday all year round with this plant-based recipe. The great thing about this dish is that, while it calls for zucchini, squash, mushrooms, etc., you can really grill up any veggies you have on hand.
All vegetables are stocked with vitamins, minerals and other nutrients like fiber. Unfortunately, most of us are falling short in the fiber category — 90 percent of us fail to meet the recommended daily amount, according to a July 2012 study published in The Journal of Nutrition. So, give this recipe a fiber and protein boost by adding your favorite beans.
5. Grilled Pound Cake with Saucy Strawberries
Chef-Approved Indoor Grilling Tips
Chef-dietitian Jackie Newgent shares her favorite tips for healthy indoor grilling:
You don't need any fancy equipment. No fancy indoor grill necessary. A cast-iron grill pan, like this bestseller from Lodge, does an excellent job when it comes to grilling in the kitchen. You also don't need to worry about any special utensils; just make sure you have a sturdy spatula and long-handled tongs.

Prep is key. Prep your food properly for grilling, including brushing veggies and meat with oil, so they don't stick to the grill and you don't wind up with a dried-out result. And, just like you do outdoors, make sure your grill pan is hot before adding any foods.

Don't set off the fire alarm. There are a few steps you can take to keep from filling your place with smoke:

Try to avoid overly fatty meats — as the fat drips off, the amount of kitchen smoke will increase.

When marinating foods, drain the excess marinade from the food before grilling it.

When brushing foods, like vegetable kebabs, with oil, do this before you transfer them onto the grill.

When using an oil, aim to use one with a higher smoke point, such as avocado oil instead of extra-virgin olive oil.

Keep a lid nearby. Trapping some smoke under the lid can lead to a smokey, right-from-the-grill taste.

Use your kitchen exhaust fan — capturing that cooking smoke is mostly what it's there for!* Don't turn your food too often. A little patience can result in rich grill markings.

Grill in batches. Remember that the size of your grilling surface is likely smaller than your outdoor grill, so plan to cook in several rounds rather than all at once.