Not vegan or vegetarian? Not a problem. You don't need to be a diehard herbivore to appreciate plant-based proteins. Meat lovers can still enjoy foods like tofu, nuts and legumes and reach their protein quotas for the day.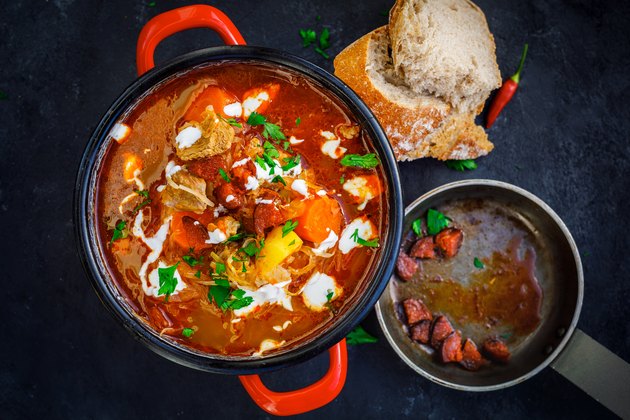 Jump on the bandwagon with these hearty and satisfying plant-based recipes that may convert even the most committed carnivores. Plus, all of these picks pack in 14 grams of protein or more per serving!
1. Slow Cooker Vegan Chili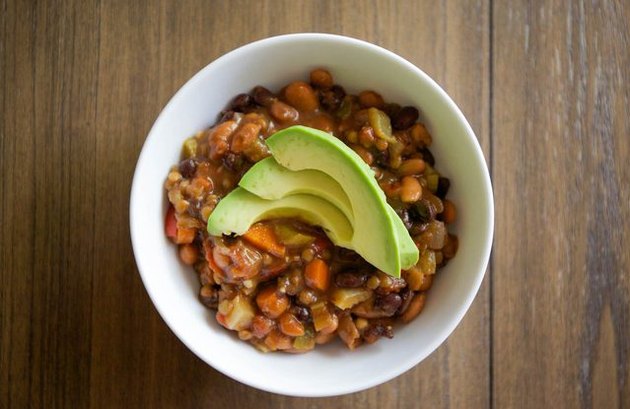 There's nothing like a warm bowl of chili to make you all comfy and cozy on a brisk fall night. Between black beans, pinto beans and lentils, this hearty, plant-based chili boasts an all-star ingredient list of heart-healthy, fiber-filled legumes. The best part? One serving will only cost you 2 grams of fat — nearly five times less fat than your average portion of beef chili.
2. Vegan Curry Sunrise Scramble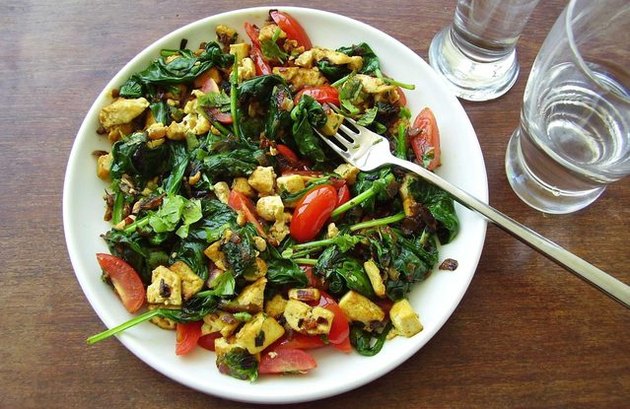 You'll love this recipe if you're a fan of breakfast for dinner! Loaded with veggies, this spicy, dietitian-crafted tofu scramble some little heat thanks to a dash of medium-hot curry paste. We promise you'll never miss the eggs.
3. Grilled Vegan Pesto 'Burgers'
Thanks to the rising popularity of Impossible Foods and Beyond Meat, you've probably heard a lot of hype about veggie burgers (and may have even jumped on the meat-free burger wagon). With wholesome, fresh ingredients, this homemade plant-based Portabella patty skips all the processed junk and replaces it with actual veggies. Plus, it's seasoned with a lip-smacking basil pesto sauce to boot.
4. Vegan Tofu Taco Salad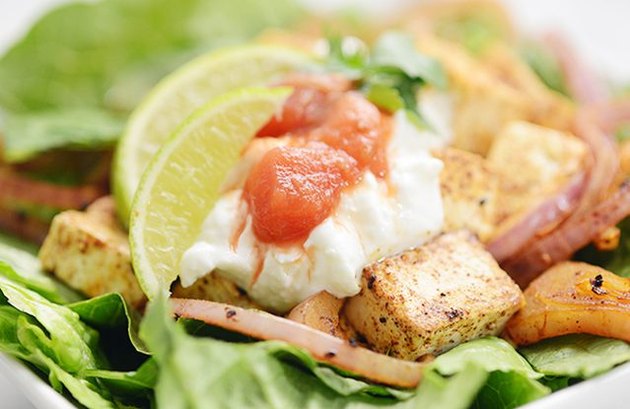 With a tofu base, this taco salad may skimp on the meat but not the spice or the flavor with traditional Mexican seasonings like cumin, chili powder and salsa. Swap in soy or almond yogurt for sour cream and squeeze a little lime on top for the perfect picante finish.
5. Tricolor Tofu Stir-Fry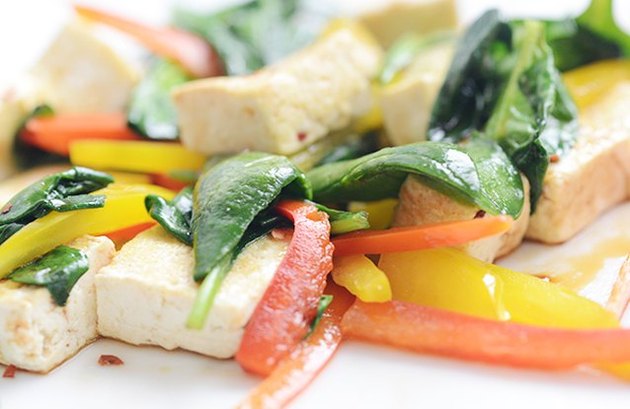 This tricolor tofu stir-fry creates a rainbow of colors on your plate with vitamin-packed veggies like bright red and yellow bell peppers and vibrant green baby spinach. More than just pleasing to the eye, it's a party for your palate thanks to an Asian-inspired dressing made with tangy tamari and spicy ginger and red pepper flakes.
6. Vegan Chili Baguette 'Boat'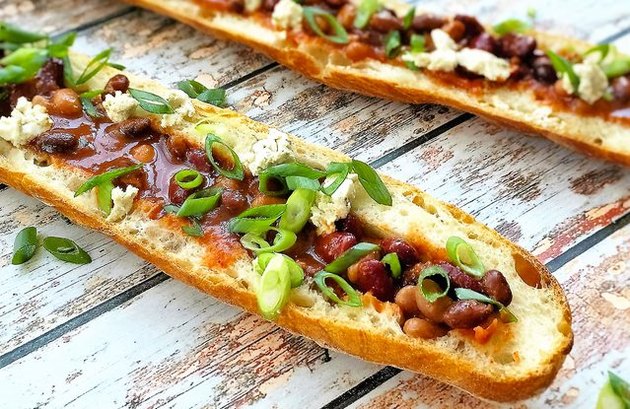 Beans on a baguette? We're sold! This four-ingredient crunchy baguette boat packs an impressive 18 grams of protein and is a cinch to make. Since the recipe calls for store-bought vegan chili, you can literally toss this together in under two minutes. No utensils required.
Tip
When buying pre-made chili, be sure to read nutrition labels and choose a low-sodium option. You don't want a canned chili that's crammed with salt.
7. Vegan Margherita Thin-Crust Pizza
Plant-based pizza? Mamma mia! Made with fiber-rich whole-wheat dough, this thin-crust Margherita pizza will keep your belly full while crushing those takeout cravings. Top it with shredded almond-based cheese that perfectly melts into a stringy mess that even mozzarella lovers won't be able to tell the difference.