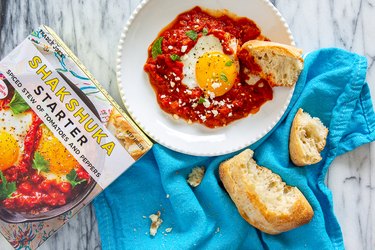 Trader Joe's is home to a multitude of deliciously unique products. But the grocer can also actually help you healthify your diet and eat less sugar if you shop smart.
Here's why you should care: Americans eat about 77 grams of sugar per day — more than three times the recommended amount, according to the American Heart Association.
If you're trying to eat a healthy plant-based diet, focus on whole foods first. And when it comes to sugar, realize there are indulgent foods that are obviously high in sugar (ice cream, baked goods, sodas) and there are other foods that seem innocuous (spaghetti sauce, salad dressing, instant oatmeal) but contain added sugars, too.
If you tend to overdo it with the former food group, consider cutting down the frequency or the portions.
And when it comes to the latter, read the ingredient lists when shopping and look for products that are free of added sugars rather than products that have artificial or natural sugar alternatives.
To get you started, we're sharing eight Trader Joe's sugar-free products to shop for.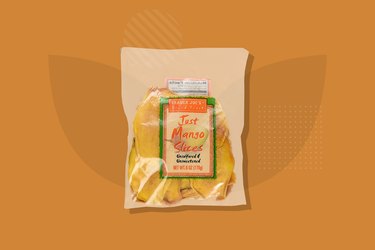 All dried fruit is not created equal. Some options are just that, dried fruit. But others are often sweetened.
Case in point: Trader Joe's Organic Dried Mango includes organic mango — that's it. Their Soft & Juicy Dried Mango on the other hand, contains mango, sugar, glycerin, mango juice and sulfur dioxide.
Just by making this simple and obvious choice, you're cutting out all of the added sugar.
‌Buy it‌: Trader Joe's stores; ‌Price‌: $3.99 per 6-ounce bag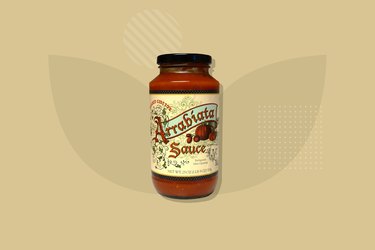 It's hard to escape added sugar when it comes to tomato sauce. If you've ever looked for sugar-free options then you understand it can be quite the hunt.
Trader Joe's Arrabiata sauce brings the sweet (and the heat) without any added sugars. The ingredients include: tomatoes, tomato puree, onions, roasted red bell peppers, carrots, EVOO, garlic, sea salt, spices and citric acid.
‌Buy it‌: Trader Joe's stores; ‌Price‌: $3.99 per 25-ounce jar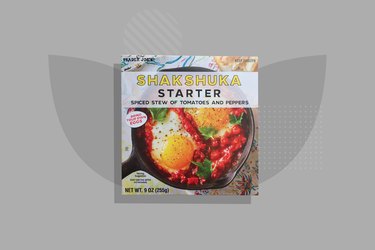 Again, when it comes to tomato-based products, you have to keep an eye out for added sugars.
The good news is, this Shakshuka Starter from Trader Joe's creates a hearty and filling shakshuka breakfast in less than 10 minutes. The ingredients are simple: tomatoes, onions, bell pepper, tomato paste, olive oil, garlic, cilantro, salt, paprika and spices.
All you need to bring are the eggs.
‌Buy it‌: Trader Joe's stores; ‌Price‌: $1.99 per container
4. Non-Dairy Oat Beverage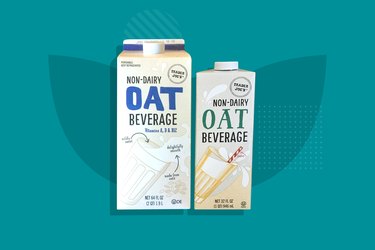 There are a ton of non-dairy milk alternatives available, which is good news for those following a plant-based diet, or, if you can't tolerate dairy.
But, you have to be very diligent with reading labels if you're concerned about added sugars, which most of us should be. There are typically sweetened and unsweetened versions of most plant-based milks.
Trader Joe's Non-Dairy Oat Beverage includes hydrolyzed oats and water — that's it.
‌Buy it‌: Trader Joe's stores; ‌Price‌: $2.29 per 32-ounce container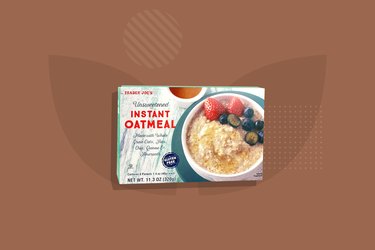 Instant oatmeal is notorious for added sugars but it's easy to avoid if you choose Trader Joe's Unsweetened Instant Oatmeal.
You'll still get your quick breakfast, but you'll skip the added sugar. Add your own sweetness by tossing in fresh or frozen fruits to the mix.
‌Buy it‌: Trader Joe's stores; ‌Price‌: $2.99 per container (6-packets)
6. Green Goddess Salad Dressing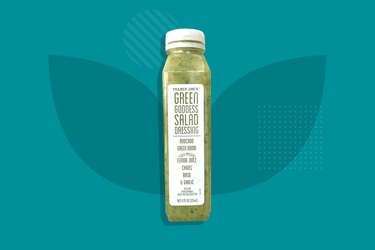 A topping for your salad might seem like the last place you'd find added sugars but the truth is, they're often added to salad dressings.
Trader Joe's Green Goddess Salad Dressing's ingredients include simple, whole foods: water, avocado, apple cider vinegar, green onions, lemon juice, chives, parsley, olive oil, yellow onion, basil, garlic, sea salt and black pepper.
‌Buy it‌: Trader Joe's stores; ‌Price‌: $3.99 per 11-ounce container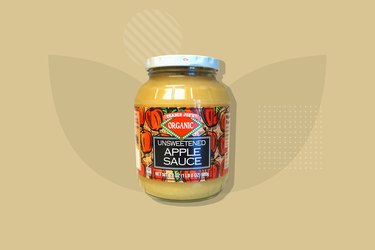 Whole, fresh fruit is always a sure-fire way to avoid added sugars but if you're looking for another option, consider Trader Joe's Organic Applesauce.
You have to be careful when shopping for applesauce, oftentimes, sugar has been added. But TJ's organic version includes organic apples, organic cinnamon and natural flavor — that's it.
‌Buy it‌: Trader Joe's stores; ‌Price‌: $1.99 per 4-pack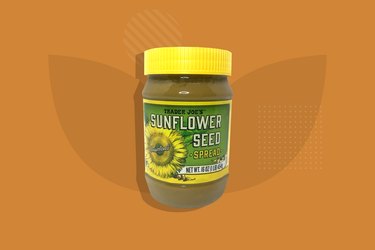 Speaking of sneaky sources of sugar, nut and seed butters are another food to add to the list.
Peanut butter, almond butter, sunflower butter and other nut and seed spreads often come with added oils and sugar, which seems unnecessary because nut butters are so delicious on their own.
Always check the ingredient list before purchasing and try Trader Joe's Sunflower Seed Spread, made with roasted sunflower seeds and a bit of salt.
‌Buy it‌: Trader Joe's stores; ‌Price‌: $4.99 per 16-ounce jar