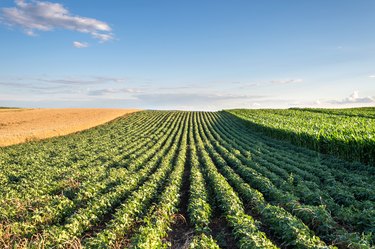 Whether you are a vegetarian or not, soy is an excellent source of protein. Soy protein powder is made by the separating the soy protein from the soybeans, leaving the powder "nearly carbohydrate and fat-free," and containing up to 95 percent protein, says the Soy Foods Association of North America. Substitute this versatile powder for whey powder or use as part of a balanced diet. A report from Columbia University explains that soy may help fight heart disease, osteoporosis and some types of cancer.
Drinks Made With Soy
Protein drinks are a convenient way to meet your daily protein requirement. An adult woman needs about 46 grams of protein a day, while a man requires 56 grams, according to the Centers for Disease Control and Prevention. The University of Missouri states you can make a high-protein milk drink or fruit punch with protein powder. Make the milk drink by mixing 1 cup of skim milk, 1 scoop soy protein powder, 1 teaspoon artificial sweetener and a flavored extract such as orange, almond, mint or vanilla in a blender. Blend until smooth. A sweet use for soy protein powder is to mix an artificially sweetened powdered drink packet, 1 scoop soy protein powder and ice cubes together and blend completely.
Soy in the Mix
Part of a healthy diet is consuming adequate amounts of whole-grains and dairy, as well as protein. The finely ground powder virtually disappears in cereals, oatmeal and casseroles. The University of Michigan Health System says that if you consume about 1 ounce of soy protein powder a day, you may help lower your cholesterol levels. Mix the powder into your morning oatmeal, combine it with cream soups for casseroles and sprinkle some on your cereal. Combine soy protein powder, soy yogurt and a cup of fresh fruit for a high-protein snack.
Protein Granola Bars
A 2004 study published in the "Nutrition Journal" and led by Erin C. Brown found that athletes who ate soy protein and whey bars both experienced a gain in body mass. The soy group also experienced a preservation in cell antioxidant function. Make your own version of a healthy granola-protein bar using a recipe from the Food Network. Combine about 1 cup of soy protein powder with about 1/2 cup each of oat bran and whole-wheat flour, 1/4 cup wheat germ and 1/2 tsp. kosher salt. Set aside. Chop 1/2 cup each of raisins, dried cherries, dried blueberries and dried apricots. Set aside. In a separate bowl, whisk one 12.3-ounce package soft silken tofu, 1/2 cup apple juice, 1/2 cup packed dark brown sugar, 2 beaten eggs and 2/3 cup natural peanut butter. Beat well after adding each egg. Add to protein powder mixture, mix well and fold in fruit. Spread in greased rectangular casserole pan and bake for 35 minutes. Makes 24 bars.
Soy Pancakes
Replace regular flour with isolated soy protein powder, recommends Mary Dan Eaders, author of the book "The Low-Carb Comfort Food Cookbook." You can make high-protein, healthy pancakes or waffles with soy protein powder. These pancakes take five minutes to mix, and less than four minutes to cook. Preheat a griddle. Mix two eggs, 1/4 cup soy protein powder, 1/3 cup sour cream, 1 teaspoon baking powder and 2 tablespoons olive oil in a mixing bowl. Stir until well-combined. Pour small circles of batter onto your griddle and cook until edges are set. Turn once and serve with syrup.