Dinner Meal Prep Tips
At first, it can seem like the steps required for planning and prepping your meals are few too many to be worth the effort. However, as you get used to the process, it's likely that you'll pick up tricks that make meal prepping easier. In the long run, it'll save you loads of time and will be well worth the effort. You just need to give it a swing!
Start a meal rotation calendar. "Meal rotation involves selecting recipes you like, gathering them in one spot and scheduling them on a calendar for the week or month, depending on how many recipes you like," Natalie Allen, RD of Missouri State University, tells LIVESTRONG.com. For example, if there's a recipe that you or your family loves for beef kebabs, create a two-week meal rotation that includes that recipe every other Tuesday.


Maximize the slow cooker. This essential kitchen gadget cuts a significant amount of hands-on cooking time. "Many adults and children alike participate in after-work or after-school activities, and it's easy to come home to an already-made meal," Stockholm says, deeming the slow cooker the perfect weeknight warrior.


Use leftovers for lunch. The slow cooker can also help you create big batches of dinners, which make for great leftovers. "My personal favorite [slow cooker recipe] is shredded chicken, which can be made into several dishes and used as leftovers for the next day's lunch," Stockholm says.


Recycle ingredients. "Buy one set of groceries, and use the items to make at least three different types of dinners for the week," Allen tells us. For example, if you buy ground turkey for the week, you can use it to make a flavorful meatloaf, an easy bean-and-turkey chili and a batch of meatballs.

What to Shop For
Healthy dinner staples can help you whip up healthy and delicious meals in advance so that you don't have to deal with cooking after a long day at the office. Add these to your grocery list ahead of meal prep day to make things a little easier:
Lean meats like turkey and chicken
Vegetables like leafy greens, onions and carrots
Legumes and legume-based pasta
Whole grains like brown rice and seeds like quinoa
Low-sodium stock
Tomato sauce
Herbs and spices
Healthy Dinner Ideas to Meal Prep This Week
1. Rotisserie Chicken Lasagna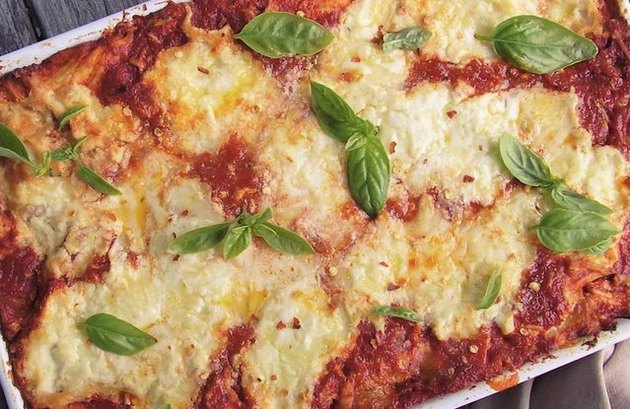 Using rotisserie chicken in a healthy lasagna recipe makes meal prepping much easier because the protein component is already cooked. Therefore, all you need to do is assemble the dish by layering whole-grain noodles, marinara sauce, balsamic vinegar and a blend of ricotta and mozzarella cheeses, and then stick it in the fridge until you're ready to bake it.
Lasagna also freezes beautifully, so you can bake the dish, let it cool and store it in air-tight containers for future meals. Just take it out of the freezer the day before you want to eat it and let it thaw in the refrigerator before popping it in the oven.
Beef stew is easy to prep. Just chop all the ingredients, toss them into a gallon-sized zip-top plastic bag on a weekend or slow afternoon and pop them into the refrigerator. Then, dump the bag into the slow cooker on the day you've planned the meal. Give it 6 to 8 hours while you're at work or taking care of other business, and dinner will be ready when you are. You can even load up two or three bags with the same ingredients and freeze the bags for a future meal.
The lean beef in this stew provides plenty of protein and vitamin B12 while the bevy of vegetables offers vitamins, minerals and fiber, making it an easy and healthy supper.
3. Farmers' Market Meatloaf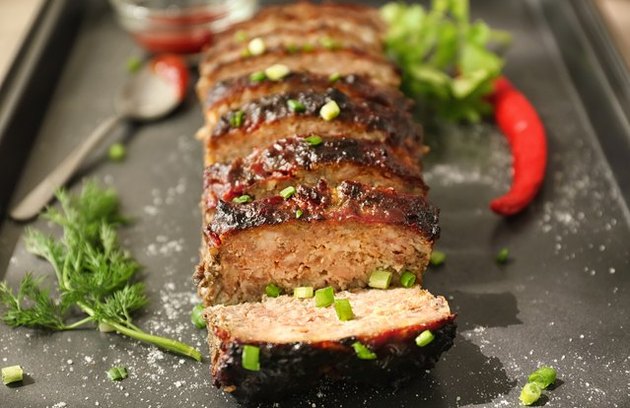 This Farmers' Market Meatloaf boasts a plethora of chopped vegetables tucked into the loaf for added vitamins and fiber. Make meal prepping this protein-packed recipe easier by chopping all the vegetables at once and then storing them in clear containers in the refrigerator. Throughout the week, scoop out the portion of veggies that you need for the dish you're making. This meatloaf can also be made in advance and frozen.
4. Simple Turkey Salsa Chili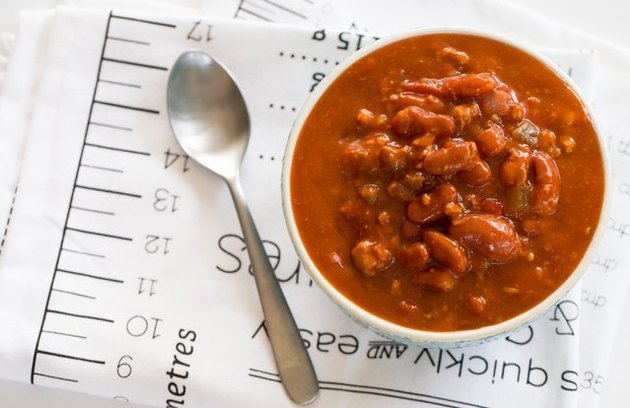 This six-ingredient chili doesn't take much time if you're whipping it up just before dinner, but it can also be prepped in advance and refrigerated for a quick supper later in the week. Serve it with a green salad and whole-grain pasta for a well-rounded meal. The turkey's lean protein content will keep you full and satisfied so you can avoid those midnight munchies. In fact, the Academy of Nutrition and Dietetics notes that getting enough protein at each meal is one of the best ways to manage your weight.
5. Turkey Basil Meatballs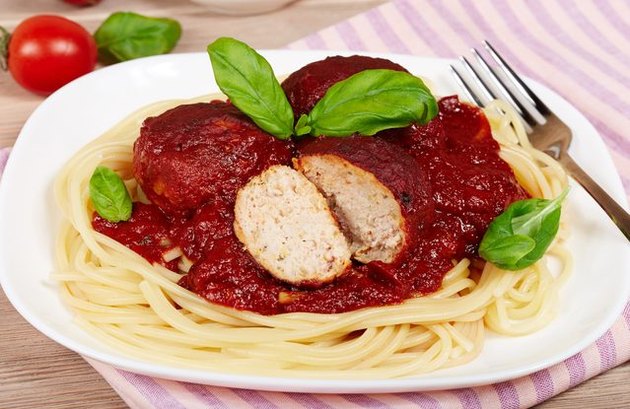 Lighten up the classic spaghetti and meatballs by swapping out beef meatballs for a homemade turkey-based version. Turkey meatballs can be made in advance and frozen for use throughout the week, whether you lay them on a bed of whole-wheat, fiber-rich pasta or on a whole-grain roll. Plus, turkey is leaner than ground beef, so you'll easily slash your intake of saturated fat by whipping up this easy dish.
6. Cincinnati-Style Veggie Chili Bake
If you have leftover turkey from the previous three meals, you can throw some into this chili bake. However, it's not a bad idea to incorporate a couple of healthy meatless meals into your weekly rotation.
This dish is "Cincinnati-style" because it pairs chili with pasta and warm spices like cinnamon, a combination made famous in Cincinnati decades ago. This particular recipe calls for whole-wheat pasta rather than the enriched white version — a change that boosts the fiber content. Prep the chili bake by cooking the pasta and chili of your choice ahead of time and storing it in the refrigerator until you're ready to dig in.