Just like mittens, warm open fires and all-wheel drive, your slow cooker was made for winter. And there are plenty of reasons why.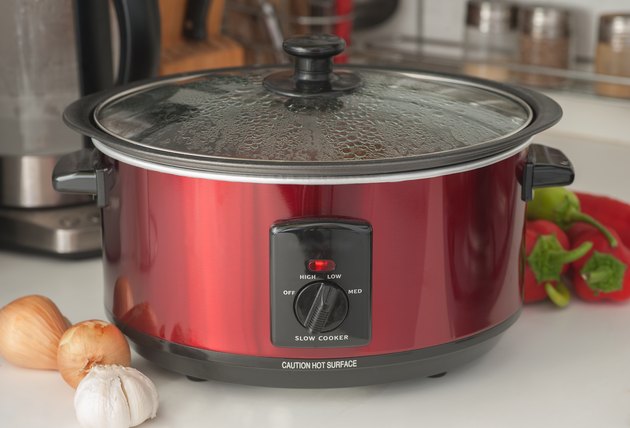 First, the days are shorter and many of us would rather not spend precious hours of daylight in the kitchen. This is the season of set it and forget it, where you can come home to a hot meal without having to bother with the oven. Plus, the slow cooker is perfect for creating stews, soups, chilis and really any hot dish that's perfect for cold weather.
Lastly, with shorter hours of daylight and dipping temps, most of us tend to spend more time indoors during the winter months, which may mean we're a little less active than we are the rest of the year. If you're burning less energy, you'll want to make some adjustments to your regular diet to take this into consideration.
In fact, research published in May 2017 in the American Journal of Preventive Medicine shows that home-cooked meals have fewer calories, fat and sugar compared to restaurant meals. And the Crock-Pot makes for an easy foray into healthy cooking if you're a newcomer, if you eat out a lot or if you're just into time- and money-saving tips.
With this in mind, we've compiled a list of our favorite slow cookers to buy this winter. We hope you find one that's a perfect match for your personality, needs and wants.
The Best Large Slow Cooker for Big Families
Feeding a family day in and day out can be taxing on your schedule, budget and, some days, your nerves. Take some of that stress off your plate by investing in a slow cooker so you can prepare one meal to serve your entire family with leftovers for the week.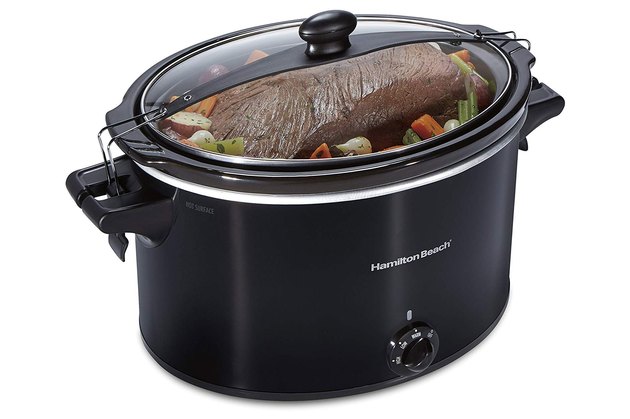 This slow cooker has large families in mind: The extra-large capacity allows you to cook for an extra-large crowd. It can hold a 10-pound turkey or 12-pound roast, after all. It also has three settings including a "warm" setting, which allows you to keep your meals warm until everyone is home from band practice, swim meets and business meetings.
The Best Slow Cooker for 1 to 2 People
Slow cookers might seem overwhelming to some — they can be large pots serving up large amounts of food. But they come in smaller sizes, too. If you're on your own or just cooking for two, looking for a smaller capacity quart (four quarts or less) is going to be your best bet.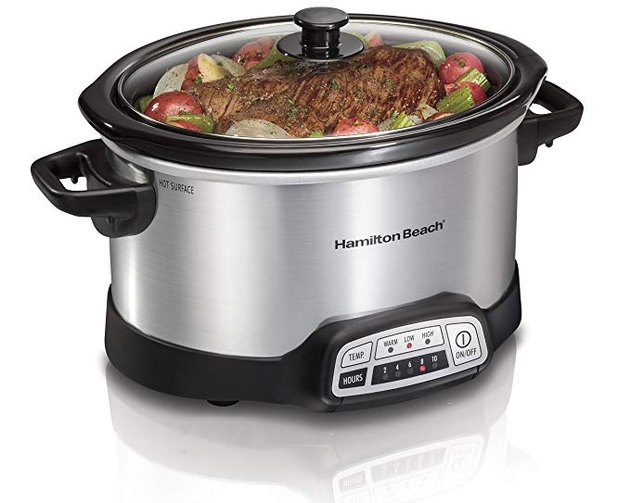 This one is a little more approachable at just four quarts, which is ideal for a 4-pound chicken or turkey. But, if you like to cook and freeze your meals for later in the week, you may want something bigger. Good thing this slow cooker comes in a 7-quart option, too.
This Hamilton Beach slow cooker also has three temperature settings — low, high and warm — and allows for up to 10 hours of cooking at a time. It also has an even-heating feature that removes the need for checking in and stirring. A true set-it-and-forget-it approach to your meals.
The Best Slow Cooker for Forgetful Folks
We've all been there. You're sitting at your desk at work and you think you might have left the iron, curling wand or coffee pot on. If you're the forgetful one or someone who frequently frets about leaving things on while away, a slow cooker with a "warm" setting is a feature you are going to want to seek out. It turns off the cooking mode and switches to the warm setting so that your food is ready when you get home.
The 6-quart capacity is appropriate for serving about six people. It allows for up to 12 hours of cooking time and has both a high and low-cook setting as well as the warm setting the cooker automatically switches to once the actual cooking is done.
This slow cooker also has a "stovetop function" so you can sear your meats and sauté your vegetables, which helps lock in flavor before slow cooking.
The Best Cheap Slow Cooker for Budget-Conscious Cooks
One of the biggest benefits of cooking at home aside from making healthier meals is that it saves cash. For those who are budget-conscious, we've found an all-around slow cooker standout to consider adding to your kitchen. It was the highest-rated slow-cooker in a Consumer Reports Review and is one of our favorites, too, especially for the price tag.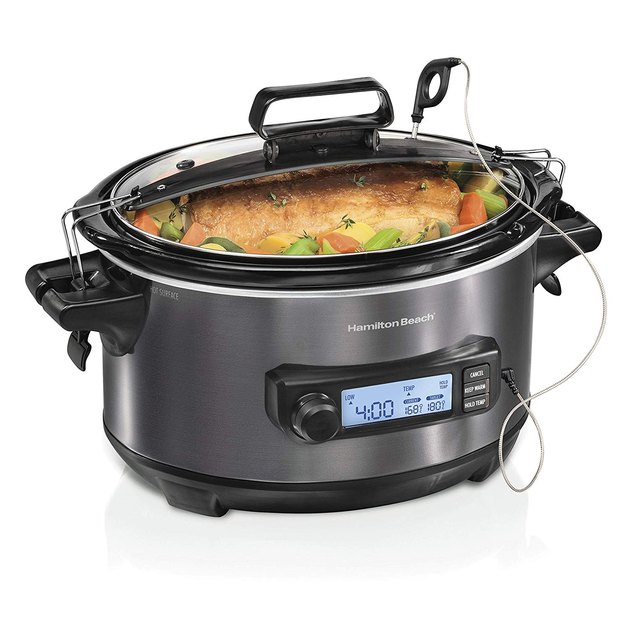 It's our top pick but don't just take our word for it. Aside from the accolades it receives from Consumer Reports, it's also the number one best-seller on Amazon.
This slow cooker features high and low cooking temp settings. Making this an even better deal is the fact that it also comes with a thermometer to make sure your meals are reaching proper temps, which is especially important when cooking meat.
The Best Slow Cookers for Big Spenders
You like the best of the best and we can't blame you. If you're one to spend money on gadgets, then we have the slow cooker you're looking for. Spending extra typically gets you extra and kitchen equipment is no exception.
As you can tell from the name of this one, it's more than just a slow cooker. This appliance allows you to sauté, sear, simmer, cook and steam. When it comes to slow cooking, instead of the two cooking temps most come with, this one has four settings ranging from 120 to 200 degrees Fahrenheit.
All services that come in contact with food are BPA-free and this specific model holds six quarts. It's also made with high-quality materials, making it very durable and worth the extra spend if you can afford to.