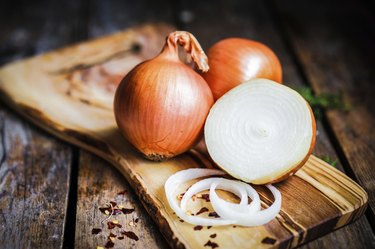 Whether you enjoy yellow onions for the big flavor they add to home-cooked meals or red onions for their sweet tang that jazzes up any salad, onions offer plenty of nutrition.
In addition to healthful fiber, onions serve up vitamins and minerals useful for meeting your nutritional goals. Pay no attention to that onion breath you may get from eating them; your significant other may not thank you, but your body will.
Yellow Onion Nutrition Facts
Yellow onion, also called Spanish onion, is ideal for cooking because the heat brings out its sweet flavor. The calories in onion come from carbs, according to the USDA, as with many other vegetables.
One medium raw yellow onion contains:
44 calories
0 g fat
4.4 mg sodium
11 g carbs
1 g protein
While an entire onion would not be ideal for a low-carbohydrate diet, using smaller portions could be appropriate. Carbohydrates are your body's primary energy source, so high-carb diets are beneficial for athletes.
Red Onion Nutrition Facts
Red onions, also known as purple onions, are distinct from other types of onions due to their deep, dark color. Unlike other types of onion, red onions are often eaten raw (think: on top of sandwiches or hamburgers). Red onions may also be grilled or sauteed for use in a broad range of recipes, and they provide bold flavor with few calories.
One medium raw red onion has the same nutrition as a yellow onion and contains:
44 calories
0 g fat
4.4 mg sodium
11 g carbs
1 g protein
While the red variety might taste sweeter, red onions' sugar content isn't any higher than yellow onions'.
Onions are a healthy choice for getting more fiber into your diet. Just 1 whole onion provides 3 grams of fiber, which contributes toward your soluble fiber intake.
The type of fiber in onions is linked to lower chances of developing cardiovascular disease, such as high blood pressure, stroke, heart failure and heart attacks, per the Linus Pauling Institute. It can also help reduce your cholesterol.
One serving of onions provides 11 percent of the vitamin B6 you need each day. This makes onions a smart choice for cognitive function as vitamin B6 is needed for brain development during pregnancy and infancy as well as for a healthy immune system, according to the National Institutes of Health.
You also get 8 percent of the daily recommended intake of folate as well as 13 percent of the vitamin C your body requires each day.
While onions may not be the first thing you reach for to increase your calcium intake, one serving of this vegetable provides 3 percent of the calcium you need daily. The calcium in onions lends critical strength and density to your bones and teeth.
Each serving of onion provides a small amount of manganese as well. In addition, eating onions may help your body more effectively get some minerals from the grains you eat. Research published in the July 2010 issue of the ​Journal of Agricultural and Food Chemistry​ notes that eating up to 3 grams of onion per 10 grams of grains increased the amount of available zinc and iron by 10.4 percent to 159.4 percent, making grains more nutritious.