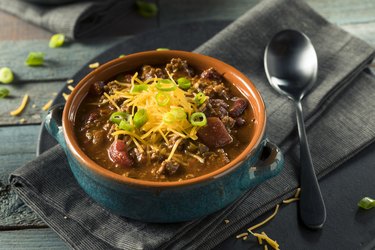 Chili is beloved because of the warmth and comfort it provides, but unlike most comfort foods, it can be very healthy, too.
Beans, vegetables, lean meats and even whole grains can all work together in a recipe to deliver a balanced dish that is rich in protein and fiber and not too high in calories and saturated fat.
Finding the right recipe is key, and the good news is, there are so many options and lots of flexibility when it comes to making chili. Whether you're plant-based or a carnivore, looking for low-sodium or low-calorie or perhaps you just dislike tomatoes, there's something for everyone.
These healthy chili recipes are all packed with at least 15 grams of protein and offer fewer than 500 calories per bowl, so snuggle up and dig in.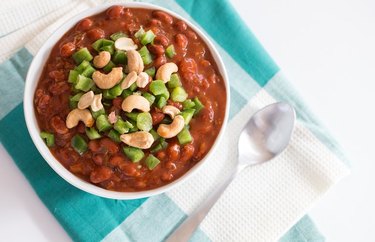 ​Calories:​ 450
​Protein:​ 20 grams
Need dinner on the table in under 10 minutes? This Half-Homemade Chili gets the job done and no one will know it came from a can.
Use any canned chili that you like — spicy or mild, vegan or con carne — the choice is yours. Some canned foods like chili can be higher in sodium so if this is a concern, look for options with "reduced sodium" or "low sodium" on the label.
Topping with cashews and chopped green pepper gives it that homemade-feel along with extra flavor and crunch.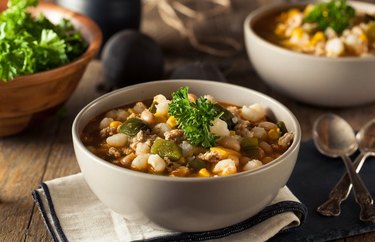 ​Calories:​ 336
​Protein:​ 17 grams
Most chilis are tomato-based, giving them that rich, red color but this Winter White Chili is much lighter in color courtesy of the white beans and vegetable broth base. It has some spice thanks to the added jalapeno pepper and, more importantly, it's still a warming bowl of chili, perfect for any cold and dreary day.
Apple juice is a surprising ingredient — it adds sweetness to balance out this savory dish. As written, it's a plant-based recipe but ground chicken or turkey would pair well with the combination of flavors if you're looking to add more protein.
3. Slow Cooker Vegan Chili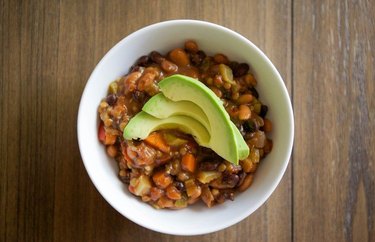 ​Calories:​ 271
​Protein:​ 17 grams
Comfort food doesn't have to mean unhealthy, and this warm and hearty bowl of chili is proof. The best part is minimal effort is needed thanks to the use of a slow cooker.
Black beans and pinto beans are included here, like in many chili recipes, but this plant-based version uses red lentils as well, adding bulk and protein, so the meat won't be missed. Beans and lentils are a great source of protein but unlike meat, they're also high in gut-healthy fiber. This dish serves up 8 grams of fiber per bowl.
4. Butternut Squash and Black Bean Chili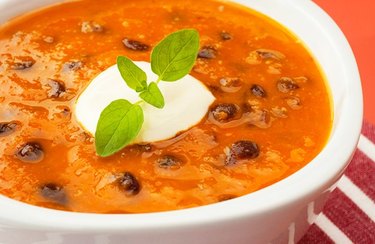 ​Calories:​ 172
​Protein:​ 16 grams
Butternut squash brings flavor and loads of vitamin A while also adding volume to the dish but with minimal calories. Even though this dish is lower in calories, it still manages to pack 16 grams of protein (which is more than you'll find in two hardboiled eggs, according to the USDA) and 17 grams of filling fiber.
This recipe is on the lighter side, making it perfect as a starter before a meal or serve with a piece of warm crusty bread — the sauce is perfect for dipping — if you're enjoying it as a meal.
5. Savory Lentil Chili With Cumin Cream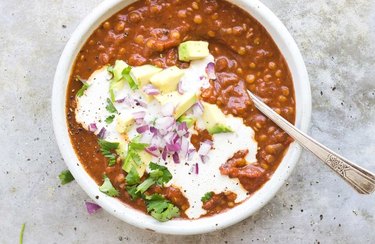 ​Calories:​ 446
​Protein:​ 19 grams
This recipe is sure to impress with intriguing ingredients like green lentils and dark chocolate chips, all served up in a simple bowl of comforting chili, topped with a cumin cream. Don't be skeptical — the combination of flavors works — and it's super healthy, too.
A bowl of this chili provides almost all of your fiber needs for the day with 22 grams per serving. Try using sodium-free vegetable broth and crushed tomatoes to reduce the overall sodium content.
6. Paleo-Friendly Chocolate Habanero Chili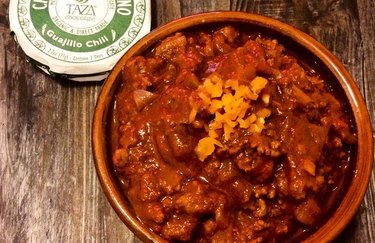 ​Calories:​ 252
​Protein:​ 25 grams
Chocolate and chili pepper create a flavor combination that makes traditional chili more interesting but without overdoing it. You'll still find warmth and comfort in this dish.
The ground beef provides rich flavor and the majority of the protein. Look for beef that is lower in fat — at least 90 percent lean or higher — to help reduce the amount of saturated fat in the dish.