When your goal is to lose weight as quickly as possible, eating a limited diet of only chicken soup may seem like an effective solution. The chicken soup diet, which is also known as the Sacred Heart Diet, may seem reputable because it is allegedly backed by a world-renowned hospital. However, the diet is not associated or recommended by any doctors or hospitals. Talk to your doctor before making any modifications in your diet, particularly if you have health conditions or allergies.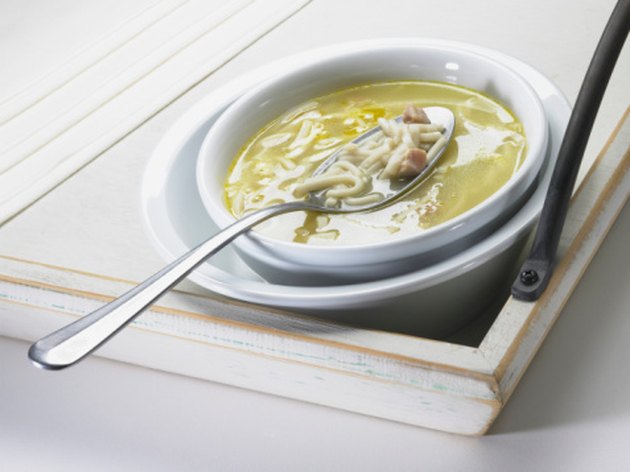 Background
The actual origins of the chicken soup diet are unknown, although it circulates around the Internet as a diet created by the Sacred Heart Medical Center in Spokane, Wash. The Sacred Heart Medical Center denies any association with the diet and does not recommend it as a weight-loss aid. The chicken soup diet is considered a fad diet because it involves eating strict portions of the same low-calorie foods day in and day out.
Directions
The chicken soup diet involves drinking a homemade soup for every meal of the day. Dieters may drink as much of the soup as desired. The soup is a combination of green onions, stewed tomatoes, fat-free beef broth, powdered chicken noodle soup mix, green beans, peppers, carrots and celery. The diet lasts seven days. In addition to the soup, dieters are instructed to eat other low-calorie foods every day. On day one, for example, dieters eat fruit, and on day two, dieters eat vegetables.
Results
The chicken soup diet may help you lose weight, but it does not provide sustainable or healthy weight loss. When you begin eating only very low-calorie foods, your body may shed water weight, giving the appearance of weight loss. But when you discontinue the diet and go back to your regular eating habits, you will gain all of the weight back again. Because the diet involves eating a few foods over and over again, it does not provide enough variation to be a healthy way to lose weight.
Healthier Weight-Loss Options
Instead of restricting yourself to eating only chicken soup for a week, eat a variety of lean protein, fresh fruits and veggies and whole grains. Cut back on foods that are high in saturated fat and opt for healthy fats like those in olive oil and nuts instead. Eat slightly smaller portions than you ordinarily would, and eat healthy snacks like carrot and celery sticks to stay full and satisfied in between meals. Combine your new eating routine with a daily exercise plan that will help you burn calories and keep the weight off for good.