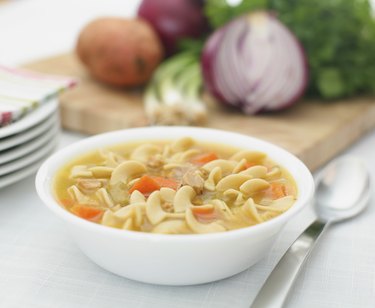 The chicken soup diet is a seven-day diet plan for weight loss. The main premise of the diet is that, other than breakfast, all meals consist of chicken soup. The diet provides a recipe for chicken soup and gives five different breakfast options. Several different versions of the chicken soup diet exist, and some recommend using the diet for longer than seven days, depending on the amount of weight you wish to lose.
Step 1
Eat a light breakfast to improve your chances of losing weight with the chicken soup diet. As breakfast is the only meal of the day that does not consist of chicken soup, it is the only opportunity to consume other foods. Possible healthy options include nonfat yogurt, fruit salad, whole grain cereal or oatmeal, nonfat milk, and fresh fruit juice.
Step 2
Eat small, frequent meals. By having frequent chicken soup snacks throughout the day, you will not allow yourself to get hungry. It keeps the metabolism busy burning calories and should reduce cravings and the urge to binge.
Step 3
Prepare the soup. Heat olive oil and water in a large soup pot. Add garlic, salt, pepper and celery to the pot. Cook on medium for 15 minutes, then add carrots, onions, chicken broth and lemon juice. Bring the pot to a boil, then turn down the heat and allow to simmer for five minutes. A full pot can create up to 26 one-cup servings.
Step 4
Stay the course. The ingredients of the chicken soup diet are high in nutrients and low in calories. Through strict adherence to the chicken soup diet, you will consume a healthy and well-balanced meal plan.
Things You'll Need
Chicken

Olive oil

Boiling pot

Carrots

Celery
Warning
Talk to your doctor before starting any new diet plan to make sure it is safe.