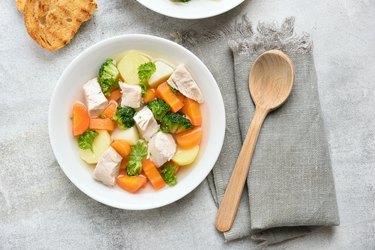 Nothing makes you feel more warm and cozy than a bowl of homemade chicken soup. And when making chicken soup with chicken breast, you can have a delicious bowl of comfort on the table in less than two hours.
Chicken Soup With Chicken Breast
When you have a craving for chicken noodle soup, you may be tempted to just grab a can from the grocery store shelf to heat and eat. But it may not satisfy your taste buds as well as a pot of homemade chicken soup, which will likely taste a lot better than any canned variety.
You may want to try an easy chicken soup recipe inspired by Martha Stewart.
1 tablespoon of olive oil
3 medium carrots, peeled and diced
3 stalks of celery, diced
1 medium yellow onion, diced
2 teaspoons minced garlic
1 pound of boneless, skinless chicken breast
4 cups chicken broth
4 cups of water
2 bay leaves
1/2 teaspoon of dried thyme (1 teaspoon fresh)
1/2 teaspoon of dried oregano (1 teaspoon fresh)
12-ounce bag of egg noodles
In a large pot on the stove, heat oil over medium-high heat and add carrots, celery, onions and garlic and cook until tender, about 5 minutes.
Add broth, water, bay leaves, thyme and oregano to pot and bring to a boil.
Place chicken breasts in the broth, reduce heat, cover pot and cook for 10 minutes or until the chicken is cooked through.
Using tongs, remove the chicken from the broth and cut into bite-sized pieces and return to pot.
Add noodles to the broth and cook for 10 minutes, or until noodles are tender.
Serve your homemade chicken noodle soup with crusty bread or a healthy salad.
Chicken Soup Recipe Variations
Canned chicken broth adds a lot of flavor to your homemade chicken soup, but can be very high in sodium. According to data from USDA, one cup of canned chicken broth has 571 milligrams of sodium, while a low-sodium version has only 72 milligrams.
The American Heart Association recommends limiting your daily sodium to no more than 2,300 milligrams a day. Making changes here and there, including recipes swaps like the broth in your chicken soup recipe, can help decrease your overall sodium intake.
But without the sodium, you may worry about the flavor of your homemade chicken soup. Consider adding more herbs and spices to your broth to create more flavor without the sodium. Dill, parsley and rosemary can improve the flavor of your soup.
A dash or two of your favorite hot sauce may also add more dimension to the flavor without the salt. Or consider including more tasty vegetables in your soup, such as halved grape tomatoes, peas, corn or strips of collard greens.
When it comes to homemade chicken soup, everyone seems to have an opinion about whether it's better to use white meat or dark meat. Neither is wrong, and it may come down to your personal preference. But using dark meat, such as thighs, legs or wings, in addition to white meat may also help improve the flavor profile of your soup when cutting back on the salt.
Cure for the Cold?
For generations, homemade chicken soup has been touted as a remedy for the common cold. Unfortunately, despite the claims, your grandmother's chicken noodle soup recipe can't cure your viral infection, according to the U.S. National Library of Medicine. Time is the only cure for the common cold.
However, there's no harm in having a bowl of homemade chicken soup when you're feeling under the weather. The U.S. National Library of Medicine reports that the steam from the soup may clear some of your nasal congestion and the warmth of the broth may ease your painful sore throat.
Your bowl of chicken noodle soup can also help you stay hydrated and may provide the fluids your body needs to help thin out the mucus. Your soup may not cure your cold or even speed up your recovery, but it can provide some comfort while you wallow in your misery.