Tomatoes are easily integrated into many foods. From pizza to salads, or even bloody mary cocktails, tomatoes are a daily staple of many people's diets. Regardless of whether they're eaten raw or cooked, tomatoes have many nutrients that are beneficial to your health. Tomatoes also contain antioxidants like lycopene, which can help reduce cholesterol and prevent diseases like osteoporosis, cancer and Type 2 diabetes.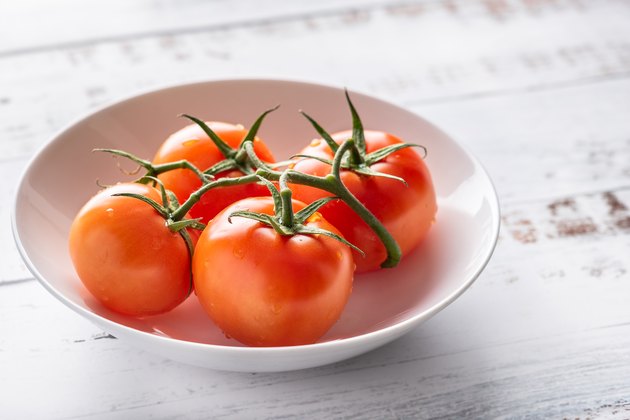 Tomato Nutrition
Tomatoes come in a variety of shapes, sizes, colors and types. Regardless of whether you're consuming a giant beefsteak tomato or cherry tomatoes, their nutrition per serving is similar.
A serving of tomatoes is about 150 grams (a bit larger than 5 ounces). There are only 26.8 calories and 5.8 carbs per serving, which also contains fiber, protein and a variety of beneficial vitamins and minerals. Nutrients in each standard serving of raw tomatoes include:
Vitamin A: 25 percent of the recommended daily allowance (RDA)
Vitamin B6: 6 percent of the RDA

Vitamin B9 or folic acid: 6 percent of the RDA

Vitamin C: 32 percent of the RDA

Vitamin K: 15 percent of the RDA
Manganese: 8 percent of the RDA

Potassium: 10 percent of the RDA
Health Benefits of Tomatoes
Although tomatoes are frequently used in sauces and other types of cooked foods, the nutrients and compounds in the raw fruit can positively affect your health in many ways. Raw tomatoes are often found in salads or blended into smoothies or juices.
Many of the nutrients, antioxidants and other beneficial compounds in raw tomatoes may prevent or help treat a wide range of health issues. The health benefits of tomatoes include:
What About Cooked Tomatoes?