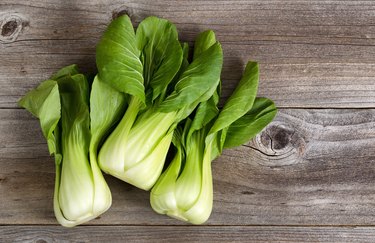 Bok choy is a leafy green vegetable that also goes by the name pak choi. It is commonly used in Asian cuisine and recipes like stir-fries. To prepare bok choy, you can boil, saute or steam it with other veggies, and flavor it with a variety of spices and sauces.
Like many leafy greens, much of the flavor and nutrition are in the bok choy leaves. This is the main part of bok choy that you eat. When you prepare your bok choy for cooking, be sure not to discard the leaves.
Tip
The most popular ways to cook bok choy include boiling, steaming and stir-frying. Bok choy is rarely eaten raw.
If you've never made it and you're wondering how to prep bok choy the right way, don't fret. While it may seem intimidating, it's actually pretty simple.
Before cooking, prepare bok choy by washing and cutting it. Wash the leaves thoroughly to remove any dirt.
You can also pull or cut off any bok choy leaves that are wilted. Cutting the stems off is optional. Because it is tough to chew, you may prefer to cut the stems off and only use the bok choy leaves. If you're cooking bok choy with the stems on, cooking times will be longer.
Things You'll Need
Bok choy

Large pot

Water

Fork
One of the most popular ways to prepare bok choy is to boil it. As you boil bok choy, remember that the stalks take longer to cook than the leaves. Even then, it only takes a few minutes for the entire vegetable to cook through. Here's how to do it:
Bring a large pot of water to a boil. As you wait, prepare the bok choy by washing and cutting it.

When the water is boiling, add the bok choy to the pot. ​Note:​ It only takes one to two minutes of boiling for the leaves to cook through, so monitor them closely. If you're cooking stems, test the tenderness with a fork.
Once the bok choy is cooked, you can eat it plain or season to taste.
Things You'll Need
Bok choy

Large pot

Water

Steamer basket
The Mayo Clinic recommends steaming bok choy and serving it alongside tofu, hoisin sauce and other spices and condiments. Steaming is one of the most nutritious ways to cook vegetables because it helps preserve more of the water-soluble nutrients, such as vitamin C.
As with boiling, it will take less time to steam bok choy leaves compared to the stems. You can separate the leaves before steaming for faster cooking if desired.
Fill a large pot about 1-inch high with water and bring to a simmer over medium heat.
Reduce the heat, then place the steamer basket into the pot.
Put the bok choy into the basket and steam. If you're using just the leaves, steam for 3 to 4 minutes until they turn bright green. If you're using both the leaves and stems, steam for about 6 minutes, or until the stems are tender.
Serve steamed bok choy plain or season it to your liking.
Things You'll Need
Bok choy

Large wok or frying pan

Cooking oil


Wooden spoon or spatula

Other veggies (optional)
Another way to prepare bok choy is to stir-fry it. The Cleveland Clinic suggests adding bok choy to Chinese-inspired stir-fry recipes. You can trim bok choy leaves and cook them alone, or cook the stems attached.
Prepare bok choy by washing and trimming it.
In a large pan or wok, heat some cooking oil such as sesame oil, avocado oil or olive oil over medium heat.
Once the oil is heated and glistening, add your bok choy to the pan (it should sizzle).
Stir the bok choy frequently as it's frying with a wooden spoon or spatula. If you notice it's drying out, add a tablespoon or two of water.
Cook the bok choy until the leaves are wilted, adding any other veggies and seasonings you like. If you're cooking the stems, you'll know they're done when tender and slightly crisp. The cooking time will be about two minutes for just bok choy leaves, or four to six minutes for halved bok choy with the stems, depending on how big the stalks are.
Remove from heat and serve.
Once you learn how to prepare bok choy, you can enjoy this nutritious vegetable regularly. It can also be incorporated in a variety of recipes. You can serve it with a protein and grain for a complete meal or mix it in a noodle or stir-fry dish.
Check out these delicious bok choy recipe ideas to help you get started:
Bok Choy Nutrition and Benefits
Like many vegetables, bok choy is full of vitamins and minerals. It is also associated with several health benefits, especially in relation to the digestive tract.
Bok choy also contains adequate amounts of vitamin A, vitamin C, vitamin K, potassium, calcium and iron.
According to the USDA, one cup of cooked bok choy has:
​Calories:​ 20
​Total fat:​ 0.3 g
​Cholesterol:​ 0 mg
​Sodium:​ 0 mg
​Total carbs:​ 3 g

​Dietary fiber:​ 1.7 g
​Sugar:​ 0 g

​Protein:​ 2.7 g
Because it is naturally low in calories, fat and carbohydrates, bok choy can be used in a variety of diets. It's also high in nutrients like vitamin C, K and A.
For those with digestive problems, such as irritable bowel syndrome, eating low-FODMAP foods like bok choy may help. Bok choy is recommended for people with IBS, according to Harvard Health Publishing. Replacing high-FODMAP foods with low-FODMAP foods may alleviate some IBS symptoms.
Was this article helpful?
Thank you for your feedback!