The belly pain and bloating you experience from your irritable bowel syndrome (IBS) can keep you from doing the things you enjoy and may even turn you off from food. But what you eat — or don't eat — may help alleviate the discomfort caused by your irritable bowel syndrome with constipation (IBS-C). Making a few tweaks here and there can make a significant difference. Because IBS is a medical condition, be sure to talk to your doctor or get help from a registered dietitian before making any significant changes to what you eat.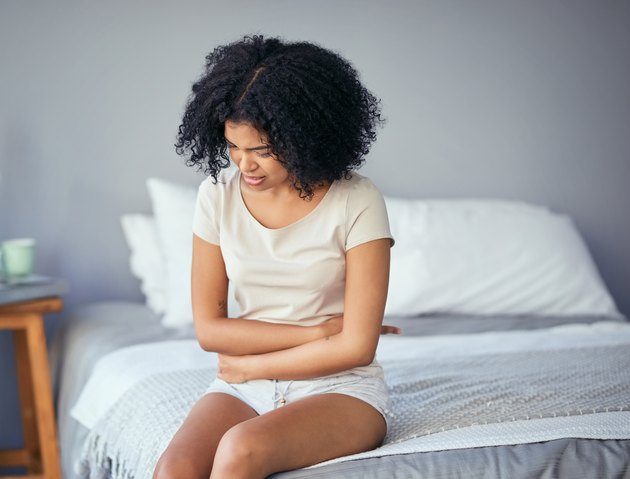 What Is IBS?
IBS is a functional gastrointestinal disorder. What does that mean? That means that IBS causes uncomfortable gastrointestinal symptoms, but doesn't affect the health of your digestive tract or digestion itself.
IBS is a common condition that affects 12 percent of people in the United States and is more common in women than men. You may be at risk of developing IBS if it runs in your family or you experienced a serious infection in your digestive tract. It also seems that stressful life events — such as childhood abuse — may trigger IBS.
Your IBS may be caused by how your brain and gut interact. People with IBS may be more sensitive to the pain signals sent from the gut to the brain so the feelings of abdominal pain and bloating may be more intense, which in turn may affect muscle contraction and lead to constipation or diarrhea, as well as the accompanying abdominal pain, gas and bloating.
Your IBS is classified based on how it affects your gastrointestinal tract and includes:
IBS with constipation
IBS with diarrhea
IBS with mixed habits
Unsubtyped IBS
Generally, people with IBS have normal bowel habits mixed in with abnormal bowel habits. So you may feel OK on some days and then experience an IBS flareup that leads to your primary symptoms — whether it's constipation, diarrhea or a mix of both — on other days.
In addition to your IBS, you may also suffer from other chronic health conditions, such as depression, reflux, fibromyalgia, chronic pain or chronic fatigue syndrome.
IBS-C Symptoms
When your IBS-C symptoms flare up, you may look and feel as though you just ate three Thanksgiving meals that you can't get rid of no matter how long you sit on the toilet. More than likely, your bloated belly will also cause you pain.
When you do sit on the toilet, you may strain so hard, you see stars. And if you're successful at producing stool, it may be hard or lumpy, and you may still feel as though you can't completely empty your bowel. Some people also report that they feel as though there's a blockage that makes passing a stool nearly impossible. You may find that you get some relief if you press on your belly or change your position on the toilet.
You may get relief from your IBS-C symptoms once you've completely emptied your bowel, but not everyone with IBS-C is so lucky.
IBS-C Diet
What you eat is a major focus of treatment for IBS-C. Unfortunately, there's no one set IBS constipation diet, so it may take some trial and error to figure out what works best for you. Keeping a food and symptom journal may help you pinpoint what triggers your symptoms, what works and what doesn't.
The general recommendations for an IBS-C diet are to eat healthfully with a focus on foods that are high in fiber. Your initial goal may be to up your fiber intake to meet the general recommendations, which, for adults, ranges from 22 to 34 grams of fiber a day.
Good food sources of fiber include:
Fruits and vegetables
Whole grains
Beans, nuts and seeds
You also want to make sure you're drinking enough water to help keep your stool soft. Healthy adults need 12 to 16 cups of fluid a day, and maybe more, depending on the weather and exercise routine. Water is your best choice because it's calorie free, readily available and what your body needs most.
Focus on Soluble Fiber
To get relief from your IBS with constipation symptoms, you may want to focus on adding foods that are rich in soluble fiber. A 2015 review study published in the European Journal of Gastroenterology & Hepatology found that soluble fiber helped to improve IBS symptoms and abdominal pain.
Soluble fiber is best known for its cholesterol-lowering powers and for reducing your risk of heart disease. When in your gut, this fiber grabs onto water and forms into a gel, which may help add bulk to your stool while softening it at the same time, to help make your trips to the bathroom less of a workout.
Food sources of soluble fiber include:
Oats, bran and barley
Kidney beans, lentils, chickpeas and black-eyed peas
Strawberries, oranges and apples
Okra and eggplant
Fiber supplements can also be a source of soluble fiber, containing about 4 grams of fiber per serving. However, you should talk to your doctor before adding any supplement to your daily regimen.
Getting Your System Moving
When it comes to improving bowel function, adding more fiber definitely helps. But adding foods that have laxative effects may help ease some of your IBS-C symptoms. It's no secret that prunes and prune juice help soften stool and improve bowel function, and they can easily be added to your IBS-C diet as part of your meal or as a snack.
In addition to prunes, you may also want to add ground flaxseeds to the mix, which can be combined with yogurt or your favorite muffin mix. Bran flakes and wheat bran also help alleviate constipation naturally.
Foods to Avoid With IBS Constipation
You may find that eliminating certain foods from your diet may help relieve some of your IBS-C symptoms. Because of the risks of nutritional deficiencies when eliminating foods, you should consult with a registered dietitian to help you create healthy, balanced meals that provide your body with all the nutrition it needs for good health.
You may find that cutting back on caffeine, carbonated drinks and other gas-forming foods can help to improve IBS with constipation symptoms.
Go Easy on Gluten
Gluten is a protein found in wheat, barley and rye. Previously, only people with celiac disease were advised to eliminate all gluten-containing foods from their diets. Celiac disease is an autoimmune disorder that causes your immune system to attack the gastrointestinal tract when gluten is present, leading to inflammation and poor digestion.
More recently, it has been discovered that people may also be gluten intolerant. What does that mean? If you're gluten intolerant, your body has a difficult time digesting gluten, which can lead to a host of symptoms ranging from abdominal pain to brain fog.
While not everyone with IBS is gluten intolerant, if you are, eliminating gluten-containing foods may provide you with some relief from your IBS-C symptoms. While there are a lot of gluten-free products at the grocery store, it's always better to keep it simple.
Foods that are naturally gluten free include:
Fresh meat, poultry and seafood
Fresh fruits and vegetables, and frozen varieties without added ingredients
Rice, quinoa and oats
Nuts, seeds and beans
Milk and most other dairy foods
Oils
Be sure to read food labels to verify that what you're eating is gluten free. You can safely eat any food labeled as gluten free due to the regulations set forth by the Food and Drug Administration.
Should I Go Low FODMAP?
If you experience gas or abdominal pain after you eat an apple, you may want to consider a diet low in fermentable oligosaccharides, disaccharides, monosaccharides and polyols, or what's referred to as a low-FODMAP diet. FODMAPs are types of carbohydrates that you may not be able to completely digest or absorb, causing fermentation in your gut that leads to gas, bloating and constipation.
Fruits: apples, cherries, watermelon, peaches and nectarines
Dairy: milk, cheese and ice cream
Vegetables: artichokes, asparagus, beans, cabbage, cauliflower, beans and snow peas
Grains: wheat and rye
Sweeteners: high fructose corn syrup and honey
Sugar-free food: gum and candy
When following the low FODMAP diet for your IBS-C diet, you initially eliminate all FODMAP foods for a set period of time and then slowly add foods back one at a time, closely monitoring your body's reaction. This helps you identify the food most responsible for your symptoms and helps you create a healthier, balanced plan that's not so restrictive.
Putting It All Together
To keep your symptoms at bay, your IBS-C diet should be made up of small, frequent meals eaten in a relaxed setting. No doubt, your day is filled with activities that can make eating more of a chore than a pleasure. But if you eat under stress or while distracted, you may swallow air, which can increase gas and bloating.
A sample IBS-C diet that's gluten free and includes low FODMAP choices might include:
Breakfast: bowl of oatmeal made with plant-based milk topped with strawberries, and a glass of prune juice
Midmorning snack: brown rice crackers with almond butter
Lunch: mixed greens topped with grilled chicken or salmon, walnuts, sliced grape tomatoes, cucumbers, ground flaxseeds and your favorite dressing
Mid-afternoon snack: dairy-free yogurt with a banana
Dinner: London broil with roasted potatoes and roasted carrots with a mixed green salad
As with any healthy diet plan, don't skip breakfast on your IBS-C diet. Eating a healthy, well-balanced breakfast not only gets your day off to a good start, but also stimulates your colon to get to work, which may help prevent your abdominal distress.
Should I Add Probiotics?
Whether you should include probiotics as part of your IBS-C diet to help improve your IBS-C symptoms depends. According to the Canadian Society of Intestinal Research, while multiple studies have been conducted investigating the use of probiotics as part of the treatment for IBS, the results have been mixed. Additionally, not all probiotic supplements contain the same friendly bacteria, and certain strains may be more beneficial for your IBS with constipation symptoms than others.
Talk to your doctor about the benefits of adding probiotics to your regimen and what strains make the best choice for you.