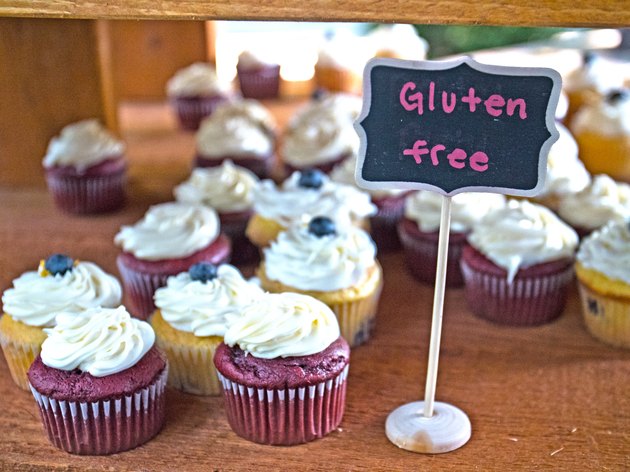 The gluten-free craze has died down a bit since its glory days as the hot new diet, but there's still a good bit of confusion around who, exactly, should give up gluten, and what benefits this style of eating might offer.
While nixing gluten is medically necessary for some, it amounts to nothing more than a fad (read: unsustainable) diet for others. Here, we'll break down what you should know about going gluten-free before you decide to shun the nutrient altogether.
What Is Gluten, Anyway?
Gluten refers to a group of proteins found in cereal grains, including wheat, barley and rye. Gluten is responsible for the elastic texture in dough, which gives breads and other baked goods a light and chewy texture. It also helps these foods maintain their shape, acting as a sort of glue that holds everything together.
Benefits of a Gluten-Free Diet
If you have CD or gluten sensitivity, the biggest pro of adhering to a gluten-free diet is relief from symptoms. According to a February 2018 review study published in Gastroenterology and Hepatology, there is enough evidence to support that a gluten-free diet is both healthy and enhances quality of life for those with gluten-related conditions.
For those following a gluten-free diet for other, non-medical reasons — such as an attempt to lose weight or reduce bloat — there are few benefits, and the risks generally outweigh them.
Drawbacks of a Gluten-Free Diet
While avoiding gluten may mean you're deleting empty-calorie foods like chips, crackers and cookies from your diet, you'll only see a benefit if you replace these with nutritious whole foods like vegetables, nuts and seeds, fruits, lean meats and beans.
Nutritionally, cutting gluten from your diet puts you at risk for deficiencies. According to Harvard Health Publishing, some of the nutrients you might be missing out on are fiber, magnesium and folic acid, all of which are vital to your health and may help with weight management. Folic acid, the synthetic form of folate, is especially important for pregnant women, as it can help prevent neural tube defects.
The good news is that you can get both folate and fiber from certain fruits, vegetables and beans, although you'll need to be intentional about including these foods in your daily diet. If you're cutting back on grains, you should still aim for the recommended 25 grams of fiber per day for women and 38 grams per day for men, according to the Academy of Nutrition and Dietetics.
But those aren't the only nutrients to worry about. Other vitamins and minerals that may be missing from unfortified gluten-free products include vitamins C, D and B12, as well as calcium, zinc and iron, according to a December 2016 study in Clinical Nutrition.
What's more: Many gluten-free foods contain added salts, sugars and saturated fats, all three of which are linked to weight gain and could up your risk for health conditions like diabetes or heart disease.
The bottom line? Maintaining a healthy gluten-free diet is possible, but it can be difficult to get it right. While it's a must for people with CD, and recommended for those with a gluten sensitivity, it's not a good choice for people who can tolerate gluten.
Food List for a Gluten-Free Diet
Wheat products, such as breads, pastries, pita, naan, tortillas (anything with "wheat flour")
Wheat bran
Wheat germ
Pasta
Graham flour
Spelt
Rye flour

Barley and anything with "malt" in the name, including beer
Gluten-Free Foods to Include
All fruits and vegetables
Meats (without sauces, flavorings or additives)
Dairy
Legumes, beans and nuts (without seasoning)
Naturally gluten-free grains, including quinoa, rice, millet, buckwheat, amaranth and teff
Foods That Might Contain Gluten
Oats: Oats may be processed in a gluten-friendly facility, so make sure the package is marked "gluten-free."

Soups: Thickeners made from wheat can make their way into your soup, so make sure to check the ingredient list.
Condiments: Gluten is probably lurking in your salad dressing, soy sauce, ketchup and other sauces.
Processed meat: Processed meats like sausage may contain gluten. The same goes for plant-based meat alternatives.
Gluten-Free Meal Plan
A gluten-free diet can still be rich in nutrients if you choose the right foods. Here's what a typical day might look like.
Totals for the Day: 1,478 calories, 87 grams protein, 39 grams fiber
Tips for Going Gluten-Free
When starting a gluten-free diet, it's important to understand which foods contain gluten and get to know your list of safe foods. But of course, avoiding gluten completely can be a little more complicated than that. Here are a few guidelines that can help:
Read ingredient lists. Many foods contain hidden gluten, including those you may not even suspect. If you're unsure about a food and not able to check its ingredients (say, when you spot a snack in the office break room), it's probably best to steer clear altogether.
Keep gluten-containing foods away from gluten-free foods. It's best to use different cooking equipment or appliances, as this decreases your risk for cross-contamination.
Eating out at a restaurant can be particularly challenging due to cross contamination. Your food may not have gluten, but it may have been cut on a board, or fried with gluten containing foods. Make sure to inform your server if you have celiac disease or a gluten sensitivity.
Is This an Emergency?
If you are experiencing serious medical symptoms, seek emergency treatment immediately.