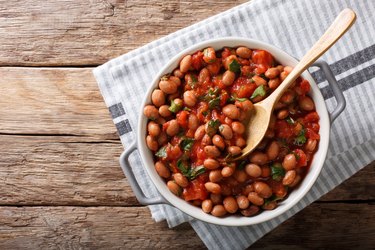 Beans are a nutritious addition to your diet, as they offer nutrients like protein and fiber. On top of that, there are so many healthy bean recipes out there to try.
But because they are high in carbs, many people wonder if beans are gluten-free. Regardless of which types of beans you prefer, here's what you should know about gluten in beans.
Are Black Beans Gluten-Free?
Gluten is a protein found in wheat, rye, barley and derivatives of these grains.
With so many types of grains out there, knowing which varieties do and don't have gluten is tricky. But black beans (and all beans, really) are legumes — not grains.
That means you can safely eat them on top of your salad or in a delicious soup. Alongside quinoa, beans are another ingredient you can add to your gluten-free menu.
Although beans alone won't fulfill all your nutritional needs, they make a great source of fiber, protein and potassium, according to Harvard Health Publishing. Most beans provide about 5 to 9 grams of fiber per cup, which is a good chunk of your daily requirement (25 to 38 grams, per the USDA).
Beans are also relatively inexpensive, shelf-stable and can be incorporated into just about any savory or sweet dish.
Tip
Although they may be known for causing some unwanted gas, you can minimize these side effects by soaking your beans.
How to Buy Gluten-Free Beans
Beans are naturally gluten-free. But all legumes (and foods, for that matter) can be exposed to gluten either during preparation or during manufacturing, according to the Celiac Disease Foundation.
So, if you're at a restaurant, you'll want to verify that your beans are prepared on separate surfaces and with separate utensils.
When buying packaged beans, check the container to make sure they're safe from cross-contamination. If your package is labeled gluten-free, that means it has less than 20 parts per million (ppm) of gluten, making it generally safe to eat, according to the FDA.
In some cases, your beans may even have a Certified Gluten-Free seal on the package. In that case, the product has been tested by the Gluten-Free Certification Organization (GFCO), which looks for even more stringent standards. Any foods certified by the GFCO have less than 10 ppm of gluten, according to GFCO.
You'll also want to avoid buying your beans from bulk bins at the grocery store, recommends the Celiac Disease Foundation. These containers make cross-contamination more likely.
Whether you're a fan of dried beans or favor using canned varieties, start with these gluten-free products from trusted brands and get cooking.
Gluten-Free Bean Recipes to Try