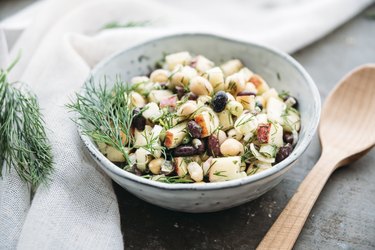 Beans, beans, the magical fruit; the more you eat, the more you — ahem, well, you know the rest of the song. And given the protein and fiber content in these legumes, it's not surprising this natural phenomenon has its own jingle.
For starters, these legumes are a great way to increase your protein intake. In fact, legumes are pretty similar to meat when it comes to nutrient content and make for a healthy swap, according to the U.S. National Library of Medicine.
Beans are also a great source of fiber, which helps you feel satiated and promotes regular digestion. Just one cup of cooked black beans will supply about half your daily recommended fiber intake.
But if you're buying canned beans, keep an eye on the sodium content and opt for a low-sodium variety when possible. Or, you can also rinse the beans after draining the can to wash off some of the salt.
If you're eager to incorporate some simple and healthy bean recipes into your menu, give one (or all) of these five recipes a try.
1. Shrimp and White Beans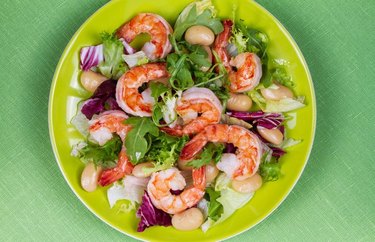 ​Calories:​ 435
​Protein:​ 44 grams
Chances are, most of the ingredients needed for this dish are already in your pantry — just stop at the store for some fresh shrimp. This dish calls for a 3/4-cup of canned white beans, which are especially high in nutrients including fiber and iron, according to the USDA.
A cup of white beans provides about 45 percent of your daily recommended fiber intake, which makes the legume great for healthy digestion. Fiber is also helpful for maintaining a healthy weight and lowering your risk of diabetes and heart disease, according to the Mayo Clinic.
2. Southwestern Salad With Black Beans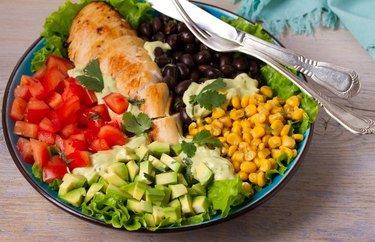 ​Calories:​ 381
​Protein:​ 20 grams
Avocado lovers will be eager to give the Southwestern Salad With Black Beans dish a try. This recipe calls for a whole avocado, so you can expect good dose of healthy fats with your meal.
Avocados are high in monounsaturated fats, which are linked to improved cholesterol levels and a decreased risk of heart disease and type 2 diabetes, according to the Mayo Clinic. Although these fats are healthy, they're still nine calories to the gram (whereas carbs and protein are 4 calories per gram), so you'll want to watch your portion sizes.
3. Italian White Beans and Spinach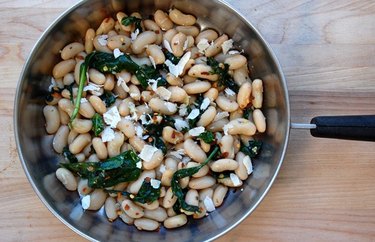 ​Calories:​ 166
​Protein:​ 9 grams
This side dish needs only a handful of ingredients to come together and makes the perfect partner to your favorite protein. Bonus: It yields six servings and is easy to store in the fridge for long-time freshness.
Spinach, a key ingredient in this recipe, is full of micronutrients. The spinach in each serving supplies 80 percent of your daily recommended value of vitamin K, according to the USDA, which helps promote bone health and healthy blood cell function, per the National Institutes of Health (NIH).
4. The Buenos Dias Toast With Refried Beans and Eggs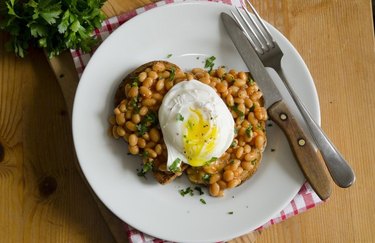 ​Calories:​ 192
​Protein:​ 12 grams
Step aside avo toast because this refried bean and salsa combo deserves some time in the spotlight. Topped with an egg, this toast recipe is sure to become your new go-to.
Eggs are a breakfast staple and provide you with both healthy fats and protein. If you're concerned about the cholesterol in eggs, know that eating one egg a day likely won't negatively affect your heart health, Frances Largeman-Roth, RDN, reassures.
5. The Sweet Bean Energy Bar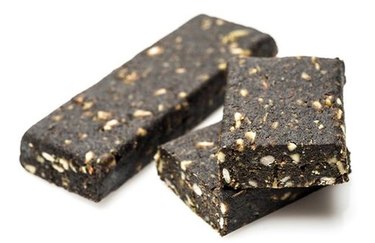 ​Calories:​ 183
​Protein:​ 4 grams
Healthy foodies love sneaking beans into desserts because, chances are, you won't even be able to even taste them! This dessert recipe calls for 1.5 cups of cooked black beans, which add fiber and protein to your treat.
These energy bars are also made with oats, adding some healthy whole grains to the mix. Whole grains are full of nutrients such as fiber, iron, magnesium, B vitamins and vitamin E, according to the Whole Grains Council.