Whether you're sipping a post-workout shake or whipping up a batch of protein pancakes, adding a vegan protein powder to your pantry can help you get more protein in your diet while cutting down on animal products. Plus, it's a convenient — and tasty — alternative to whey for those with a dairy allergy.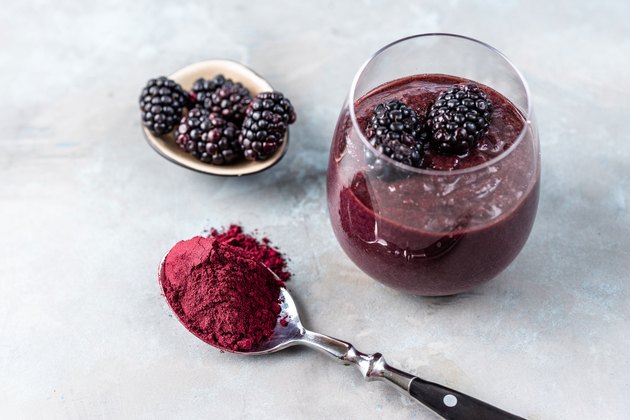 That explains why the market for plant-based protein powders is expected to continue to grow in popularity, a January 2019 report in Grand View Research shows. And according to a DuPont Nutrition & Health report, more than 60 percent of people focused on eating more plants hope it's an initiative that's here to stay.
If you're trying to adopt a more plant-forward diet, plant-based protein powders can offer delicious convenience — so long as you choose the right one. Below, we share dietitians' top tips for choosing a vegan protein powder and the brands they love.
How to Pick a Vegan Protein Powder
The key to getting all of the different essential amino acids you need on a plant-based diet comes down to eating a variety of plant sources. Blended protein powders, which can include chia seed, hemp, pumpkin and ancient grains are a great way to easily get a mix.
"Consuming a blend provides different types of amino acids that can be used for the maintenance and repair of muscle and other protein tissues in the body," says Cynthia Sass, RD an LA-based performance nutritionist.
"I like Garden of Life's stevia-free plant protein. It provides a variety of gluten-free and non-GMO plant proteins, including pea protein, sprouted brown rice, amaranth, buckwheat, millet and others," offers Sass. "It can be difficult to find an unflavored, unsweetened plant protein. Many of my clients dislike the aftertaste of stevia, and I'm not a fan of intense sweeteners," she says.
Choosing an unsweetened option allows you to leave the sweetener out and rely on fruit (or maple syrup and honey) for sweetness. You're also able to control the amount of sweetness, which allows you to customize your recipe more easily.
Pea Protein
Pea protein is quickly becoming a fan favorite. This specific protein source, made from yellow peas, is one of the fastest growing in terms of popularity, according to an April 2019 report in Research and Markets. A serving of approximately one ounce of unsweetened pea protein powder provides 21 grams of protein, 2 grams of carbohydrates and 1 gram of fiber for 100 calories, although it can vary slightly by brand.
And if you're using a protein shake to replace meals, a December 2011 study in Nutrition Journal found that pea protein promoted satiety better than whey protein, leading folks to eat less.
"My go-to is NOW Sports Pea Protein since the company has strict tests for quality and safety with the Informed Choice third-party verification, which ensures supplements are free of banned substances," says Sports Dietitian Kelly Jones, RD.
Hemp Seed Protein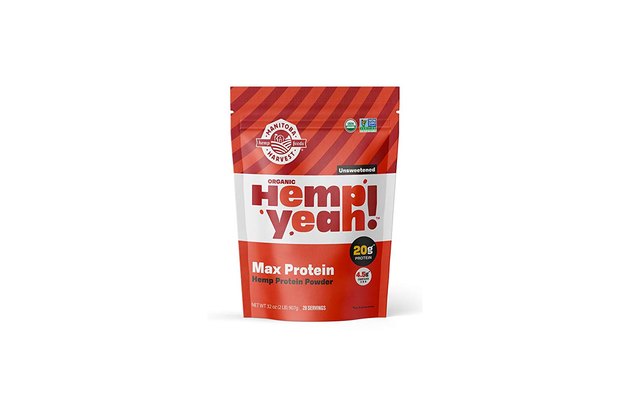 Hemp seeds come from the hemp plant Cannabis sativa. And although they're from the same species as marijuana, the seeds don't result in a high since they don't contain psychoactive tetrahydrocannabinol (THC). That means you can feel free stirring hemp protein into your morning shake!
A one-ounce serving provides about 13 grams of protein, 9 grams of carbohydrates and 7 grams of fiber for 108 calories. "I love hemp protein because it's full of omega-3 fatty acids, among other nutrients such as magnesium and folate," says Whitney English, RDN of Whitney E. RD. "It's a great way to boost the plant protein content of smoothies, baked goods and oatmeal. I personally keep Terrasoul Superfoods and Equip Prime Plants powders on hand," adds English.
Jones is also a fan: "I love that hemp seed powders are a single-ingredient source. Hemp protein boasts healthy fats and fiber, and is a good source of iron, a nutrient that those following plant-based diets should pay special attention to."
Jones uses Hemp Yeah! Max Protein because it's smoother than many other brands and doesn't contain sketchy additives, she says. ** **
Soy Protein
Soy protein powder has been around for quite some time now, so there's a lot of familiarity with this source compared to some of the newer sources such as sacha inchi that are cropping up on the market.
"Soy is a great source of plant protein. Studies have shown that soy has the same anabolic effect as animal sources of protein and it is affordable," says English. "Research also shows that replacing animal protein with soy protein may help lower cholesterol." However, soy protein shouldn't be your primary source of protein since it contains phytoestrogen, which mimics the hormone estrogen in the body.