If you're looking to add more protein to your diet, but don't want to add more calories than necessary, you gave a variety of options. Most protein-rich foods come from animal products, making your search for low-cal, high-protein foods difficult if you're a vegetarian. The U.S. Food and Drug Administration classifies a food as high protein if it contains more than 20 percent of your daily recommended value of protein--about 10mg for an adult woman. Using online research tools can help you find the foods you're seeking.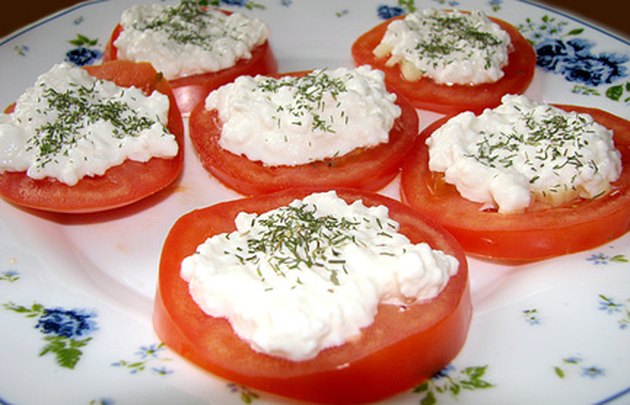 Seafood
Tuna, monkfish, roughy, pout, cuttlefish, clams and crayfish are low-cal, high-protein foods. A 3 oz. serving of tuna has 22g of protein and 99 calories. Atlantic salmon, by comparison, provides 10g more of protein in the same serving but has triple the calories. Shellfish may have more cholesterol than you want in your diet. For example, a 3 oz. serving of crayfish, which has roughly 13mg of protein, has 91mg of cholesterol, almost 1/3 of your daily DMV for cholesterol. A 3 oz. serving of roughy, by comparison, provides almost 14g of protein and has only 51mg of cholesterol.
Cottage Cheese
A cup of non-fat cottage cheese has 15mg of protein and only 104 calories.
Eggs
If you'd like to cut the cholesterol out of your omelets, one cup of egg whites has only 117 calories, provides more than 26mg of protein and has no cholesterol.
Chicken
Three slices of oven-roasted, fat-free chicken provide slightly more than 10mg of protein, with fewer than 50 calories.
Soy
Edamame is a popular, low-cal, high-protein snack, with 12g of protein in a 3.75 oz. serving, providing 120 calories. Unlike sources of protein from animal products, edamame is a cholesterol-free food.