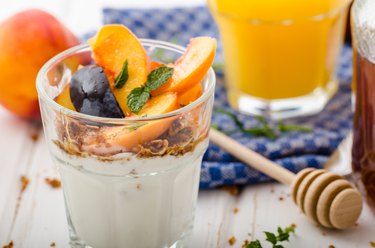 Creamy and high in protein, Greek yogurt is a tasty alternative to the traditional variety of yogurt that has lined supermarket shelves for years.
The Greek variety of this dairy snack is thicker than traditional yogurt, thanks to a liquid whey-straining process during manufacturing. To make Greek yogurt, milk is fermented with live bacterial cultures and then strained of liquid whey, resulting in the thick and tangy-tasting concentrated finished product.
Greek Yogurt Calories and Nutrition
A 1/2 cup of plain, whole-milk Greek yogurt contains the following, according to the USDA:
‌Calories:‌ 110
‌Total fat:‌ 5.7 g

‌Saturated fat:‌ 2.7 g
‌Trans fat:‌ 0 g

‌Cholesterol:‌ 14.7 mg
‌Sodium:‌ 39.7 mg
‌Total carbohydrates:‌ 4.5 g

‌Fiber:‌ 0 g
‌Sugar:‌ 4.5 g

‌Protein:‌ 10.2 g
About 37 percent of the calories in full-fat Greek yogurt come from protein while 46 percent of the calories come from fat.
Full-fat Greek yogurt is high in saturated fat not only because it's made from whole milk but also because the fat becomes more concentrated when the liquid whey is drained during production.
You'll get 14 calories in 1 tbsp. of full-fat Greek yogurt.
A 1/2 cup of plain, non-fat Greek yogurt contains the following, according to the USDA:
‌Calories:‌ 67
‌Total fat:‌ 0.4 g

‌Saturated fat:‌ 0.1 g
‌Trans fat:‌ 0 g

‌Cholesterol:‌ 5.7 mg
‌Sodium:‌ 40.8 mg
‌Total carbohydrates:‌ 4.1 g

‌Fiber:‌ 0 g
‌Sugar:‌ 3.7 g

‌Protein:‌ 11.6 g
About 69 percent of the calories in fat-free Greek yogurt come from protein while 7 percent of the calories come from fat.
Tip
Compared to plain fat-free Greek yogurt, flavored varieties can be higher in calories and carbohydrates if they contain added sugars.
Chobani Greek Yogurt Nutrition
The Chobani brand offers a number of different types of Greek yogurt, like fruit on the bottom and flip-style. Knowing the nutrition information for all the different types of Chobani Greek yogurts can help you decide which type fits your diet.
Fruit on the Bottom yogurts from Chobani come in a variety of flavors, including banana, pineapple and apple cinnamon. Additionally, they offer flavors that are fat-free and flavors that contain 2 percent fat.
110 calories
0 g fat
16 g carbs
11 g protein

10% Daily Value (DV) calcium
Chobani Flip yogurts combine various yogurt flavors with crunchy mixes, such as non-fat strawberry yogurt with honey oats and low-fat coconut yogurt with chocolate chips and almonds. The nutrition information for the Flip yogurts varies widely from flavor to flavor.
A 5.3-ounce container of the Almond Coco Loco (made with Greek yogurt, honey-roasted almonds and dark chocolate chunks) has:
230 calories
10 g total fat
24 g carbs
11 g protein
10% DV calcium
Is Greek Yogurt Good for You?
Yes — both full-fat and non-fat Greek yogurt are healthy options, however, you'll want to limit the amount of full-fat yogurt you eat in order to cut down on saturated fat.
The health benefits of non-fat Greek yogurt include protein, which helps keep you full, being low in calories (which deems it weight loss- or weight management-friendly) and providing gut-healthy probiotics.
What's more, Greek yogurt seems to be a good alternative for people with lactose intolerance, a condition where one is unable to tolerate lactose, a type of sugar found in milk and some dairy products. Greek yogurt has a lower lactose content than regular yogurt, according to The Dairy Alliance.
When you can, opt for plain Greek yogurt and top it with frozen or fresh fruit, seeds, nuts, coconut chips and any other healthy toppings for flavor to avoid added sugar.
What's the Difference Between Greek Yogurt and Regular Yogurt?
Both types of yogurt come from milk that has had healthy bacteria added, causing it to ferment. During this process, yogurt thickens and takes on a slightly tangy taste. Yogurt is then strained with a cheesecloth, which allows the liquid whey part of milk to drain off.
Regular yogurt is strained twice, while Greek yogurt is strained three times to remove more whey (resulting in a thicker consistency at the end of this process), according to the American Council on Exercise (ACE).
This third straining step is what makes Greek yogurt different from regular yogurt in several important ways. Greek yogurt contains less whey, lactose, calcium, sodium, carbs and sugar than regular yogurt.
Because more liquid is eliminated during the additional straining, you need more milk to make Greek yogurt than regular yogurt, per the ACE. And so, Greek yogurt has more protein than regular yogurt because it is more concentrated.
Greek yogurt actually contains almost double the protein of regular yogurt. Eight ounces (1 cup) of non-fat Greek yogurt has about 23 grams of protein, compared to the 8.5 grams in 1 cup of regular yogurt. This makes Greek yogurt a great option for anyone trying to sneak in a little more protein into their diet. And because of its high protein content, Greek yogurt will help you stay full longer.
Easy Ways to Use Greek Yogurt
You can use plain, fat-free Greek yogurt as a substitute for full-fat sour cream or cream to make dips and salad dressings higher in protein and lower in calories.
You might also want to use it as a substitute for full-fat ingredients in such dishes as tzatziki, butternut squash soup, creamed spinach or smoothies.
Try blending fat-free Greek yogurt with mashed cauliflower for a healthier and lower-carbohydrate alternative to traditional mashed potatoes with butter.