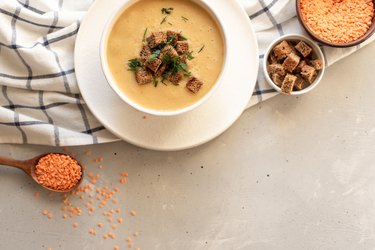 Sometimes overshadowed by beans and chickpeas, lentils definitely don't get the credit they deserve. However, these little legumes are high in nutrients, low in calories and easy to incorporate into just about any dish.
At only 230 calories, 15.6 grams of fiber and 18 grams of protein per cooked cup, lentils are a meal-prepping powerhouse. They also provide about 37 percent of your daily recommended iron intake, a nutrient that's essential for your red blood cells.
Tip
If you've never eaten lentils before, introduce them into your diet slowly. "Because they are rich in fiber, it is best to not over-consume lentils if newly introducing them into your diet, since the extra fiber can cause bloating, gas and other digestive distress in the short term," Joanna Foley, RD, recommends.
Before you toss a variety of lentil products into your cart, make sure to check their sodium content. Lentil soup can be healthy if you make it from scratch (with dried legumes) but canned varieties are often high in sodium and preservatives. Make sure to wash your lentils before use to rinse off extra sodium, recommends Foley.
"Lentils should always be rinsed to remove any exposure to dirt, dust or pesticides in the harvesting and packaging stages."
These healthy lentil recipes contain as much protein as a 4-ounce serving of chicken thigh — that's 16 grams of protein — so get cookin'.
1. Red Lentil Soup With Lemon
​Calories:​ 387
​Protein:​ 21 grams
This lentil soup packs about 21 grams of plant-based protein and a solid dose of iron, thanks to the combination of lentils and spinach, a leafy green that's known for its iron content.
The American Heart Association recommends no more than 2,300 milligrams of sodium per day and this soup is a must-try, with only 759 milligrams of sodium per serving.
2. Curry Coconut Chicken, Red Lentils and Bok Choy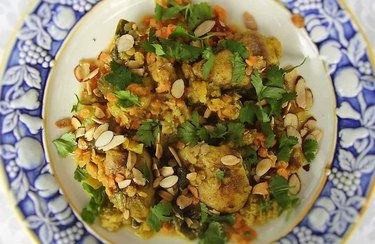 ​Calories:​ 495
​Protein:​ 43 grams
Curry coconut chicken with red lentils and bok choy is sure to please the whole family. This four-serving dish is loaded with 43 grams of protein and 11 grams of fiber, both of which are especially satiating nutrients, according to a 2015 study published in ​Trends in Food Science and Technology​.
This recipe also calls for canned coconut milk, which is responsible for the soup's velvety richness, and is spiced with cilantro, cumin and finished off with lemon juice for some zest.
​Calories:​ 380
​Protein:​ 16 grams
If you're looking for a simple soup recipe that's full of protein (16 grams total) and takes only 10 minutes to prepare, you've come to the right place. All you need to whip this dish up is 1.5 cups of low-sodium lentil soup and 10 walnut halves.
For a more complete meal, you can add some vegetables, such as broccoli and carrots, to your soup and serve it with a side of whole-grain bread.
4. Savory Lentil Chili With Cumin Cream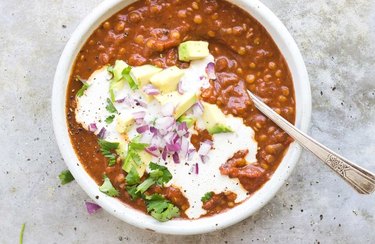 ​Calories:​ 446
​Protein:​ 19 grams
If you're looking for a comforting dinner recipe, this chili is it. High in protein and fiber, this savory lentil chili also provides 13 grams of healthy, unsaturated fats.
Lentils are low in fat (less than 1 gram per cup) but this dish fills the gaps, thanks to the heart-healthy olive oil in the recipe. Olive oil is high in monounsaturated fat, which is tied to helping improve blood cholesterol levels and decrease the risk of heart disease, according to the Mayo Clinic.
Click below to pin and save these recipes for later!