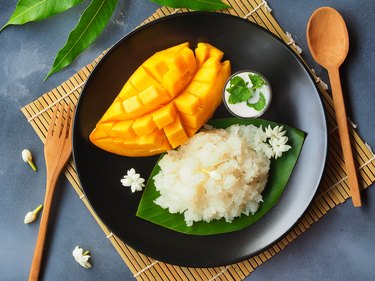 If you've ever eaten mochi at a Japanese restaurant, you've eaten glutinous rice. This short-grain rice gets its name from its sticky or "glue-like" texture, and it's found in many Asian dishes and desserts.
Glutinous rice is the staple food in some areas in Southeast Asia, including parts of Laos, Thailand and Cambodia, eventually making its way north and integrated into Japanese and Chinese cuisine, per North Carolina University. e researchers say. Sticky rice has also migrated north to become an important part of the diet in places like China and Japan. Used primarily in a number of desserts - rice cakes, for example - sticky rice has achieved important cultural standing in East and Southeast Asia.
Sticky Rice vs. White Rice
White rice is made up of two types of starch: amylose and amylopectin, per North Carolina University. The difference between sticky rice versus white rice is that sticky rice lacks amylose. White rice varieties like the parboiled white rice you might find at your grocery store can have up to 30 percent amylose, which helps the grains separate.
Glutinous Sticky Rice Nutrition Facts
According to the USDA, a quarter-cup serving of glutinous sticky rice will give you:
​​Calories​:​ 180
​​Total fat​:​ 0 g

​​Saturated fat​:​ 0 g
​​Trans fat​:​ 0 g

​​Cholesterol​:​ 0 mg
​​Sodium​:​ 0 mg
​​Total carbs​:​ 42 g

​​Dietary fiber​:​ 0 g
​​Sugar​:​ 0 g

​​Protein​:​ 3 g
Calories, Macros and Other Nutrients
You'll get 180 calories in a quarter-cup serving of glutinous sticky rice. Of those calories, 84 percent come from carbohydrates. Starch is the main carb in glutinous sticky rice, and it has no fiber or sugar.
And as with most types of white rice, protein, fat, and other micronutrients are pretty low in glutinous rice. There's no fat in sticky rice and it's not particularly high in any vitamins and minerals, but you'll get 3 grams of protein in a quarter-cup serving.
Glutinous black rice, also known as black sticky rice, is the unpolished whole grain of traditional sticky white rice. Despite the name, the color of the rice is closer to a deep, dark purple. Like its white counterpart, glutinous black rice has sticky individual grains and can be used in sweet and savory Asian dishes. You can buy it in Asian grocery stores and many health food stores.
According to the USDA, a quarter-cup serving of black rice gives you:
​​Calories​:​ 82
​​Total fat​:​ 0 g

​​Saturated fat​:​ 0 g
​​Trans fat​:​ 0 g

​​Cholesterol​:​ 0 mg
​​Sodium​:​ 2.8 mg
​​Total carbs​:​ 18.9 g

​​Dietary fiber​:​ 0 g
​​Sugar​:​ 0 g

​​Protein​:​ 1.6 g
Calories, Macros and Other Nutrients
As you can see, the same serving of black rice is slightly lower than sticky white rice at just 82 calories per quarter cup.
For this particular brand of black rice, the listed serving size is 7.4 ounces, or almost one cup, per the USDA. That serving size would give you 305 calories, 70 grams of carbs and 6 grams of protein.
Like white sticky rice, black sticky rice isn't particularly high in other vitamins or minerals.
Carbs are often demonized as a nutrient that makes you gain weight, but white rice has been a staple food in cultures all over the world for thousands of years, and it can be part of a nutritious diet. After all, carbs are the body's main source of energy, according to the Mayo Clinic.
As with any food, you'll want to practice moderation and prioritize eating a balanced diet. Carbs should make up 45 percent to 65 percent of total daily calories, according to the USDA Dietary Guidelines for Americans. That's between 900 and 1,300 calories from carbs per day if you eat a 2,000-calorie diet, or between 225 and 325 grams.
If you have diabetes or prediabetes, you should enjoy foods like white glutinous rice in moderation as they may raise blood sugar levels, per the American Diabetes Association.
As for black rice, there's an additional component that offers health benefits: Anthocyanins, which are the plant compounds that give the red, purple, blue and "black" pigmentation to foods.
The anthocyanins in foods like black rice have been linked to antidiabetic, anticancer, anti-inflammatory, antimicrobial and anti-obesity effects, according to an August 2017 review in Food and Nutrition Research.
Healthy Ways to Eat Sticky Rice
Glutinous sticky rice is rarely eaten by itself. In traditional Asian dishes, it's served as part of savory dishes with vegetables and meats and incorporated into foods like dumplings. It can also be sweetened and served as a dessert.
For a savory meal, serve up some glutinous sticky rice with: