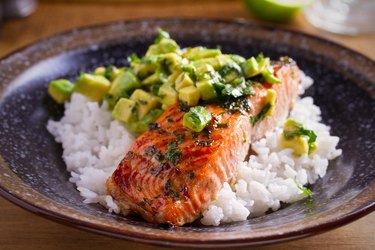 Although a rice cooker was designed to create fluffy, perfectly cooked rice, it also can be used to create an assortment of one-pot fish meals. However, fish cooks quicker than meats such as beef, chicken or pork.
The trick to successfully cooking fish in a rice cooker is to place it in the machine with enough sauce or water to thoroughly and evenly cook the flesh. The fish needs to be checked often to ensure that it does not overcook.
Things You'll Need
Rice cooker

Whole fish or fish fillets

Cutting board

Sharp knife

Fork

Water or freshly prepared sauce

Serving bowl or plate
Place fish fillets or whole fish on a large cutting board. If preparing fish fillets, use a sharp knife to create three to four one-fourth- to one-half-inch slits on both sides of the fish. If using whole fish, cut three one-half-inch clefts on each side of the fish.
Season the fish and prepare a sauce, if desired. The sauce must have at least 1 cup of liquid in it to properly cook the fish. If you season your fish without liquids, 1 to 3 cups of water must be placed into the bottom of the rice cooker to cook the fish thoroughly.
Place seasoned fish or fish sauce into the rice cooker.
Turn the rice cooker on its lowest setting. If the cooker does not offer setting selections, turn rice cooker on to begin preparation.
If using a whole fish, check for doneness after 12 minutes, then recheck every 2 minutes or until the flesh near the top fin of the fish easily flakes when poked with a fork. If using fish fillets, check after 10 minutes or until the fish easily flakes when poked. If using fish fillets less than 1-inch thick, check after 5 minutes, and recheck every 2 minutes.
Transfer the fish and sauce to a serving bowl or fish without sauce to serving plate when the fish is cooked.
Depending upon the preparation method, garnish with fresh lemon slices and herbs that enhance the flavor of the fish, such as fresh parsley, thyme, oregano, cilantro or ginger.
Serve immediately with freshly baked bread or steamed vegetables.
Tip
Use seasonings such as soy sauce, ginger, sesame oil, cilantro and scallions to make a Chinese-inspired dish.
Create a Cajun-style fish dish with seasonings such as cayenne pepper, chopped onions, celery and green peppers, garlic, fish stock, lemon juice and diced tomatoes with chopped green chiles.
Alternately, prepare an Italian fish sauce with tomato sauce, basil, oregano, garlic, thyme and olive oil. If you make a sauce, the fish and sauce can be placed directly into the rice cooker.
A fish dish also can be prepared over rice in a rice cooker. Place the fish or fish and sauce in rice cooker after almost all of the water has cooked out of the machine and the rice is almost tender. Cook for an additional 10 to 20 minutes, checking the dish every 2 minutes after the initial 10 minutes.