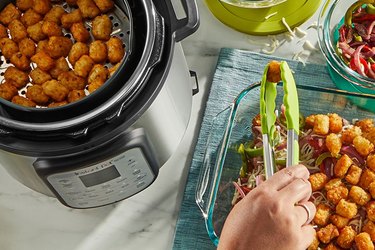 Here's one thing that can make cooking at home much more pleasurable: the Instant Pot. The multicooker — which functions as an electric pressure cooker, rice cooker, yogurt maker, saute pan, steamer, slow cooker and beyond — is one of the best tools to get hot meals on the table in record time.
"An Instant Pot has many functions, but I mainly use it for the pressure cooking function and [the] one-pot quick meal," says Laura Burak, RD and owner of Laura Burak Nutrition in Roslyn, New York. "It can also act as a slow cooker, but the big difference is that with an Instant Pot, you can cook some of the same slow-cooked dishes quickly rather than waiting all day."
From pot roasts to stews to hard-boiled eggs, cooking with pressure essentially allows you to hit fast-forward on those complicated recipes that might otherwise inspire you to throw in the towel and say, "let's order takeout tonight."
"My favorite uses for an Instant Pot are quick baked potatoes, spaghetti squash and rice. With a push of a button, these foods that typically take up to an hour in the oven or on the stove can be perfectly cooked in a fraction of the time," Burak says. She also dubs the Instant Pot a parent's dream because it's adept at cooking meats and side dishes that would normally take much longer.
Feeling inspired to join the pressure cooker party? Consider these best Instant Pot models that are top-rated, earning rave reviews from home cooks.
1. The Best Instant Pot For Beginners
Instant Pot 6-Quart Duo Nova Pressure Cooker 7-in-1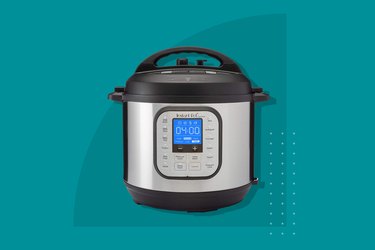 Rated the best Instant Pot for beginners and professionals alike, this affordable 6-quart model is an ideal size to make portions for six (hello, leftovers). And at about $60, it's surprisingly budget-friendly.
The easy-seal lid also takes care of the most intimidating part of pressure cooking: a steam release. Press the "quick release" button on top and the machine will take care of the rest.
2. The Best Instant Pot for Small Families
Instant Pot Duo 3-Quart Mini 7-in-1 Electric Pressure Cooker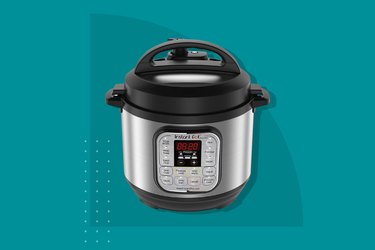 Similar to the Duo Nova but half the size, this petite pressure cooker is ideal for those who generally cook for one or two people. It's compact to store and most parts are dishwasher-friendly.
Don't disregard this multicooker if you tend to cook for larger groups — it's well-suited for side dishes if you'd like to cook those separately from your main.
3. The Best Instant Pot for the Time-Pressed
Instant Pot 6-Quart Duo Evo Plus Pressure Cooker 9-in-1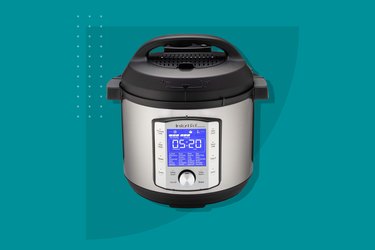 Noted as "the fastest in its class," this Instant Pot is designed to cook for up to six people super quick, thanks to its 1,200-watt heating element that preheats speedier than other models. New to cooking? This appliance will do a lot of the work for you since it also has 48 preset settings to take the guesswork out of everything from ribs to risotto to cheesecake.
4. The Best Instant Pot for Big Families
Instant Pot 8-Quart Air Fryer + Electronic Pressure Cooker Combo
You'll be ready to tackle a variety of family-favorite meals from "fried" chicken (using the EvenCrisp air fryer technology) to big beef roasts (via pressure cooking) in a flash with this 8-quart tool.
This also makes for a wise investment for those who don't have a ton of storage space to spare: It has 11 one-touch functions that perform in one dishwasher-friendly pot. This combo pack can pressure cook, air fry, slow cook, sauté, steam, sous vide, warm, roast, bake, broil and dehydrate. Whew!
5. The Best Budget Instant Pot
Instant Pot Lux 6-Quart 6-in-1 Electric Pressure Cooker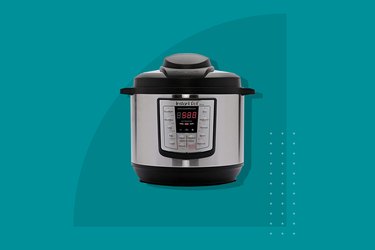 Streamlined to focus on fewer functions than most other Instant Pots, this dishwasher-safe model will save you at least $20 compared to similarly sized appliances from the same brand. Don't worry: It still rocks all the core tasks — pressure cooking, slow cooking, rice cooking, steaming and warming — and can cook enough for six people.
6. The Best Instant Pot With All the Bells and Whistles
Instant Pot 6-Quart Smart WiFi 8-in-1 Electric Pressure Cooker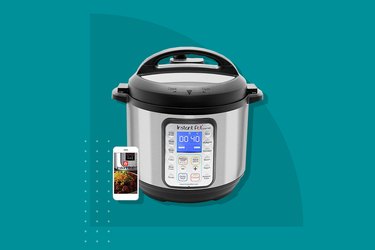 Want your kitchen to be smart? This 6-quart multicooker is home to plenty of impressive bells and whistles: Connect it to the Instant Pot app through WiFi or Alexa to view recipe how-tos and to share cooking details with family members.
This model also includes a handy delayed start function so you can prep-ahead and time it to begin cooking up to 24 hours later. (Just keep proper food safety practices in mind, of course!) As your recipe cooks, the app can send you wireless updates about how it's going and how much time is left until dinner.