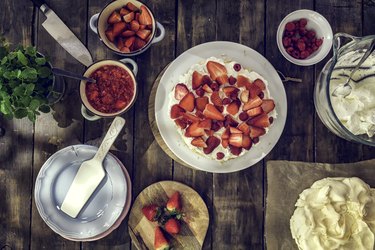 Need something sweet stat? Just because you don't have the time to bake, that doesn't mean you can't whip up a delicious treat. Enter: no-bake desserts. From low-sugar to no-dairy bake-free recipes, we've got something sweet for every diet. No oven required.
Easy Vanilla Chia Seed Pudding With Blueberries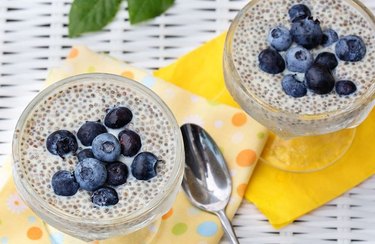 This simple, three-ingredient, gluten-free pudding is yummy enough to satisfy your dessert cravings, but healthy enough to eat for breakfast every day. Vanilla almond milk and blueberries offer a touch of natural sweetness while fiber-filled chia seeds will keep you full for hours.
Tip
Since this chia pudding must chill in the fridge for 24 hours prior to eating, we recommend making a batch on Sunday night. This way, you'll have pre-made servings ready to go for the whole workweek.
Tropical Chocolate Truffles
Vegan or not, you're guaranteed to drool over these Medjool date-packed truffles that taste like candy. But, they're packed with healthy, nutrient-packed ingredients like walnuts, unsweetened coconut and cacao powder. Plus, these plant-based, bite-sized desserts come with built-in portion control.
Made with the erythritol-based sweetener Swerve, these low-carb, keto-friendly dessert bites contain no added sugar. That's right. Zero, zilch, nada. But they're overflowing with heart-healthy fats, antioxidants, protein and fiber due to the hemp hearts and chia seeds.
Passion Fruit Protein Mousse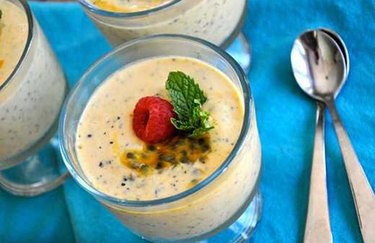 Whoever said dessert can't build healthy muscles never tried this mouthwatering mousse. At 12 grams per serving, this no-fuss mousse packs a serious protein punch thanks to two hefty scoops of vanilla protein powder. The best part: It's ready in 10 minutes.
No-Cook Healthy Vegan Dark Chocolate Chia Pudding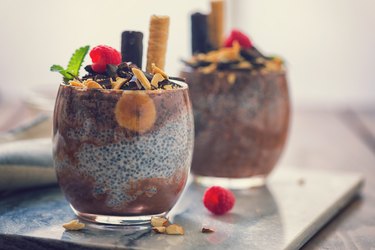 If you're a chocolate pudding fan, you'll love this healthy version which gets its dark chocolaty goodness from cacao powder. With 7 grams of protein — and an impressive 11 grams of fiber — per serving, one cup of this chia pudding will keep belly rumblings at bay for hours. Toss a few raspberries on top and you have the perfect, tasty treat.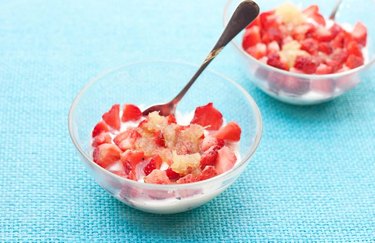 Love whipped cream, but hate how it upsets your tummy? We got you. This decadent dessert swaps milk-based cream with cashew cream for the lightest, fluffiest topping of your dairy-free dreams. A dollop will definitely go a long way!