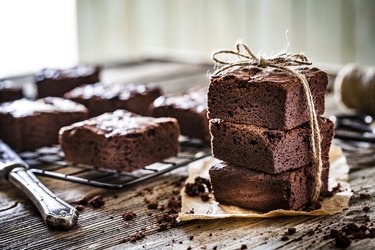 Got a big batch of leftover quinoa in the fridge? If you have a surplus of the super seed (yes, quinoa is a seed!) at your disposal — and have no clue what to do with it — consider turning yesterday's dinner into tonight's dessert.
Baking with quinoa may sound strange, but it's actually an ideal ingredient for desserts. For one, it boosts the healthiness factor of your favorite indulgences by adding a whole lot of good-for-you nutrients.
"Quinoa is also a good source of fiber (about 5 grams per cooked cup) and contains a variety of vitamins and minerals including folate, potassium, phosphorus and magnesium," she adds.
In addition to its nutrient composition, the texture of quinoa can also enhance your sweet snacks. "Depending on how it's prepared, quinoa can be soft or crunchy, and pairs well with many dessert recipes, including pudding, chocolate bark, crunchy quinoa bars and more," Fox says.
These six creative dessert recipes sneak in the superfood seamlessly, so you'll never have to lament over leftover quinoa again.
1. Coconut and Pineapple Quinoa Pudding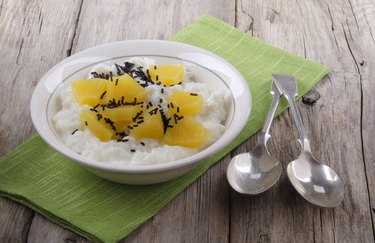 This recipe — which replaces refined white rice with quinoa — is a great alternative to classic rice pudding, Fox says.
Since white rice loses dietary fiber, iron and many B vitamins during the milling process, per the USDA, a simple swap like this can significantly boost the nutrient profile of this pudding.
"Quinoa also has a lower glycemic index compared to white rice (about 50 versus 70, respectively), meaning that it likely won't raise blood glucose levels as high," Fox adds. That will help keep your blood sugar stable, preventing the roller coaster of spikes and dips that lead to additional sweets cravings.
Tip
To make this dessert a touch more nutritious and weight-loss friendly, Fox suggests using unsweetened condensed milk (or dairy-free unsweetened condensed coconut milk) as well as a natural sweetener like monk fruit.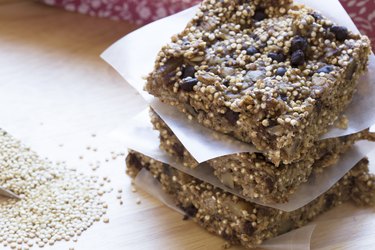 This delicious dessert can double as an energy bar thanks to a handful of wholesome and minimally processed ingredients, including dates, which serve as a natural sweetener and only contain a few grams of sugar per serving.
Fox loves this recipe for its excellent balance of macronutrients with complex carbohydrates coming from the quinoa, healthy fats from coconut oil and tahini and protein from almonds.
"If you're looking to increase the protein content, you could also add more nuts/seeds, nut butter or your favorite protein powder, too," she says.
3. Quinoa Crunch Chocolate Hearts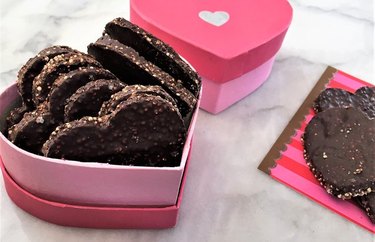 These pop-in-your-mouth dessert bites are a must-try for all the chocolate lovers out there, Fox says.
"We all know chocolate is a delicious treat on its own, but tossing quinoa into the mix gives this dessert an extra boost of nutrition, adding complex carbohydrates as well as vitamins and minerals."
Supplementing with this super seed also enhances the texture with an element of crunchiness for an extra bit of yumminess.
Tip
To slash the sugar without sacrificing taste, Fox recommends using dark chocolate or a stevia-based, natural sugar-free sweetener.
4. 5-Ingredient Vegan Quinoa Fudge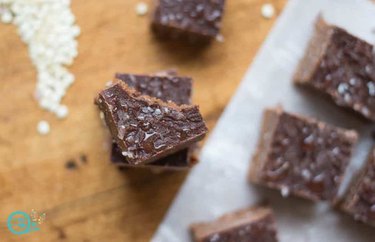 This vegan quinoa fudge recipe skips the bad stuff (processed products and fatty ingredients) in favor of five simple whole foods — a big bonus for your health and weight-loss goals.
"Whereas traditional fudge is packed with unhealthy ingredients like evaporated milk, cream, butter and sugar, this revamped recipe offers a more nutritious yet equally tasty treat," Fox says.
With quinoa as a source of complex carbohydrates, filling fiber and satiating protein as well as dates to sweeten the deal, this flavorful fudge packs a whole lot of nutrients into each bite. But it tastes so good, you'd never know it.
5. Fudgy Salted Quinoa Brownies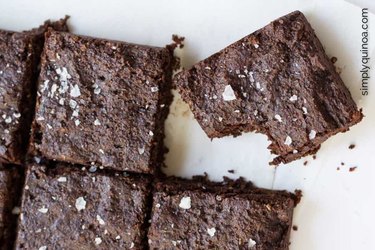 Salty and sweet, these gooey brownies satisfy all your culinary cravings.
"Avocado might sound like an odd item to add to brownies, but it's an amazing addition to any dessert recipe," Fox says. Not only do avocados increase the creaminess factor, they also contain heart-healthy, filling fats and essential nutrients including folate, vitamin K, vitamin C and more, she says.
Forgoing white flour in favor of oat and almond varieties is a simple yet smart substitution which seamlessly adds fiber to your brownie batter and serves as a viable option for anyone with a gluten allergy, according to Fox.
And if milk messes with your tummy, Fox recommends replacing it with oat or almond milk. Either would pair perfectly with this recipe and make a nice alternative for dairy-free dessert eaters.
6. Toasted Quinoa Cashew Butter Cups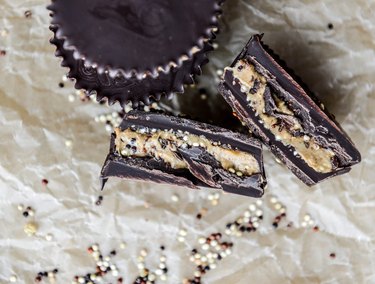 Is there anything sweeter than a decadent dessert that's healthy ‌and‌ easy to make?
Containing little to no sugar, this four-ingredient recipe gives the classic peanut butter cup a nutritious makeover thanks to complex carbohydrates from quinoa and good fats from cashew butter and coconut oil. Plus, it only takes a few simple steps to prepare, Fox says.
Ditching milk chocolate for dark chocolate keeps the sugar content in check while boosting health benefits. That's because dark chocolate contains antioxidants that may decrease inflammation and help your heart.
And if you're a nut for almonds or peanuts, simply swap out cashew butter for your nut butter of choice.