Good meatloaf is flavorful, moist and tender. It can be sliced without falling apart and tastes as good the second day as the day it was made. Meatloaf recipes contain ground meat, flavorings and binders. Starches, milk and eggs can all be used as binders in meatloaf recipes. Binders improve the structure of meatloaf so it can be sliced without crumbling, and they help retain moisture. To make a meatloaf without bread, use dairy products and eggs as binders. Ground chuck will remain moist during long cooking; combine it with ground pork and ground sirloin for maximum flavor.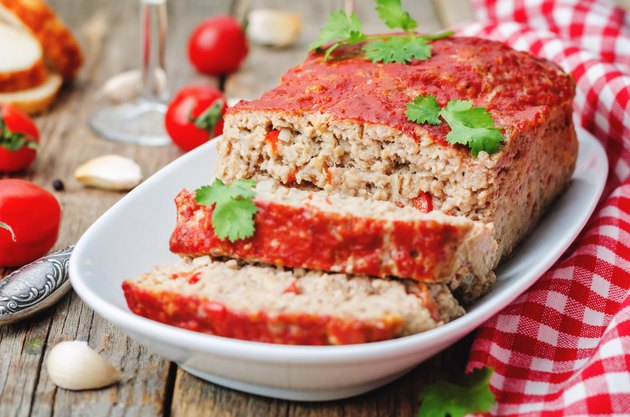 Step 1
Preheat the oven to 350 degrees Fahrenheit.
Step 2
Combine all the ingredients in a large mixing bowl. Wearing disposable gloves, lightly mix all the ingredients together with your hands.
Step 3
Shape the mixture into an oval loaf and place it in a 9-by-13-inch baking pan, leaving an inch of room all around the meatloaf.
Step 4
Bake the meatloaf until the internal temperature is 160 degrees as measured with an instant-read thermometer.
Step 5
Remove the meatloaf from the oven. Cover it loosely with aluminum foil and allow it to rest for 30 minutes before slicing it.
Things You'll Need
Large mixing bowl

Disposable gloves

1 lb. ground chuck

½ lb. ground pork

½ lb. ground sirloin

2 eggs

2 tbsp. milk

½ cup grated Parmesan cheese

½ cup minced onion

½ cup minced red bell pepper

2 tbsp. minced fresh parsley

2 cloves garlic, minced

1 tsp. salt

½ tsp. ground black pepper

9-by-13-inch baking pan

Instant-read thermometer

Aluminum foil
Tip
Add 1 tbsp. chili powder or ½ tsp. crushed red pepper for a spicier flavor.
Top the meatloaf with barbecue sauce, catsup or tomato sauce before cooking.
Try 2 lbs. ground chuck instead of the mixture of chuck, pork and sirloin.
Serve meatloaf with gravy instead of a tomato-based sauce.
If you want to put diced mushrooms in your meatloaf, saute them first to remove some of the excess moisture.
Warning
Wrap leftovers and store them in the refrigerator within two hours of cooking.