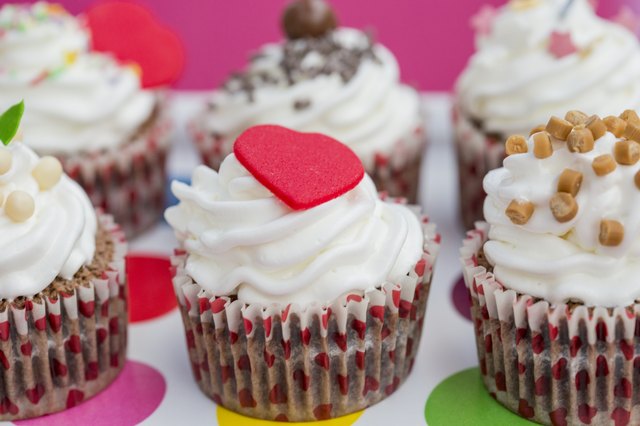 Following a low-carb diet can help you lose weight, keep blood sugar balanced and lower the amount of triglycerides in the bloodstream. The tricky part is deciding how many carbs you'll consume and being careful not to go too low unless you're under the supervision of a registered dietitian or your physician. While some carb-containing foods are on the "do not eat" list, you can still include a variety of healthy carbs on a low-carb diet, as long as you limit portions.
Choosing a Low-Carb Goal
You don't need to eliminate carbs, even on a low-carb diet. But to figure out what you can eat, you'll need to define the number of carbs allowed on your diet. This isn't as easy as it sounds because a standard definition for a low-carb diet hasn't been developed, and various popular diets have their own rules to follow.
As a general guideline, following a low-carb diet means consuming fewer than 130 grams of total carbs daily. Getting fewer than 30 grams of carbs is a very low-carbohydrate ketogenic diet, reported Nutrition and Metabolism in 2008. To protect your health, don't begin a low-carb diet until you consult a healthcare professional. Once you know your daily carb goals, you can begin to choose the carbs to include on your "do not eat" list.
Sweets Top the "Do Not Eat" List
Sweets and baked goods are at the top of the "do not eat" list for several reasons. For starters, they have more carbs than other foods, and they also contain added sugar, which contributes carbs and calories without nutrients, and often have unhealthy saturated or trans fats. Many baked goods provide 30 to 80 grams of carbs per serving, depending on the type of food and serving size, according to the University of Michigan.
A 4-inch-square serving of a two-layer frosted cake has about 80 grams of carbs; a large brownie has 70 grams; one slice of fruit pie provides 50 grams; and 1/2 cup of pudding has around 30 grams of carbs. Bakery-style muffins range from 60 grams to 75 grams of carbs, but homemade muffins often have less because they're smaller. Some sweets are lower -- 1 ounce of dark chocolate has 13 grams of carbs -- and very small portions make a big difference; for example, one chocolate chip cookie only has 9 grams. But if you eat a stack of cookies, you can easily take in more than 50 grams of sugar per sitting.
Fruits and Starchy Veggies on a Low-Carb Diet
You might put dried fruit and bananas on the "do not eat" list because they're higher in carbs than other fruits. One extra-small banana -- less than 6 inches long -- has 18 grams of carbs, and 1/4 cup of dried fruit, including raisins, dates, dried apricots and peaches, has 20 to 33 grams of carbs. Other fruits and starchy vegetables contain 15 grams of carbs in one serving, but serving sizes may be smaller than you typically consume.
Even though 1/3 cup of fruit juice is in this category, whole fruit is a healthier choice because juice doesn't contain fiber. Don't be fooled by juice with pulp -- it still doesn't provide fiber. Examples of fruit servings that have 15 grams of carbs include a small apple, a medium peach and 1/2 of a large pear. You can also calculate 15 grams of carbs from 3/4 cup of blueberries, 1 cup of raspberries and 1 1/4 cup of strawberries.
Potatoes, peas, corn and winter squash such as pumpkin, acorn and butternut are starchy vegetables. Serving sizes to stay at 15 grams of carbs include 1/2 cup of peas, corn and mashed potatoes, 1/2 of a large cob of corn, 1 cup of cubed pumpkin and squash, and one small or 1/4 of a large baked potato. For comparison, non-starchy veggies only have 5 grams of carbs in 1/2 cup cooked or 1 cup of fresh veggies.
Watch Portions on Whole Grains and Legumes
Grains and legumes provide an average of 15 grams of carbs per serving. Beans, lentils and whole-grain bread, pasta, cereal, rice and crackers are important sources of fiber and nutrients, so you don't have to put them on the do-not-eat list. Instead, stick with smaller servings and use them to fill part of your daily carb budget.
For bread and bagels, a serving size is 1 ounce, which is about 1 slice of bread, one-half of a hamburger bun, one-third of a large bagel or a 4-inch pancake. The serving size for most beans and lentils is 1/2 cup, except it's only 1/3 cup for baked beans. You can only eat 1/3 cup of cooked grains such as rice, quinoa and barley, yet a serving of oatmeal is 1/2 cup. Breakfast cereal servings range from 1/4 cup for granola to 1 1/2 cups for puffed cereal, but for most, a serving is 1/2 or 3/4 cup. The carbs in cold breakfast cereals vary widely -- up to 40 grams per serving -- so the best way to limit carbs is to check the nutrition label on each product you buy.
Watch Carbs in Milk and Condiments
Milk naturally contains sugar, which means you'll get 12 to 15 grams of carbs in every 1 cup of cow's milk or 2/3 cup of plain yogurt. Soy milk is a better option because it only has 9 grams per cup, while rice milk is much higher, with 23 grams of carbs in one popular brand. Dairy or soy products that are flavored, sweetened or contain fruit have more carbs, so check the label to be sure you don't exceed your carb goals. Be cautious with condiments, sauces and jams, which have 5 grams to 15 grams of carbs in serving sizes ranging from 1 tablespoon to 1/3 cup.