Erythritol, stevia and xylitol are all zero-calorie or low-calorie alternative sweeteners. They each have unique benefits that make them desirable compared to other artificial sweeteners, many of which have a reputation for causing detrimental side effects.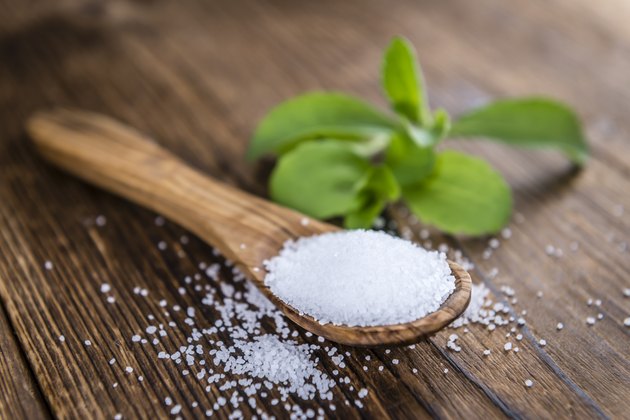 However, beyond the similarities, these alternative sweeteners are fairly different from one another — even the ways that erythritol, stevia and xylitol should be used and how much should be consumed vary.
Substituting Erythritol for Sugar
Erythritol has a glycemic index of zero and a caloric value of 0.2 calories per gram, essentially making it noncaloric. This sweetener is made via fermentation from glucose and sucrose to create a product that's about 70 percent as sweet as sugar.
Erythritol is one of the most popular alternative sweeteners to normal sucrose-based sugar as it has no aftertaste and mixes well with other foods. There's no need to create specific recipes using erythritol — just swap it for the equivalent amount of sugar.
Erythritol is a polyol, a type of carbohydrate that's hard for your body to digest and is consequently excreted in urine. Since your digestive system can't absorb erythritol, too much can cause gastrointestinal side effects; however, these are minimal in comparison to other alternative or artificial sweeteners.
This sweetener's lack of side effects and flavor means that erythritol can be substituted for sugar better than most other alternatives to standard sucrose sugar. It also acts as an antioxidant and can improve oral health by preventing bacterial growth. The primary downside to erythritol is that it's difficult and costly to produce, compared to other alternative sweeteners, including other polyols.
Using Xylitol Instead of Sugar
Xylitol is a crystalline sugar found in a wide variety of fruits, plants and microorganisms. It's been marketed for over 100 years and became popular during World War II when sucrose was hard to acquire.
Xylitol is unique because of its sweet, natural flavor akin to traditional sucrose sugar — but it's actually a polyol similar to erythritol. This means that xylitol is not fermentable and can't be absorbed by your body's digestive system. Xylitol has two main benefits for your health:
The same positive aspect — indigestibility — of xylitol is also its primary negative. Like other indigestible sweeteners and polyols, xylitol has been known to cause gastrointestinal side effects. These include cramps, bloating, gas and diarrhea.
Consuming Sweeteners Like Xylitol
Corn stalks, cobs and leaves

Rice straw

Oil palm empty fruit bunch

Trees like sago, eucalyptus, birch and bamboo

Brewery's spent grain

Barley bran

Plant waste, including waste from olive trees, sunflower stalks and fruit pulp
If you have food allergies, be careful when purchasing xylitol, since it can be made from any one of these products or a combination.
Stevia: Plant or Sweetener?
Stevia primarily contains steviol glycosides, which can be used to make a sweetener 10 to 15 times as sweet as regular sugar. However, products sold as stevia may also refer to high-purity stevia leaf extract, which can be up to 400 times as sweet as regular sugar. Specific steviol glycosides that can create such high-intensity sweeteners include:
Stevioside: 150 to 300 times as sweet as sugar

Rebaudioside A: 200 to 400 times as sweet as sugar

Rebaudioside B: 300 to 350 times as sweet as sugar

Rebaudioside C: 50 to 120 times as sweet as sugar

Rebaudioside D: 200 to 300 times as sweet as sugar

Rebaudioside E: 250 to 300 times as sweet as sugar

Rubusoside: 110 times as sweet as sugar

Steviolbioside: 100 to 125 times as sweet as sugar

Dulcoside A: 50 to 120 times as sweet as sugar
Integrating Stevia Into Your Diet
Erythritol vs. Stevia vs. Xylitol
Erythritol and xylitol are fairly similar on a chemical level as both are polyols. This means that the way they act in the body and their side effects are similar. The main difference is that you can consume more erythritol than xylitol; in excess, they'll produce the same gastrointestinal side effects. As an ecologically friendly and low-cost product, however, xylitol is a better choice: it can be easily made from a wider variety of plants and from plants that would otherwise be considered waste.
Xylitol and erythritol vs. stevia is a much more complex comparison. Objectively, stevia is better as it's a zero-calorie sweetener compared to xylitol and erythritol, which are both technically low-calorie sweeteners. Stevia is also usable as a whole plant and more natural as a product, typically with considerably less processing involved.
This means that you can obtain a variety of products, ranging from stevia plant powder to the high-intensity sweeteners that can be extracted from it, rather than only the crystallized versions available for xylitol and erythritol. Stevia also has no major side effects and a myriad of health benefits in comparison to xylitol and erythritol.
However, when it comes to cooking, erythritol vs. stevia aren't comparable. Stevia is much more like xylitol — an ecologically friendly product that is useful in specific food products. The fact that stevia is so sweet means that you can't use it the same way you would use sucrose or erythritol, resulting in the need to modify recipes. It also has a strange aftertaste that could be compared to licorice — a somewhat bitter flavor that could be considered undesirable for everyday use.
Choosing the Right Alternative Sweetener
Stevia, xylitol and erythritol aren't the only alternative sweeteners available, but they are some of the best low- to zero-calorie options. They also have some of the best health benefits for alternative sweeteners.
Migraines and headaches

Skin problems

Weight gain

Organ problems, particularly for the kidneys and liver

Depression
Several other alternative sweeteners are available that are nutrient-rich and come from natural sources, like fruit-based sweeteners, including monk fruit powder and lucuma powder. These fruit-based alternatives may be safe for diabetics, but unsuitable for people adhering to a specialized diet like the ketogenic or other low-carb diets.