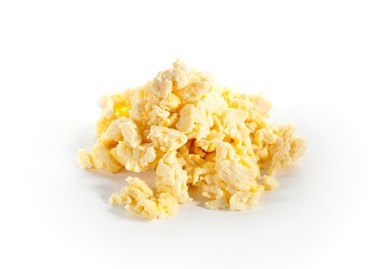 With staples like cereal, pancakes and muffins, breakfast is already a tough meal to make low-carb. And when you're eating on-the-go at fast-food restaurants, it's tougher, but not impossible. With a little planning and some modifications, there are a number of low-carb fast-food breakfast options you can enjoy. While the items might fit your plan, many fast foods are processed foods, so instead of making a drive-through breakfast the norm, try to make it an occasional treat.
Go With Eggs
Whether at home or at a fast-food restaurant, eggs are a good choice, although most egg meals come with a variety of high-carb foods such as biscuits, pancakes or hash browns. To keep carbs low, you'll have to share your high-carb foods with your fellow diners or order your egg breakfast without the carb-heavy sides.
If you can, check out the menu before you go. Some fast-food restaurants offer an interactive online menu that calculates nutrition information based on the modifications you make to your meal. For example, an egg breakfast with biscuits, hash browns and sausage has 46 grams of net carbs. Without the biscuit, this meal has 15 grams of net carbs. Take away the hash browns, too, and you're down to 2 grams of net carbs.
Meaty Options
Sausage, ham and bacon are also on the breakfast menu at many fast-food restaurants, but these aren't always carb-free. Some brands of processed meats contain fillers and added sugar, and they may have 1 or more grams of net carbs per ounce. Use the interactive menu if available at your preferred fast-food restaurant to closely estimate carbs in your breakfast meal. On one menu, a serving of bacon, Canadian bacon or sausage has 1 gram of net carbohydrate. These are processed meats high in fat and salt, however, so try to limit your overall intake for good health.
Modifying Fast-Food Breakfast Sandwiches
Convenience is the name of the game at fast-food restaurants, which may be why most of breakfast items are sandwiches, with bread options such as an English muffin, biscuit, tortillas and even waffles. These sandwiches are filled with eggs, bacon and cheese; chicken and cheese; or eggs, ham and veggies. With the bread, the net carb count ranges from 32 to 50 grams, but you can cut carbs by eating the sandwiches without the bread. In some cases, carbs drop to as low as 2 grams of net carbs. Of course, instead of eating on the run, you may need to use a knife and fork.
Lower-Carb Options
If you're on a less restricted carb plan -- such as 60 or more grams daily -- other items may work as is. The carbs in hash browns vary, so you'll want to check the nutrition information, but they range from 13 to 24 grams of net carbs per serving. Some breakfast burritos may also work, with net carbs ranging from 24 to 35 grams. You may have to eat fewer carbs the rest of the day, however, if you enjoy one of these higher-carb options for breakfast.
Several fast-food chains also offer small fruit cups that work well as breakfast side dishes, with 4 to 8 grams of carbs per serving.
What to Drink
Your beverage choices while dining out at a fast-food restaurant may not be all that different from what you might drink at home. Water, of course, is naturally carb-free and makes a good choice. If you enjoy a hot beverage with your breakfast, keep it simple with coffee or tea, and avoid the sugary specialty coffees. Add half-and-half or artificial sweetener for flavor. Plain iced versions of these drinks also work. Many fast-food restaurants also offer low-fat milk, which has 12 grams of net carbs per 8-ounce serving and might fit into some of the more liberal low-carb plans