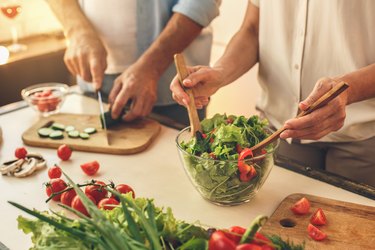 The DASH diet, which stands for Dietary Approaches to Stop Hypertension, is designed to help you lower your blood pressure, improve heart health, reduce the risk of certain diseases, including type 2 diabetes and cancer and, in some cases, lose weight.
These overall goals are achieved by eating whole foods and focusing on an eating pattern that is rich in potassium, calcium and magnesium with low levels of sodium and saturated fat.
The DASH diet has been around for more than 20 years and has been ranked the number two diet overall and the number one diet for healthy eating by the U.S. News and World Report once again in 2021.
Along with helping in many areas related to hypertension and disease risk factors, DASH promotes overall wellness and fosters a healthy lifestyle, so you don't need to have such risk factors to benefit from this eating plan.
The DASH diet is relatively simple, with a focus on fruits, vegetables, whole grains, lean protein, legumes and healthy fats. Emphasizing these foods helps to naturally decrease your intake of sodium, saturated fat and refined sugar.
Your 7-Day DASH Diet Meal Plan
The following one-week meal plan reflects the DASH diet principles, providing a variety of recipes focusing on a plant-forward approach with the incorporation of lean protein and dairy sources. Feel free to supplement with additional fruits and veggies throughout the week.
If you're cooking for one, keep in mind that some of these recipes will provide leftovers, so you'll have extras for the week.