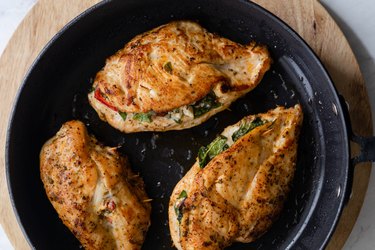 What to make for dinner — that nightly dilemma that haunts almost every home cook.
While we'd love a delicious, satisfying, nutrient-rich dinner every night, making one isn't always easy or quick.
That's why this Mediterranean-Stuffed Chicken by genius recipe developer and blogger Yumna Jawad of Feel Good Foodie is bound to become your new favorite. It ticks all the boxes: It's easy to make, it's on the table in 30 minutes, it has tons of flavor and it's loaded with good nutrition.
This quick-and-easy recipe uses protein-rich chicken breast and calls for aromatic ingredients such as basil, garlic and oregano — as well a bright spinach, feta and roasted pepper filling — for some Mediterannean flair.
"Chicken breast is a lean protein that is also a rich source of choline, an essential nutrient that supports memory, mood, muscle control and other brain and nervous system functions," dietitian Sydney Greene, RD, tells LIVESTRONG.com.
"Basil has antispasmodic properties, which is helpful for those with GI issues such as gas or bloating. Garlic has potent anti-inflammatory properties and is linked to helping lower those bad LDL cholesterol levels. And oregano is an herb known for its antimicrobial capabilities, and it has been used traditionally as a way to support the immune system."
Did we mention how simple it is to make? While the chicken is cooking, toss together a quick salad to serve on the side. Greene recommends an arugula and sliced fennel salad, dressed simply with fresh lemon and olive oil and seasoned with a sprinkling of sea salt and pepper.
"Fennel is excellent for digestion, and one cup of arugula is packed with vitamin A, which is a powerhouse nutrient for dopamine production as well as skin and vision health," she says.
Get ready to whip up a tasty dinner that will truly nourish you.
If you have leftovers, let them cool completely, and then place them in an airtight container (or wrap tightly with plastic wrap) and refrigerate for up to three days.
Mediterranean-Stuffed Chicken Recipe
4 8-ounce skinless boneless chicken breasts

1 teaspoon oregano

½ teaspoon paprika

½ teaspoon salt

¼ teaspoon black pepper

1 cup baby spinach, chopped

½ cup crumbled feta cheese

¼ cup chopped roasted red peppers

1 tablespoon chopped basil

2 tablespoons olives

2 cloves garlic, minced

2 tablespoons olive oil, divided

Step 1
Preheat the oven to 400 degrees Fahrenheit. Pat the chicken dry with a paper towel (doing so helps the chicken brown nicely). Cut a horizontal slit in the thickest part of the chicken breast to create a pocket, making sure not to cut all the way through.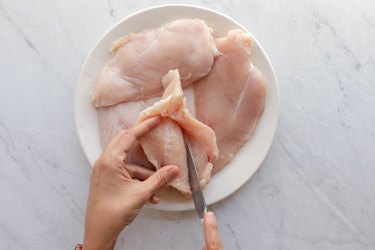 Step 2
Season the chicken breast with oregano, paprika, salt and pepper and use your hands to rub the seasoning on both sides of the chicken.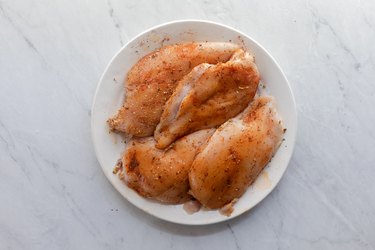 Step 3
In a small bowl, combine the spinach, feta cheese, roasted red peppers, basil, olives, garlic and 1 tablespoon olive oil. Stuff the mixture evenly inside the chicken breast. Use a couple of toothpicks to close each pocket.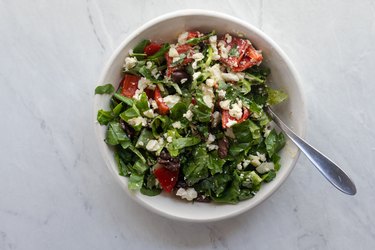 Step 4
Heat the remaining olive oil in a large oven-safe skillet or cast iron skillet and then add the stuffed chicken and sear until golden brown, about 3 minutes per side. Transfer the skillet to the oven, uncovered, and bake until cooked through, about 15 to 18 minutes.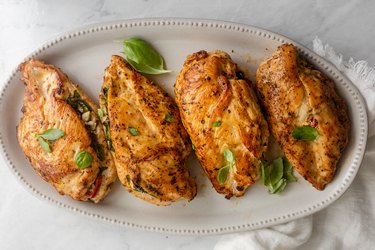 Tips
Use frozen spinach if you'd like. Just make sure to thaw it completely and drain the excess water before using it.
Don't overcrowd the pan. If you add all the chicken in one skillet, you may end up steaming the chicken rather than searing it. Make sure to leave enough space around each breast for proper browning.
Use an instant-read thermometer for best results. Your chicken should hit 165 degrees Fahrenheit so that it's not undercooked or overly dry.