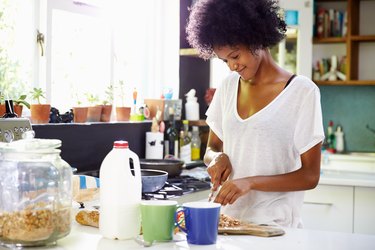 Our Breakfast Meal Prep series streamlines mornings by giving you the shopping lists and recipes you need to prep easy, nutritious breakfasts for the whole week.
Meal prepping your breakfasts may require a small time investment up front, but it can save you both minutes and effort later.
By prepping your breakfasts in advance, you'll reap the benefits of having delicious, healthy food available with minimal prep and cooking the following days.
Planning out a week's worth of a.m. meals can also help you actually use all the groceries you bought — no more veggies rotting in the crisper drawer! — and keep you from running to the supermarket too often. You're also more likely to stick to a healthy eating plan if you've got everything ready ahead of time.
Below, find out how to prep three delicious quick-and-easy breakfasts from start to finish — including what to shop for, how to prep the meals and tips on packing them for freshness. All of these recipes take no more than 10 minutes from fridge to plate!
Simply prep them on a Sunday (or any other day you'd like) for a week of healthy breakfasts.
This week, you'll be making Egg Veggie Pita Pizza, Pomegranate Berry Smoothie and Veggie Hash With Fried Egg.
All you need are eight ingredients (and a few more common staples listed in the recipes, such as oil and spices, you probably already have at home) to make all three recipes. Either buy these online or shop for them at your local grocery store.
Click here for a printer-friendly version of this week's grocery list!
Now that you've got your ingredients, you'll need some containers to pack your recipes in. The following work well with the three recipes we've provided as well as for other meal prep needs.
Rubbermaid Platic Meal Storage Containers ($19.29, Amazon.com)
Ball Jar Plastic Pint Freezer Jars With Snap-On Lids ($13.99, Amazon.com)
These recipes are all made using the grocery list above, but feel free to mix and match ingredients as you like.
To get an even better start on the week and cut down on cooking time, simply chop up all the vegetables at once and keep them in the refrigerator. Once you're ready to eat, simply grab what you need and cook!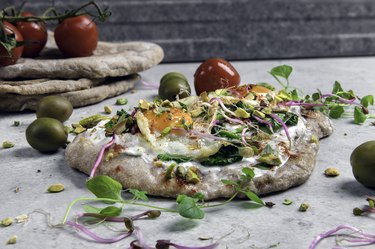 This Egg Veggie Pita Pizza is full of vital nutrients like dietary fiber and vitamin C from the vegetables as well as 13 essential vitamins and minerals plus 6 grams of lean protein from the egg.
The best part: The runny yolk doubles as a delicious sauce.
Recipe yields 2 servings for 2 days of the week.
1 1/2 tablespoons olive oil
2 whole-wheat pitas
1/2 cup diced bell pepper
1/2 cup diced onion
2 eggs
Turn on broiler to low. Line a sheet pan with foil or parchment paper.
Spread the oil on pitas and add pepper and onions.
Crack an egg on top of each and place in oven under the broiler for about 5 minutes, until the egg white is cooked and yolk is set to desired runniness.
Tips
Prepping some of the breakfast ingredients ahead of time will get your morning meal on the table even faster. The onions and bell peppers can be washed and chopped in advance — just keep them in a food container and they'll be ready to go when you are.
If the second serving is for a different day, do not add the egg on top. You can store the pita topped with vegetables in the refrigerator and when you're ready to eat, simply crack the egg and finish step three.
2. Pomegranate Berry Smoothie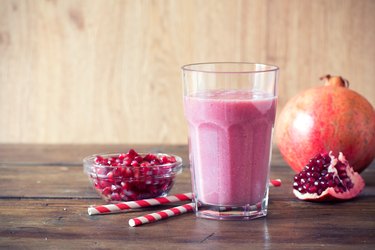 This refreshing Pomegranate Berry Smoothie is power-packed with lean protein, vitamins, minerals and antioxidants.
Paired with nutrient-rich berries, spinach and plain low-fat kefir — which is a cultured milk drink that's packed with protein, calcium and probiotics — this breakfast will kick off your day right.
It's also a great choice pre- or post-workout thanks to the protein, carb and antioxidant content.
Recipe yields 2 servings for 2 days of the week.
1/2 cup no-added-sugar pomegranate juice
2/3 cup plain kefir
1 cup frozen berries
1 cup baby spinach
Ice
Place all ingredients in a high-powered blender and puree together until smooth.
Serve half into one glass.
Tip
To set up your smoothie ahead of time, place all the ingredients into the plastic pint freezer jars the night before and keep it in the fridge. To get your smoothie ready, simply pour it into the blender, puree and serve.
Place leftovers in the plastic pint jar and save in the refrigerator until you're ready to enjoy it. Feel free to add an ice cube or two and give it a quick whirl in the blender before drinking.
3. Veggie Hash With Fried Egg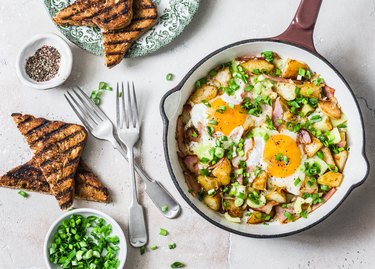 This veggie hash is topped with a fried egg, which makes for a luscious sauce once you cut into that runny yolk.
Savory breakfasts are a delicious way to start the day and you'll be happy knowing you've got a good dose of veggies in before lunch.
Recipe yields 3 servings for 3 days of the week.
2 tablespoons olive oil, divided
1 cup diced bell pepper
1 cup diced onion
1 1/2 cups baby spinach
3 eggs
In a skillet over medium-high heat, add 1 tablespoon oil.
Add pepper and onion and saute, about 2 minutes.
Add baby spinach and cook for another minute. Move vegetable mixture to a plate.
Place skillet back on stove over medium-high heat and add remaining 1 tablespoon oil.
Crack eggs into the skillet and fry till egg white cooked through and yolk set to desired runniness, about 2 minutes for sunny-side up with a runny yolk.
Tip
Prepping the vegetables in advance makes this meal super quick and easy. Feel free to cook all the vegetables ahead of time and save them in a container in the refrigerator — but do not cook the egg until you're ready to eat the remaining servings.
Simply heat up the leftover vegetables then fry the egg and voila, breakfast number two.
Click below to pin and save these recipes for later.