When it comes to pizza, it is usually a diet disaster: The crust, grease, sauces and toppings can cost you a few hundred calories a slice, along with ample fats, carbs and sodium. However, you can actually make your own healthy pie at home by using simple, wholesome ingredients and keeping portion size in check.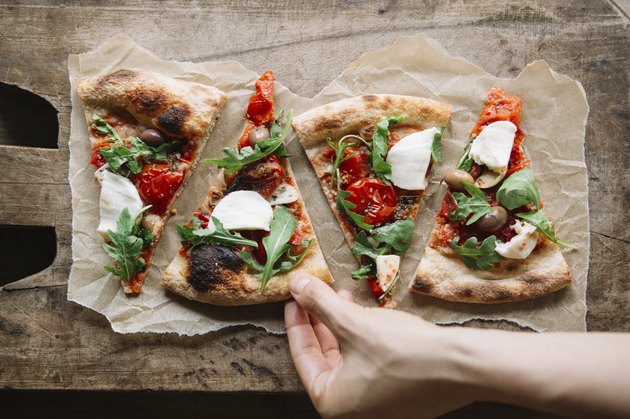 "Pizza can be unhealthy when it's loaded with fatty toppings, like extra meats and cheeses, or if it has a really rich and heavy dough, like deep dish. But you can make pizza healthier by switching up the toppings or crust," Natalie Rizzo, RD, tells LIVESTRONG.com.
For example, go easy on the cheese and load up on veggies. That way, you're getting less saturated fat and lots of good fiber and low-calorie produce to bulk up the pizza and tame your appetite.
"I personally like topping a pizza with fresh zucchini and cherry tomatoes in the summer or sun-dried tomatoes, roasted red pepper and basil for a more Italian flare," says Rizzo. "You can also use whole-wheat pizza dough to get more fiber and protein in your pizza," she adds, which will keep you fuller longer.
You'll also want to be wary of servings: "Try to stick to one or two slices. If you feel like you need more than that, pair your pizza with a side salad or side of roasted veggies," she adds.
With these tips in mind, here are a few delicious pizza recipes that you can make for a healthy meal at home.
1. Rosemary Pizza Patate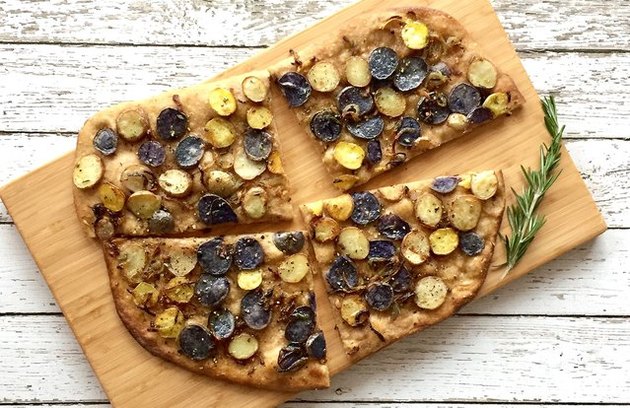 This pizza clocks in at 163 calories a serving, which is pretty low. "It also uses whole-wheat dough, which is full of good-for-you fiber, and it's topped with roasted potatoes, herbs and olive oil," says Rizzo.
"It's a minimalist pizza that doesn't have a lot of saturated fat, and it even provides nutrients from the whole grains and potatoes," she adds. Potatoes also have a good amount of potassium, so they can help replenish lost electrolytes after a workout.
2. Luncheon Chicken Salad Pizza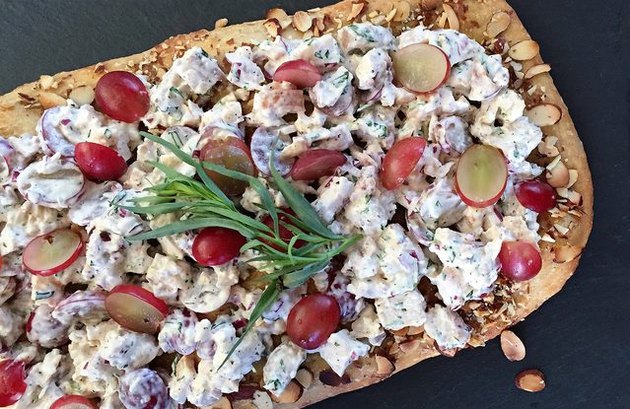 This pizza is packed with protein, offering 27 grams in one slice. "This is a really interesting take on a pizza because it's like eating a healthier chicken salad sandwich," Rizzo says.
Although there is a little bit of fat from the mayo, it's a much healthier option than a pizza that packs in loads of cheese, she says. Plus, it's ready in just 30 minutes.
3. White Bean and Mushroom Pizza
Calling all vegans: This white bean and mushroom pizza is savory and filling thanks to bold flavors like garlic and balsamic and its 13 grams of fiber per slice.
"Made with just whole-wheat pita, veggies and olive oil, this pizza is like eating a salad with a slice of whole-grain bread," says Rizzo. This is a solid option if you're trying to eat more veggies. And the pita makes it portion controlled, so you can stick to one or two slices max.
4. Gluten-Free Margherita Protein Pizza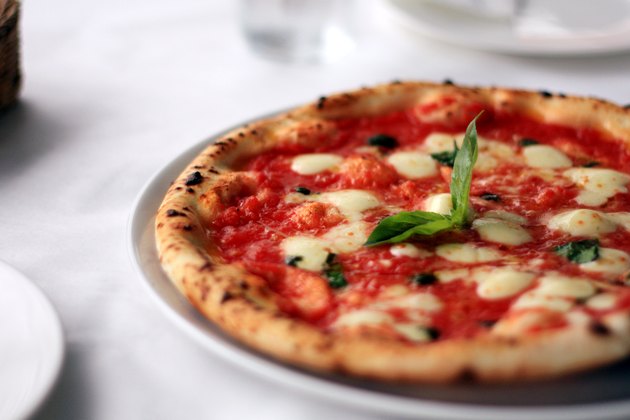 This classic pizza pumps up the protein and boasts a gluten-free crust. "This is a good option because it has more protein than your typical margherita pizza would have," says Maggie Michalczyk, RD. "I'm all for creative ways to add more veggies and cauliflower in this recipe does just that," she adds. The protein helps round the dish out as a meal and keeps you fuller for longer. Plus, it's low in carbs, with just 5 grams a slice.
5. Spicy Chicken and Basil Pizza
In just 30 minutes, you can have this cheesy, spicy delicious pizza ready for you on a plate — deeming it a go for busy weeknights. "Made with a whole-wheat pita pocket, you'll get the goodness of whole grains plus protein from the chicken," says Michalczyk. Not to mention, it makes for a fun (and healthier!) Friday night Netflix binge.
6. Party-Time Hummus Pizza
7. Vegan Margherita Thin-Crust Pizza
Vegan and thin-crust, this healthier pizza is clean and simple yet oh-so flavorful. Plus there are two slices in a serving as a bonus! Dairy-free mozzarella boosts the protein content to a respectable 14 grams per serving to keep the munchies at bay.