Summer is coming to a close, and that means it's time to take advantage of this season's freshest produce while it's still in peak ripeness. Summer zucchini is one awesome veggie in particular — and it's super versatile. That's right, there's so much more to do with it than just spiralize it for zoodles.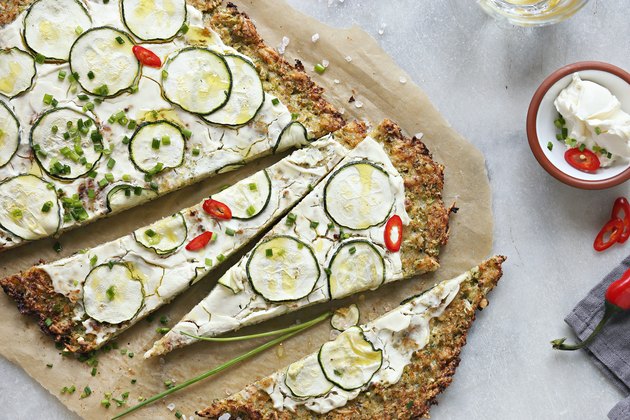 "Zucchini is packed with nutrition and is low in calories, Maggie Michalczyk, RD, tells LIVESTRONG.com. This nutrient-dense food contains vitamin C, potassium and fiber." The fiber keeps you full and potassium keeps electrolytes balanced, which comes in handy on a hot day or after an outdoor workout. Plus, the green veggie has a high water content to keep you hydrated and to banish belly bloat.
Not sure how best to savor summer zucchini apart from making zoodles for a poke bowl or low-carb pasta dish? Here are the best recipes to choose from, all of which are super easy to make and have tons of flavor.
1. Double Chocolate Zucchini Muffins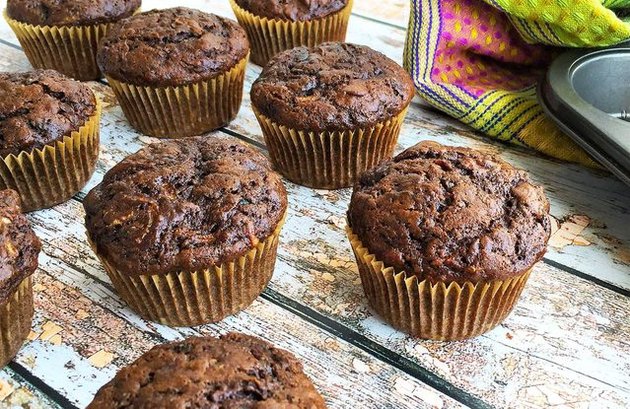 If you love muffins in the morning but don't love the sugar and excess calories, these veggie-dense muffins are your solution. "I love treats that add a healthy twist, which is exactly what these muffins do! The zucchini adds texture and nutrition with you barely noticing it's there," says Michalczyk. Keep zucchini at home to add to baked goods, like bread and muffins, to boost their nutrition and satiety per bite — so you won't go back for thirds!
2. Grilled Zucchini Baba Ghanoush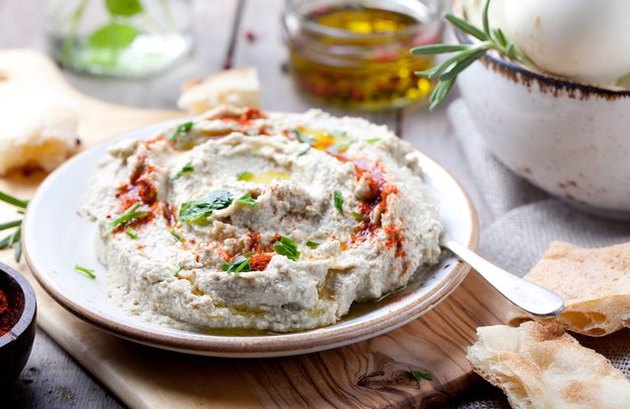 "I love the idea of adding more nutrition to dips by incorporating zucchini!" says Michalczyk. "Because zucchini has such a mild taste, you won't even be able to tell it's in this recipe but will be getting more vitamins and minerals per bite." Plus, it's low in carbs and takes just 25 minutes to whip up. Add some spices, like cumin and smoked paprika, for a kick.
3. Chicken Sausage and Zucchini Hash
A protein-packed breakfast, this chicken hash will keep you full until lunch. "This is a great way to use end-of-summer zucchini and tomatoes and makes for a great quick meal that packs protein and fiber from all the veggies," says Michalczyk. The zucchini makes for a great potato sub to help cut back on carbohydrates, too.
4. Kiwi, Zucchini and Apple Smoothie
"Move over cauliflower, because we should actually be putting zucchini in our smoothies," Michalczyk says. "Its taste is super mild so you'll get more of the fruits' flavors plus nutrition from the zucchini." It's a total green juice but has some sweetness from the honey and apple. Pair it with some protein and drink it post-workout, as the coconut water will help replenish lost electrolytes.
5. Zucchini Chips With Feta and Cherry Tomatoes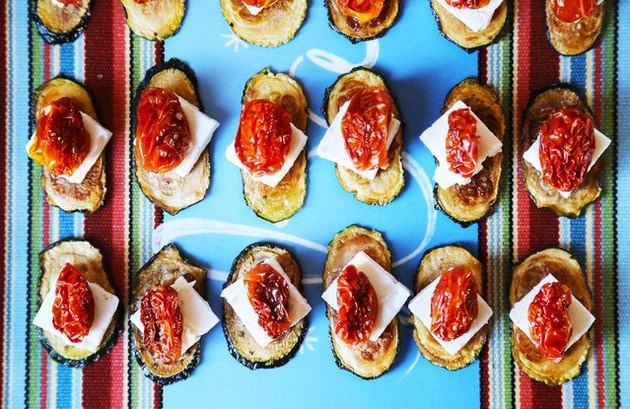 Ditch the bread and use summer zucchini as a low-carb, low-calorie toast base. "This one is so great because it incorporates tomatoes and you can get creative by topping the zucchini with different spreads and veggies," says Michalczyk. "It's a lower-carb, higher nutrition option than crusty Italian bread, which is typically used like this in bruschetta," she says. Play around with toppings, and have some fun! It makes for a great party app for a summer barbecue.
6. Zucchini Veggie Burgers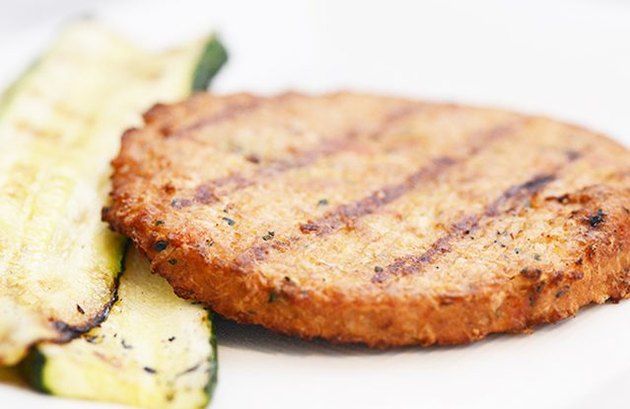 Grill these babies at your next barbecue. "I like how this recipe is a really easy way to get a meatless meal on the table that has protein and veggies. It's really just two ingredients — veggie burger and roasted zucchini — and it will be ready before you can even order takeout," says Natalie Rizzo, RD. Then, add toppings, like fresh avocado or some Greek yogurt dressing with more veggies.
7. Garlicky Zucchini Fries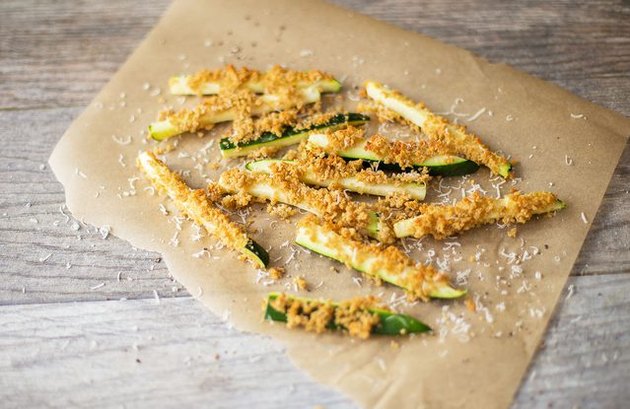 "If you're a fry lover, you'll love these baked zucchini fries. Crunchy on the outside and soft in the middle, these are great appetizers or finger foods for kids," says Rizzo. They take a little bit of time to prepare, but they are so much healthier than deep-fried fries. You'll get 3 grams of fiber and 4 grams of protein for just about 100 calories per serving. So worth the effort!
8. Zucchini Pizza Crust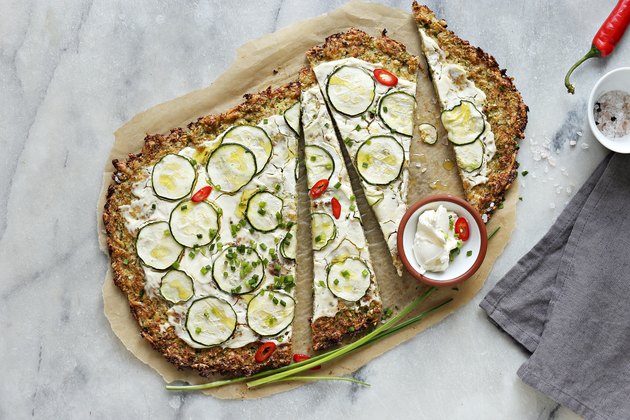 "I love this lower-calorie option for homemade pizza dough. It takes a little time to make, but it creates a crispy dough with lots of flavor," says Rizzo. "Just make sure to drain the moisture from the zucchini for the perfect dough," she says. Failing to do so will result in a flimsy crust that doesn't hold up to your toppings. Speaking of toppings, try freshly sliced tomatoes with basil or marinara sauce, mozzarella cheese and mushrooms, she suggests.
9. Savory Vegan Zucchini Oatmeal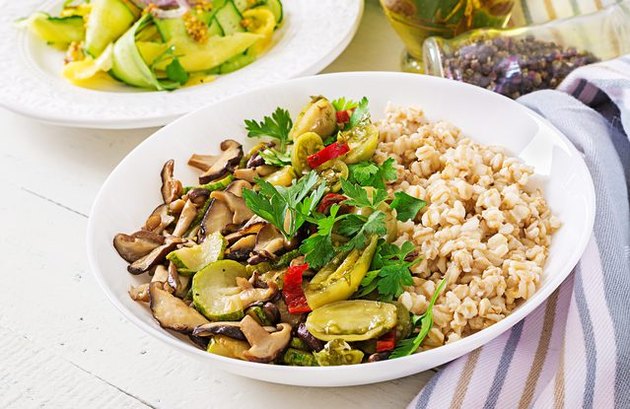 Oatmeal isn't just for breakfast or a vehicle for solely sweet flavors — so make a savory bowl when you want a snack or post-workout meal that's high in some complex carbohydrates and protein. Or dress up that oatmeal with savory veggies and have a bowl for dinner, says Rizzo. "You'll be getting plenty of fiber to keep you full all night," she says.