The Mediterranean diet is more than a meal plan, it's a lifestyle — at least, that's the opinion of registered dietitian Stefanie Dove, who enthusiastically recommends it as a smart and healthful way to go about choosing the food you eat.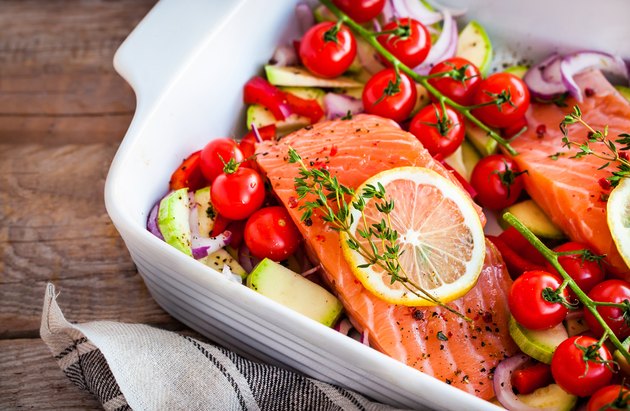 What Is the Mediterranean Diet All About?
Simply put, the Mediterranean diet relies on the long-lasting overall eating habits of people who live in countries that border the Mediterranean Sea, according to the American Heart Association (AHA). It favors whole grains, fruits, vegetables, seafood, legumes and healthy fats, plus a moderate amount of wine. It shuns red meat, trans fats, items with added sugar and processed foods such as refined grains and oils. Sounds sustainable, right?
"These are general guidelines for overall good health, so as a dietitian, I always favor those plans that promote balance," Dove tells LIVESTRONG.com. "The Mediterranean diet does not eliminate food groups, which is important. All food groups are vital for health and wellness."
Although this style of eating is higher in overall fat than a healthy diet promoted by the AHA, people who follow a Mediterranean diet actually eat less saturated fat than those who adhere to the average American diet. Additionally, both heart disease and death rates are lower in Mediterranean countries than in the U.S., although that could be attributed to other lifestyle factors, such as physical activity, the AHA states.
The heart health benefits of the Mediterranean diet have been widely researched and that's what this eating plan is most praised for. A significant study of more than 7,400 people concluded that sticking to a Mediterranean diet that included olive oil or nuts reduced the risk for heart attack, stroke and heart-related death by about 30 percent compared to a low-fat diet, the April 2013 in the New England Journal of Medicine found. Although there were flaws in the initial analysis of the study, a second examination of the results in 2018 confirmed these findings, according to the American College of Cardiology.
Mediterranean Diet Foods
Healthy fats and plant-based foods are the cornerstones of the Mediterranean diet, which also emphasizes consuming seafood regularly and poultry, eggs and dairy in moderation. Key foods for a Mediterranean meal plan, according to the University of Wisconsin, include the following.
Vegetables: Leafy greens, broccoli, cauliflower, zucchini, carrots, mushrooms, asparagus and more, as well as starchy vegetables such as potatoes and sweet potatoes
Fruits: Berries, apples, oranges, bananas, citrus and more
Fats: Olive oil, avocado, olives, nuts and nut butter, seeds
Whole grains: Whole wheat pasta, brown rice, quinoa, farro, barley, bulgur, whole-grain bread, oatmeal
Legumes: Beans such as garbanzo, white, black and kidney, as well as lentils
Seafood: Fish — especially fatty varieties such as salmon and herring — as well as shrimp, clams, oysters, crabs and more
Herbs and spices
Water: H2O should make up the lion's share of the beverages you choose on a Mediterranean meal plan.
Coffee and tea: These are also acceptable, but avoid using sugar to sweeten your beverages.
Foods to Eat in Moderation
Poultry: Chicken and turkey
Dairy: Greek yogurt, cheese and milk
Eggs
Wine: Unlike a number of other eating plans, the Mediterranean diet not only allows but encourages a moderate amount of wine, particularly red wine. But indulging is completely optional. Women should limit their alcohol consumption to one glass a day, which is about 5 ounces, while men can have up to two glasses per day.
The Mediterranean diet doesn't eliminate any particular food group, but it does discourage eating certain ingredients. For example, red meat such as beef and pork should be rarely eaten on a Mediterranean meal plan, while processed meats such as sausage, bacon and hot dogs should be avoided entirely. Other ingredients to limit or avoid, according to the Cleveland Clinic, include:
Foods with added sugars: Soda, candy and ice cream
Foods with trans fats: Margarine or commercial baked goods
Foods made with refined grains: White bread, white rice and white pasta
Refined oils: Soybean oil and canola oil
How to Meal Plan for the Mediterranean Diet
"A Pinterest search or just Googling 'easy Mediterranean meals' is the way I do it personally," she says. Gariglio-Clelland also recommends picking recipes that use the same main ingredient, like focusing on salmon or shrimp recipes during a one-week period, noting that this method saves money because it reduces waste and time spent shopping for several ingredients.
At first glance, a Mediterranean meal plan might seem like it's a budget-buster, but that couldn't be further from the truth, Dove notes. "The diet emphasizes fresh fruits and vegetables, so eating those items in season will allow consumers to save money at the checkout counter," she says. "Eating seasonally also encourages you to try new fruits and vegetables they otherwise would have never considered."
Dove recommends using beans and eggs as inexpensive protein sources, as well as buying beans, whole grains and nuts in bulk.
"Fish and lean proteins will often be the most expensive items," she admits. But stocking up when the proteins are on sale at your local supermarket and freezing for later is always an option. Plus, choosing frozen fish or venturing to the nearest wholesale club to purchase bulk packs and individually freezing them can help you save some cash on the proteins, too. "Whether frozen or fresh, both still pack the nutritional punch you need," she says.
Your Go-to 7-Day Mediterranean Meal Plan