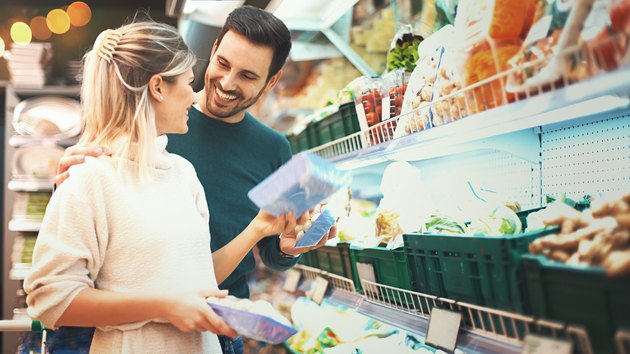 Buying groceries can seem pricy, especially if you're trying to eat more healthily. But ordering delivery is actually five times more expensive than cooking at home — and that doesn't include the incalculable cost to your health.
The solution? Meal planning strategically can help you stick to your health goals without breaking the piggy bank or resorting to Seamless. The step-by-step instructions below will help you build a budget-friendly plan that's packed with wholesome, feel-good ingredients.
Step 1: Shop the Circular
Step 2: Make a Loose Plan
Making a meal plan is key to staying on a weekly grocery budget, but you should remain flexible as you put it together. This is particularly true for figuring out how to use the ingredients that are on sale that week.
"Get comfortable with substituting ingredients in a recipe," Bri Bell, RD of Frugal Minimalist Kitchen, tells LIVESTRONG.com. "For example, if the recipe calls for chicken breasts, but chicken thighs are on sale, swap it out! This works in almost all recipes."
A budget-friendly meal plan also ensures that you're using all of the ingredients you buy — rather than purchasing a head of cauliflower, using half of it and then letting the remainder languish in the crisper. It also allows a meal to pull double-duty by serving as dinner one night and as lunch the next day. Planning for leftovers also makes creating a meal plan easier because you don't need to look up as many recipes.
"Less is more," Stefanie Dove, RD, tells LIVESTRONG.com. "We've all gone down the Pinterest rabbit hole at some point. Instead of selecting five recipes that require an extensive amount of preparation, start with two key recipes that you want to explore and build from those. This allows you to get comfortable with meal planning and preparation without becoming overwhelmed."
Step 3: Consider Using a Meal Delivery Service
A Budget-Friendly Sample Meal Plan
If you plan to make every meal at home, you'll need seven breakfasts, seven lunches and seven dinners to complete the week. However, to make it easier on yourself, pencil in a few days that you can enjoy dinner leftovers for lunch. Plus, if you don't eat up eating the entire meal you cooked, you can store it in air-tight containers and freeze it for a future meal — and you'll thank yourself down the line.
The total amount you'll need to spend for the meal plan below will vary based on your geographical location and your local supermarket's prices, but the budget can serve as an estimate to begin your own personal meal plan.
If you were to buy every single item required for these sample recipes, you'd spend approximately $120 for the week, averaging out to about $5.60 per meal. However, you might already have quite a few of these ingredients in your pantry, including olive oil, spices, condiments like mayo and mustard and various types of vinegars, which will bring your total cost down.
Monday
These flapjacks are the epitome of an inexpensive, healthy breakfast. Given that each serving also has 10 grams of protein but just 204 calories, they will fill you up without going overboard on calories. Each recipe makes 10 small pancakes, so eat five this morning and save five for later in the week.
Choosing meat-free meals is an easy way to stay within budget while staying healthy. This chili is flavorful, thanks to the orange juice, fire-roasted tomatoes and spices — and has just 352 calories per serving. Plus, beans are an affordable and healthy addition to any meal. Since avocado oil is pricey, you can substitute olive oil instead. You could also use spinach, kale or collard greens in place of the Swiss chard.
Use a rotisserie chicken from the grocery store to make this comforting soup easier to prep. Plus, you can use the leftover chicken later in the week. (Depending on the size of your family, you might want to buy two or more chickens, since two recipes call for the poultry.) Although this soup calls for fusilli or corkscrew pasta, you can choose any type of whole-wheat pasta that's on sale to make the soup.
Tuesday
Breakfast: Four-Ingredient Banana Oat Pancake Leftovers
Pull out those banana pancakes that you made on Monday and enjoy them this morning.
Lunch: Chicken Noodle Soup Leftovers
Dish up a bowl of leftover chicken noodle soup for lunch to save yourself both time and money.
That leftover rotisserie chicken needs to be used up, and these Greek-inspired chicken pitas are just the ticket. Double the recipe, so you can enjoy the leftovers for lunch tomorrow.
Wednesday
This recipe is a cross between egg salad and classic bruschetta, an Italian tomato-based salsa. Instead of using crostini as the base, you'll top tomato slices with egg salad. This delicious recipe is both budget-friendly and packs in 8 grams of protein.
Lunch: Tzatziki Rotisserie Chicken Pitas Leftovers
Pack up the leftover Tzatziki chicken pitas and take it to the office with you for an easy microwave-free lunch.
Whole-wheat pasta feels indulgent, but its solid fiber content deems it quite healthy. This veggie-loaded pasta even ups that fiber content by adding a bevy of roasted vegetables. Make sure to season the vegetables with salt and pepper, which will help bring out their natural flavors. Pack up the second serving of pasta for lunch tomorrow.
Thursday
Rolled oats are one of the most budget-friendly breakfasts out there, with a 32-ounce bag amounting to about $4. Swirl in a spoonful of peanut butter for a dose of both protein and healthy fat. This breakfast doesn't cost much per serving but has a whopping 16 grams of protein, thanks to a couple of added egg whites.
Lunch: Veggie-Loaded Pasta Leftovers
Whole-wheat pasta holds up better than its refined counterpart after spending a night in the refrigerator, so it makes for an ideal next-day lunch option.
Combine fresh spring vegetables with protein-rich white beans over a bed of greens for this ultra-healthy veggie bowl. During other times of the year, substitute your favorite seasonal vegetables in, such as sweet potatoes during the fall or cucumbers in the summer.
Friday
If you're on the go in the morning, smoothies make for an easy breakfast that you can take with you. To keep this oatmeal smoothie recipe budget-friendly, use almond milk or cow's milk instead of hemp milk. While it might change the nutritional profile slightly, the smoothie will still keep you satisfied through lunch.
Sometimes you need a bit of convenience food to make it through the week — but instead of ordering delivery, pick up a family-sized macaroni and cheese from the freezer section of the grocery store. To make it healthier, add baby spinach — or, if you still have Swiss chard, collard greens or kale from earlier in the week, use up the last of that instead. Now it's a vitamin-rich mac and cheese and greens recipe.
These burgers require a few simple ingredients, but the recipe is easy to double, triple or even quadruple to make extra burger patties to freeze for the future. Serve it on a lettuce bun, using the leftover romaine from the chicken pitas earlier in the week.
Saturday
There's no need to take out the nonstick pan for these Middle Eastern-inspired eggs. Simply crack two eggs into a coffee mug and whisk them with a few additional ingredients. Pop the mug into the microwave for a little over a minute, and then enjoy it with some whole-grain pita chips.
Lunch: Leftover Mac and Cheese and Greens
That family-sized mac and cheese comes in handy for leftovers! Enjoy a second portion for lunch, and then freeze the rest of the pasta in individual containers for future use.
The turkey burgers used just a quarter-pound of ground turkey, so use another half-pound to make homestyle spaghetti and turkey meatballs. The sauce is made from scratch, making it a healthier alternative to jarred marinaras that are often loaded with sugar and sodium.
Sunday
Not all oatmeal has to be loaded with sugar. Use up the last of your two dozen eggs by enjoying oatmeal that's topped with a fried egg and cheddar cheese. Substitute the rolled oats that you already have for the steel-cut variety named in this savory oatmeal recipe.
Beans and tuna are two of the most affordable protein options in the supermarket. This hearty salad combines the two to make a protein-rich lunch option that perfectly serves one person. Plus, you can use the leftover beans from Monday's chili recipe! This recipe boasts 230 calories and an astonishing 42 grams of protein per serving, which will keep you going throughout the entire day.
Dinner: Spaghetti and Turkey Meatballs Leftovers
It's been a long week — cut yourself some slack, skip the cooking and enjoy your spaghetti and meatball leftovers.
Cheap and Healthy Snacks
Fresh or frozen fruit (less than $4 a pound)
Carrot sticks (about $2 a bag) and celery sticks (about $2 a head)
Bell pepper slices (less than $4 a pound)
Roasted chickpeas ($1 per can)
Broccoli and cauliflower florets (less than $4 a head)
Popcorn (about $5 per 30-ounce container of kernels)
Rice cakes and whole-grain crackers (about $3 a box)
Nuts and seeds (about $12 per 19-ounce canister)