So you're thinking of meal prepping. Maybe it's because you're tired of filling up on salty, processed foods rife with preservatives every day. Or perhaps you're overspending on take-out each week. Whatever your reasons, congratulations. Meal prepping for the week is the perfect way to save time and money and, most important, eat healthier. Contrary to what all those pretty Instagram and Pinterest images may allude to, it takes a moment to figure out how to meal prep. (It's more than tossing beautifully hued foods into glass containers and calling it a day.)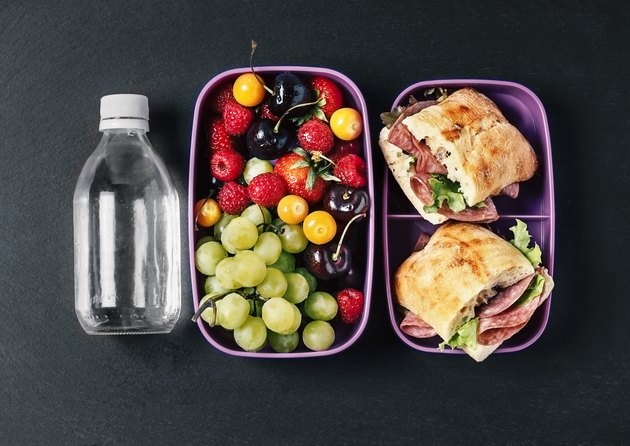 That's right, there's actually an art to meal prepping.
Meal Prepping for Beginners: What Is It?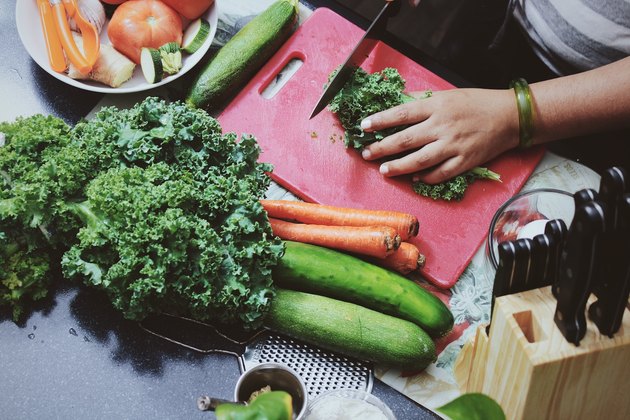 In one sense, meal prepping is exactly what it sounds like: preparing your food ahead of time in order to have healthy, well-rounded meals on hand. But if you're going to do it, you should figure out what type of prepping will work best for you and from there learn how to meal prep properly. For instance, are you looking to have breakfast, lunch and dinner ready to go each week? Or would simply having a less hectic, more healthy supper each night make a big difference in your life?
Depending on which meals you decide to prep, figure out which method of preparation makes the most sense. A few options are: cooking large batches and freezing meals so you have dinners for months to come; chopping up and preparing all of your ingredients to make cooking quicker and easier; and making meals ahead of time, so you just have to reheat them before eating.
In order to limit the amount of sugar, sodium, additives and preservatives you take in, New York City nutritionist Lorraine Kearney recommends meal prepping for the week ahead once you know how to meal prep. However, if that's not doable, she suggests meal prepping breakfast.
"Breakfast is definitely the most important meal of the day. It helps balance blood sugar and can improve cognitive health to keep you alert and attentive in those early-morning meetings," Kearney says. "Having balanced blood sugar will also decrease the stress response and prevent your adrenals from pumping excess cortisol and adrenaline when trying to meet deadlines and in times of stress." For easy, grab-and-go breakfasts, Kearney likes overnight oats, homemade yogurt parfaits and precooked eggs, which can be refrigerated for up to five days.
Meal Prepping Tips: Figuring Out Your Formula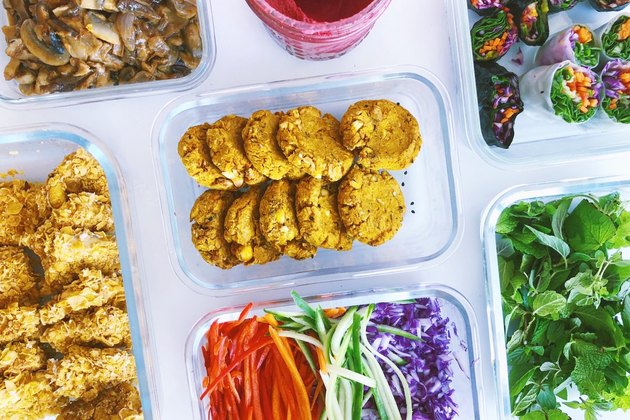 If your motivation for learning how to meal prep is to eat cleaner, healthier, more well-rounded meals, there's a formula that might help. According to New York City personal trainer Lou Ritter, an ideal macronutrient ratio is 40 percent calories from carbs, 30 percent from protein and 30 percent from fat — but that equation isn't set in stone.
"Your macronutrient ratio can be tweaked based on your dietary goals, genetic predispositions and/or your activity level," she says. "For example, an endomorph body type who tends to metabolize carbs slowly might want to reduce their carbs and increase their fat percentage slightly, while someone trying to lose weight may try increasing their protein and decreasing their carbs."
Chicago-based author, certified fitness nutrition and weight loss specialist Michael Moody notes that in order to find the right ratio, it's important to keep an eye on how your body reacts to certain meals. "When determining the perfect combination, you'll want to examine your body's sensitivity to different foods," he says. "For instance, do you feel bloated, have acid reflux or are you fatigued? Taking cholesterol blood tests, blood sugar levels, weight and body fat into account is also crucial."
If the idea of doing math before you eat gives you a headache, do what Kearney advises her clients to do: Eyeball it. "An easy way to build a meal is by dividing a nine-inch dinner plate into three sections," she says. "To begin, fill half the plate with vibrant fruits and vegetables (more color equals more phytonutrients), fill a quarter of the plate with a complex grain or starch and in the remaining quarter add the protein."
Meal Prepping on a Budget: Ingredient Staples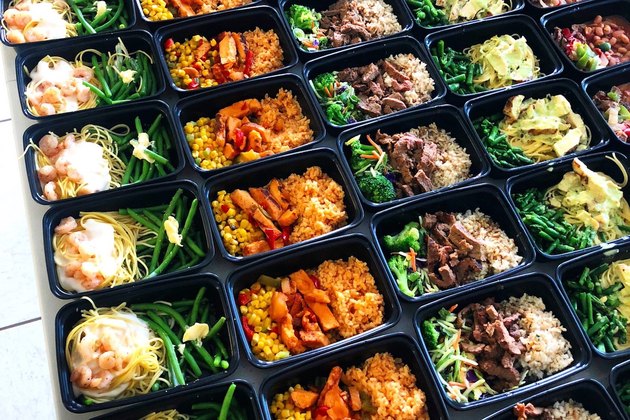 Once you figure out exactly how to meal prep, there's a good chance you'll be spending less time at the grocery store. (Yay!) That said, there are highly recommended items you should always have on hand once meal prepping becomes part of your lifestyle. To make things easier and ensure you always have healthy ingredients available, Kearney recommends stocking the pantry with canned beans, nuts, seeds, rolled oats, whole-grain pasta and tomato sauce with no added sugar or sodium.
As far as fridge and freezer staples go, both Ritter and Kearney advise clients to always have frozen berries and vegetables, premade salad kits and prewashed fresh veggies, such as spinach, kale, cauliflower and asparagus. Additionally, eggs (which are easy to prepare and can be cooked a variety of ways) and yogurt (dairy or nondairy) are ideal for grabbing and going.
Moody also reminds his clients not to forget the spices. "Cumin, curry, salt, pepper, garlic powder, onion powder, thyme, basil, cinnamon and rosemary are only a handful of spices and flavors most commonly used in recipes," he says. "Invest in a cabinet full of spices from your favorite recipes to avoid missing ingredients."
Meal Prepping Containers: The Most Crucial Kitchen Tools
After learning how to meal prep, a few tools of the trade are in order. First and foremost, you'll need Tupperware containers for holding individual meals or foods you've already chopped and divided. Most veteran preppers like to go with glass meal-prep containers, which can be found anywhere from Amazon to Target. Other container options are Pyrex, silicone and plastic: But keep in mind, plastic often contains the chemicals bisphenol A and phthalates, which can affect hormones.
In addition to containers or Mason jars, Moody recommends stocking up on proper knives, resealable freezer bags and anything else that will make your experience in the kitchen easy, efficient and effective. "The more streamlined and time-effective you develop your process, the more likely you'll continue the routine," he says. "A broiler for a quick cook of your vegetables and lean meats and a Crock-Pot or pressure cooker are also valuable tools for expediting your cooking experience. Remember to eliminate obstacles before they occur. If you prefer to use specific kitchen appliances and utensils, keep them accessible on your counter."
Some people like to use a scale after they figure out how to meal prep in order to ensure proper ratios, but Kearney doesn't think it's necessary. "When people are eating a whole-food diet free from prepackaged foods, they do not have to measure their food," she says. "Measuring food takes the fun out of eating and makes people feel restricted."
Moody also adds that, while knowing proper portions is key, it's equally important to check in with the approach you're using. "Ask yourself, 'How does this amount of food make me feel?' and 'Am I choosing the right amount of nutrient-dense food?' Your answers may determine whether or not you return to the drawing board."
For people looking to get a better idea of a proper serving — without a scale — Kearney breaks it down as follows:
Animal Protein: Should be the size of palm of your hand minus the fingers and thumb and the height of a deck of cards.
Fruits, Vegetables and Grains: A closed fist is equivalent to a cup of chopped fruits, vegetables and grains. Kearney advises clients to aim for three cups of vegetables per day and two cups of fruit. For whole grains, she recommends a slice of toast in the morning with half a cup of grains at lunch and dinner.
Fats and Oils: From the ridge of the thumb (where it meets the palm) to the tip of the thumb is equal to about one tablespoon of oil and 128 calories. (There are three teaspoons in one tablespoon.) When pouring oils, use a teaspoon at a time, as you can always add in more.
Nuts, Seeds and Chips: A scooped handful is equivalent to about a quarter-cup.
Meal Prepping Recipes: Inspiration for Beginners
Not surprisingly, Pinterest is also a great meal prep inspiration source, with an almost endless amount of guides as well as seriously yummy meal-prep inspiration. Moody also recommends the websites The Cookie and Kate, Dr. Fuhrman and Forks Over Knives — all which contain great advice on meal prep for beginners. Finally, if you're going to learn how to meal prep, a planner, template or app like FoodPlanner or MealBoard is invaluable. Whether you write out your meals for the week by hand and stick them on the fridge or record them on your phone, keeping track your plans will help you stay on track each week and make things easier. And if you want to track your calorie intake, make sure to download the MyPlate app.