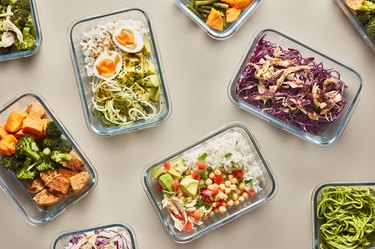 LIVESTRONG.com may earn compensation through affiliate links in this story. Learn more about our affiliate and product review process
here
.
We've all been there: You get home from work, exhausted, only to find a half-eaten block of cheese, rock-hard frozen chicken breasts and a bag of semi-soggy greens that you meant to use last week. A homemade dinner is probably not happening tonight. Again.
But your wallet (and your waistline) are also pretty tired of ordering takeout. So what's a time-crunched, hungry weekday warrior to do?
"Meal prepping can be the difference between having a nutritious meal in a time-pressed situation versus giving way to spontaneous indulgences on a meal delivery app," Moe Schlachter, RD, CDE and spokesperson for the Texas Academy of Nutrition and Dietetics, tells LIVESTRONG.com.
No matter your diet, budget or health goal, meal prepping can make it easier to stick to your eating plan and even help you save a few bucks. Talk about win-win! Here's how to get started.
Meal Prepping 101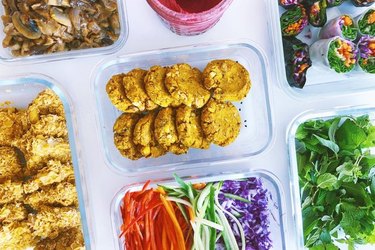 Spending a couple of hours in the kitchen on the weekend can sound overwhelming and unappealing at first, but getting the hang of meal prep is well worth it — and much easier than you might think. It all boils down to four simple steps:
Set realistic goals for how much food you can prepare.
Pick a day to prep your food and stick to it. (We like Sunday best.)
Choose meals for the week based on what you like to eat and your dietary needs.
Make sure you've got the right tools.
What You'll Need
Before you get to grocery shopping, you'll want to gather some kitchen essentials to streamline your prep time. Efficient batch cooking requires a few basic kitchen tools, including (the right kinds of) cutting boards, knives and mixing bowls, as well as high-quality appliances, such as a slow cooker and food processor.
How to Choose the Best Containers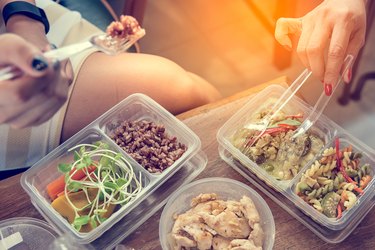 After you've cooked your meals, it's time to pack them in something that will maintain their freshness and keep spills at bay. But with loads of containers to choose from, how do you know which to buy?
Start with a plastic or glass multipack with a variety of sizes and airtight lids. If you're going the lightweight plastic route, make sure your containers are chemical-free and safe to use: Check the resin identification code (RIC) located inside a triangle on the bottom of the container and choose containers that are labeled with numbers 1, 2, 4 or 5. Opting for glass? You'll want to know what to look for when buying those, too.
How to Meal Prep Breakfast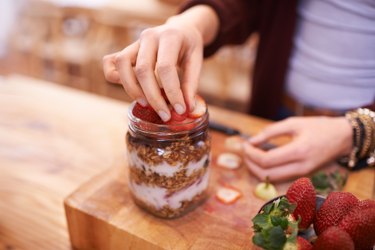 "Mornings are hectic, but there are many foods you can prep in advance to ensure you eat a healthy, balanced breakfast before you get out the door," Jessica Levinson, RDN and author of 52-Week Meal Planner, tells LIVESTRONG.com.
Nutrient-dense picks include a hearty green smoothie, low-carb quiche crafted with a cauliflower crust and four-ingredient pancakes that keep you full all the way to lunchtime. Plus, they're perfectly portable, so you can grab them and go.
Lunch Prep Made Easy
Instead of succumbing to vending machine snacks and breakroom doughnuts once lunchtime rolls around, prep your meals in advance to avoid undoing your healthy-eating wins. Meal prepping lunch can not only help you avoid resorting to empty calories, but it can also save you time and money as well as reduce the stress associated with deciding what to eat or rushing through making meals.
What's for Dinner?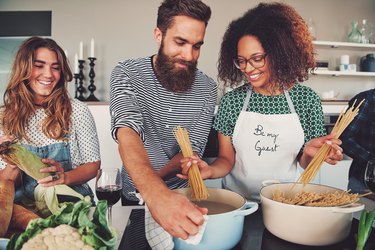 You'll never struggle to answer that dreaded question again if you adopt a smart meal-prepping habit. Start by stocking up on staples you can use to create multiple dishes, such as whole grains, veggies, lean meats, tomato sauce and low-sodium broth. Then, carve out a few hours over the weekend to create your meals. Cooking your dinners ahead of time allows you to sit down to a nutritious supper when the last thing you want do is put extra time in the kitchen. Count us in.
Yes, You Should Prep Snacks, Too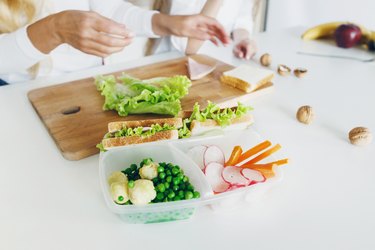 Because many grab-and-go snacks can be highly processed and include lots of added sugar and preservatives, you want to take the time to pack your snacks ahead of time so that you've got something wholesome to reach for when hunger hits. Plus, midday munchies are a great way to ensure you're checking off all your macro boxes. "Use snack time to help fill your nutrient shortfalls," Jackie Newgent, RDN, tells LIVESTRONG.com. "If you didn't have enough fiber during breakfast, make sure to choose a fiber-rich snack later on in the day."