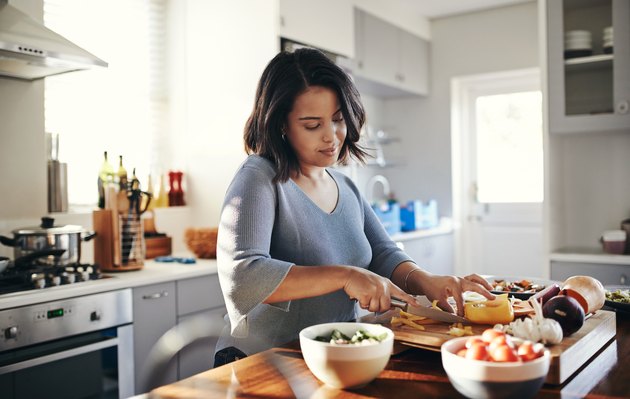 When you're busy, a healthy lunch seems hard to come by. Whether you're trying to squeeze in a bite between meetings or resist the temptation to pick from your toddler's plate, there never seems to be enough time (or energy!) to make a nutritious meal. And that can wreak havoc on your weight-loss or weight-maintenance efforts.
But that's where meal prepping comes in.
"The ultimate goal for many with meal or food prep is to have food ready to go when hunger hits," says Hillary Pride, RDN, CPT. "Some common barriers to weight-management success can be skipping meals, restricting foods and not choosing foods that provide fullness and satisfaction."
Indeed, when you don't have a variety of healthy choices on hand, it's far too easy to skip meals or tell yourself that you'll "grab something later." And, far too often, that "something" ends up being fast food. In fact, Americans ate over 11 percent of their total daily calories from fast food, the Centers for Disease Control and Prevention (CDC) found.
Meal prepping for lunch can not only help you avoid that fast-food pitfall, but it can also save you time and money as well as reduce the stress associated with deciding what to eat or rushing through making meals, according to Harvard T.H. Chan School of Public Health. Ready to get started?
Lunch Meal Prep Tips
Meal prepping might seem overwhelming at first, but it becomes much easier when you get into the habit. As you get used to prepping lunches over the weekend for the week ahead, you'll start to note what you like to eat and your menu will become more consistent. That old saying, "Practice makes perfect," applies to meal prepping, too!
Buy Mason jars or glass containers. "I like [making] Crock-Pot chili on Sunday and filling five Mason jars for lunches at work for the upcoming week," she says. "It makes packing my lunch easy and doable each morning, and I don't run out of lunches during the workweek."


Wash and cut produce in advance. You're more likely to eat fruits and veggies when they're washed, cut and ready to eat. "Store your produce in containers on the top shelf of your refrigerator that way you see them when you open the door to pack for lunches and they don't get lost in the produce drawer," Christ says.


Don't aim to prep for the whole week. Instead of diving headfirst, aim to whip up three healthy lunches for the week and pick a second day in the week to prep the rest.
What to Shop For
Healthy lunch staples, like the ones below, can help you create easy and delicious meals to take on the go. Add these to your grocery list ahead of meal prep day to make things a little easier:
Vegetables like leafy greens and potatoes
Legumes and legume-based pasta
Brown rice
Lean meats like poultry and grass-fed beef
Low-sodium stock
Eggs
Cheese
Canned fish like light tuna or salmon
Nut butters
Healthy Lunch Ideas to Meal Prep This Week
1. Vegetarian Chili Potato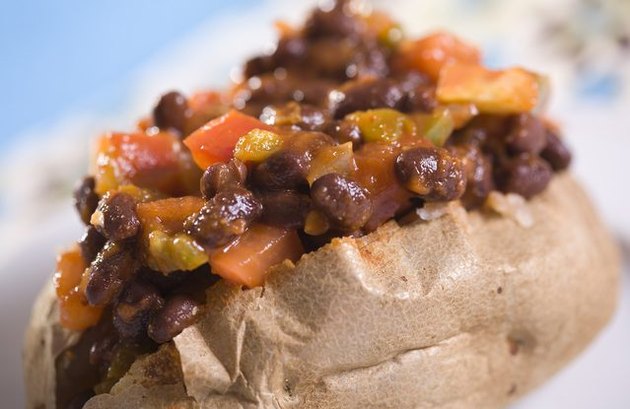 Beans and potatoes provide a one-two punch of protein and fiber, making a vegetarian chili-stuffed potato a smart make-ahead lunch option. Plus, it's a tasty way to cut back on meat.
The fiber you'll get from the beans and potatoes can also help you manage your weight. A February 2012 study published in Obesity found that eating soluble fiber — the type beans are full of — played a role in decreasing body fat.
Make the potatoes in advance by either baking them in the oven on the weekend or cooking them in the slow cooker overnight. The chili, too, can be a weekend project, especially if you like to let it simmer on the stove. But you could also let it cook overnight in the slow cooker.
2. Superfood Bow-Tie Salad Bowl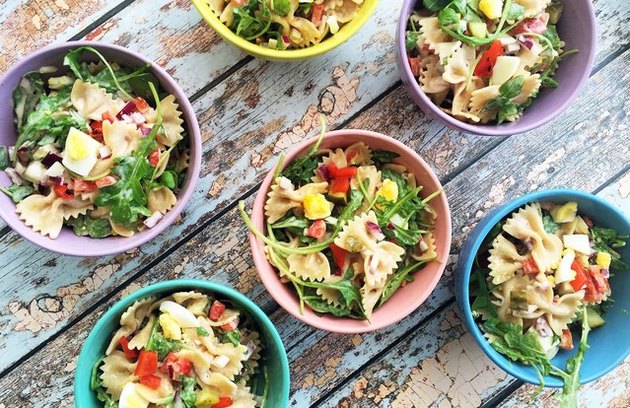 Cold pasta, even when dressed, holds for days in the refrigerator — which is what makes this farfalle salad such a winner. In fact, the pasta absorbs the dressing and get tastier each day as the flavors mingle.
Make a batch of pasta salad on a Sunday — or whenever you have a free 30 minutes — and pull out a cup each day for lunch. The arugula, however, will wilt if it's stored with the pasta, so keep it separate until you're ready to eat your midday meal.
3. Spicy Sweet Potato Soup With Coconut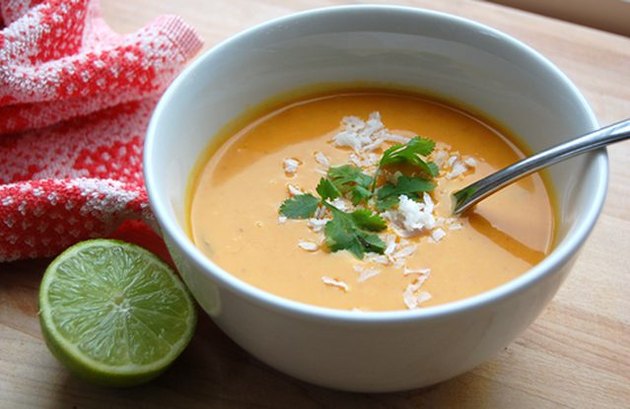 When choosing a soup for make-ahead lunches, pick an option that you won't get bored of by the third day. A spicy sweet potato soup falls in that category, and it's easy to double or even triple. That will come in handy if you want to make extra lunches for your family or to freeze in single servings for future weeks' meals.
4. Sizzling Steakhouse Salad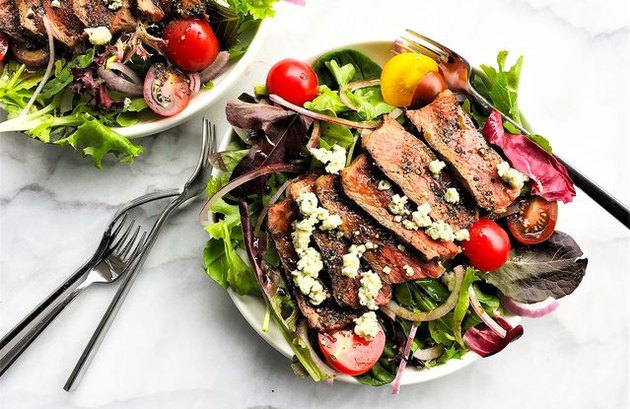 Salads are a go-to lunch option because, as long as you don't pack the lettuce with the dressing, they will hold for a long time. The problem, however, is that salads can get incredibly boring if you eat them on the daily.
"Food satisfaction is key for many when it comes to weight management," notes Pride. A steakhouse-inspired salad, however, is easy to prep, satiating due to the protein in the beef and fiber in the vegetables and will make you look forward to forking into it.
To meal prep this salad, wash, tear the lettuce and dry the lettuce (with a salad spinner or on a paper towel), chop the onions and pan-sear the beef. Pack each ingredient in a separate container and store it in the fridge until the morning when you can quickly combine the components in a glass container.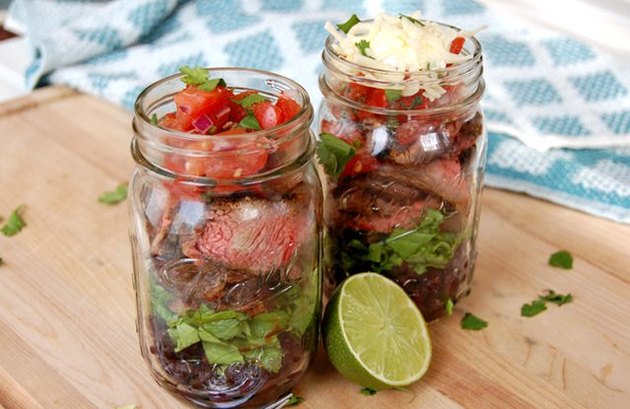 Skip the refined-flour tortilla and layer all your burrito ingredients in a glass Mason jar instead. The key to keeping the ingredients fresh is to layer appropriately: Sandwich the delicate romaine lettuce between the black beans and brown rice, as they won't cause the lettuce to get soggy. Top the rice with the steak, which will provide a solid foundation on which to layer the wet ingredients like salsa, guacamole and sour cream.
When you fill multiple Mason jars, it's easy to grab one on the way out the door every morning.