Whether it's a quail egg, chicken egg or duck egg, you can hard-boil just about any type of egg and turn it into a tasty snack. Eggs are healthy because they are filled with beneficial vitamins and minerals, while simultaneously being low in calories and carbohydrates. Hard-boiling eggs means that they'll be cooked thoroughly and have less of a chance of retaining disease-causing bacteria. However, their nutritional value can change, depending on how much heat is applied to them.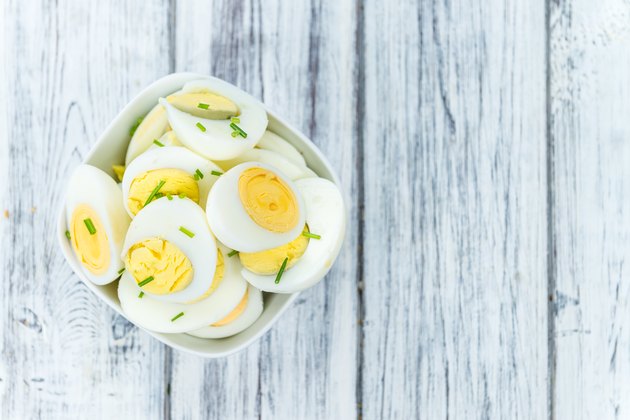 Hard-Boiled Egg Nutrition Facts
13 percent of the recommended daily value of protein

six percent of the recommended daily value of vitamin A

15 percent of the recommended daily value of vitamin B2 (riboflavin)

7 percent of the recommended daily value of vitamin B5 (pantothenic acid)

5 percent of the recommended daily value of vitamin B9 (folate)

9 percent of the recommended daily value of phosphorus

22 percent of the recommended daily value of selenium
Each large hard-boiled egg also has 1 to 4 percent of various other vitamins and minerals, including other B-complex vitamins, vitamin E, calcium, iron, magnesium, manganese, sodium and zinc. Some eggs may even be enriched with healthy fatty acids, known as polyunsaturated fatty acids. These are omega fatty acids like omega-3 and omega-6, which can also be found in foods like fatty fish and walnuts.
Heat is known to affect foods in different ways and has the potential to degrade beneficial nutrients. Hard-boiling eggs doesn't affect their nutrition too much. Most of the vitamins and minerals are almost the same in hard-boiled eggs and raw eggs. However, there are other nutrients found in eggs that do change during the cooking process.
Lutein and zeaxanthin, which are nutrients beneficial for your eyes, can be found in egg yolk. Boiling your eggs reduces the amounts of these nutrients, particularly that of zeaxanthin. Because heat, specifically cooking eggs all the way through, affects hard-boiled egg nutrition, soft-boiled eggs could be considered to be a bit better for you than hard-boiled eggs.
Cooking Hard-Boiled Eggs
Preparing hard-boiled eggs can be a lot easier than cooking other types of eggs. To prepare hard-boiled eggs, place your eggs in a pot of cool water and bring the water to a boil. The water should cover the eggs fully so that once it's boiling, you can remove the pot from the heat and allow your eggs to rest in the hot water. As long as you keep the eggs in a covered pot, they should cook just by sitting in the water.
After five to 10 minutes (depending on the size of your eggs), your eggs will be ready to eat. Keep in mind that removing your eggs too early means that they're soft-boiled, while leaving them in too long will mean that they may become overcooked.
If you get the balance right, though, you'll have hard-boiled eggs that are easy to eat on the go as snacks or can be cooled, chopped up and integrated into a variety of other foods. Hard-boiled eggs can be used in salads, sandwiches, pizzas or as stand-alone foods, like when you make deviled eggs.
Overcooked and incorrectly cooked hard-boiled eggs have discolored yolks that are greenish-gray. This discoloration is caused by an interaction between the yolk and egg white during the heating process. Essentially, iron in the yolk and hydrogen sulfide in the egg white react to form iron sulfide. Overcooked hard-boiled eggs are safe to eat, but will taste far less pleasant and may have reduced nutritional value compared to those that have been properly cooked.
Hard-Boiled Eggs vs. Other Eggs
Integrating Eggs Into Your Diet