Egg whites are low in calories and high in protein, making them a good food for those watching their weight. Egg whites are an inexpensive source of complete protein, meaning they provide all the amino acids the body cannot produce on its own. Egg whites make a healthy addition to any meal of the day.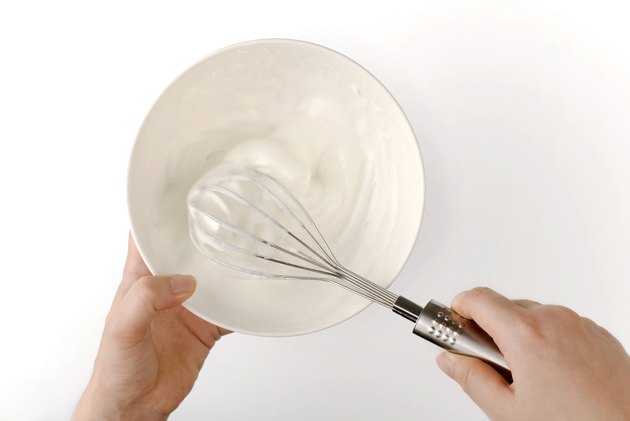 Nutrients
One large egg white contains 16 calories, according to MyPlate calorie counter. It provides 3.6 grams of protein and no fat. One large egg white also provides 9 percent of the recommended dietary allowance for selenium.
Cholesterol Concerns
The American Heart Association recommends eating no more than 300 milligrams of cholesterol daily. A large egg contains about 213 milligrams, putting you very close to this limit for the day. Egg whites contain none of the cholesterol, making them a good way to benefit from the complete protein in eggs without the cholesterol concerns.
Considerations
If you do not want to separate whole eggs, you can purchase cartons of egg whites. Egg whites contain no carbohydrates, making them a healthy addition to low-carb diets. Avoid cooking egg whites in lots of oil or butter to keep the calorie count and fat content to a minimum.
Uses
When you hard boil whole eggs, you can easily separate the white from the yolk. Eat the egg white alone as a snack with salt and pepper, chop it into a light egg salad or use it as a topping for a green salad. Scramble egg whites as you would whole eggs or make them into an omelet with sauteed vegetables and low-fat cheese. You can also use egg whites in lieu of whole eggs in baked goods to lighten up recipes. Substitute two egg whites for one whole egg.
Egg Yolks
While egg yolks contain most of the calories, fat and cholesterol of the egg, they are also a source of much of the vitamins and minerals. Consider blending one whole egg with three egg whites to create a scramble that contains 17 grams of protein and 5 grams of fat. The egg yolk provides you with additional nutrients missing in the white, including choline, lutein, B vitamins and vitamins A, D and E.